Source:ShutterstockProfessional,Shutterstock
Summary

Dimerix revealed that in-vitro study data demonstrate DMX-200 with endothelin A inhibitors shows greater potency and efficacy.
A worldwide leader in drone security technology DroneShield has obtained multiple orders for DroneSentry-X.
Two ASX-listed penny stocks updated the market with some key announcements. Healthcare player Dimerix Limited's (ASX:DXB) new data demonstrates that its lead compound DMX-200 has the potential of providing greater potency and efficacy for endothelin A inhibitors.
Information technology sector company DroneShield Ltd (ASX:DRO) has obtained many orders for DroneSentry-XTM latest product.
Source: Copyright © 2021 Kalkine Media Pty Ltd.
Let's have a closer look at these stocks-
DMX-200 provides greater potency and efficacy
A clinical-stage drug development company Dimerix updated the market with new data related to the simultaneous use of DMX-200 with endothelin A inhibitors, sparsentan and atrasentan.
Sparsentan is a Phase 3 dual endothelin and angiotensin receptor blocker, while atrasentan is a Phase 2 endothelin receptor blocker.
The data from these in-vitro studies demonstrate that the addition of a CCR2 receptor inhibitor such as DMX-200 and sparsentan offered a substantially greater inhibition of key receptor activation in human kidney cells than either compound alone.
DMX-200 can offer superior efficacy and potency for other drugs under clinical development for inflammatory renal and respiratory indications.
DMX-200 Global Patent Portfolio Expanded
This new data clearly demonstrates that DMX-200 has the potential to provide greater potency and efficacy for endothelin A inhibitors that could result in a further tangible therapeutic advantage for patients having kidney disorders.
As a result of this remarkable data demonstrating coupling between CCR2 and an endothelin receptor, Dimerix has completed a significant step in securing ownership for the benefits of DMX-200 by filing a provisional patent application.
The Company disclosed that the new Australian provisional patent application is titled as "Treatment of Inflammatory Diseases" and has a priority date of 23 March 2021. This new patent filing strengthens DMX-200 by enhancing the strong competitive position.
Stock Information: On 24 March 2021, DXB shares were trading at A$0.260 (at AEDT 2:21 PM).
ALSO READ: Dimerix' (ASX:DXB) CLARITY 2.0 study to obtain regulatory approval soon
DroneShield receives multiple first orders for DroneSentry-X
ASX-listed worldwide leader in drone detection technology DroneShield Ltd announced that the Company has obtained multiple first orders for its latest product, DroneSentry-XTM, an on-the-move C-UAS system.
The orders included both detection-only as well as detect-and-defeat variants for North America and South-East Asia regions.
The detection-only variant of DRO is purchased by customers legally restricted in their capability for defeating UAS.
The orders received currently are initial trail purchases in 2 different countries. The Company highlighted that the additional follow up orders are currently under discussion with the quantity to be confirmed. DroneShield anticipated receiving the cash from these orders in March, June, and September quarters.
Oleg Vornik CEO of DroneShield commented: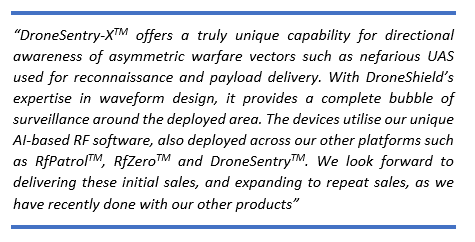 Stock Information: On 24 March 2021, DRO shares were trading at A$0.170, up by 6.25% (at AEDT 2:21 PM).
ALSO READ: Five hot penny stocks for the day