Summary

Bond markets have seen a sell-off as stimulus hopes have gathered momentum after a Democratic sweep in Georgia Senate races.
Markets have moved sideways over the recent days as investors get jittery about rising yields and inflation expectations.
Over recent days, the sell-off in bond markets has been extreme. Since the beginning of the year, the US 10-year yield has inched upwards by nearly 20 basis points. Similarly, the Australian 10-Year bond yield also rose, but the intensity was relatively weaker.
US Vs AU 10 Year Yields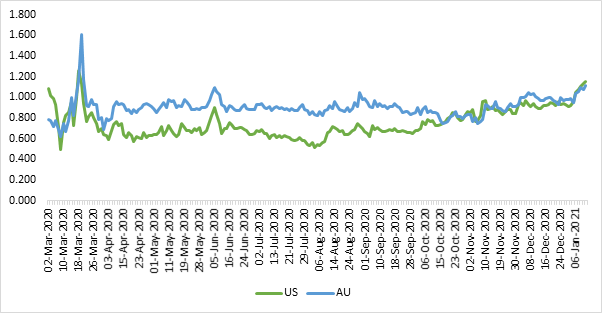 Source: Thomson Reuters
For the first time since March 2020, the US 10-year yield was above AU 10-year yield. The consequence of this change is also evident in the Australian Dollar, which has experienced a pullback against the greenback over the recent days.
With Democrats sweeping the US Senate races in Georgia, a bumper fiscal stimulus's expectations have risen. Large cheques in the hands of Americans will likely spur inflation over the near term.
As a result, the inevitable interest rates hike by the most important Central Bank – the US Federal Reserve – could arrive far earlier than previously predicted. Markets are now indicating that rising inflation will make central banks to raise interest rates.
Rising inflation also means an uptick in the economy. Given that 2021 will be a recovery year across economies, the yields on safe-haven assets like bonds are also increasing in anticipation of a more robust recovery, owing to already announced stimulus packages with more to come.
Central banks are likely to suppress the sell-offs in the bond markets with their bond-buying programmes. Rising interest rates also mean that borrowing cost is increasing, which seems unfavourable when businesses and governments are encouraged to invest in promoting growth.
Higher interest rates are also a deadly factor for stocks, especially the ones with higher expectations of future profits. Rising rates lower the present value of future cash flows of a firm, therefore impacting valuations.
Markets are already trading in higher valuation compared to the historical averages due to a record low-interest rate. In the absence of earnings recovery, the stock market may encounter a pullback.
Portfolio implications
Capital intensive business with heavy debt, piles like industrials, and REITs, could be a prime casualty of rising rates. With rising rates, the cost of debt capital rises for such companies, impacting bottom-line earnings growth.
Growth stocks should be assessed carefully at a time when rates are rising. The expectations of higher growth in cash flows drive the market prices for growth stocks. With rising interest rates, the present value of future cash flows for growth firms is lower, therefore hurting valuations.
What could be more dangerous for growth stocks is when they fail to meet market expectations. A recovering economy should reflect on the topline of the firms. But a comprehensive bottom-up approach is necessary to evade potential risks, arising out of expectations surpassing the reality.
Meanwhile, banks and insurers stand to benefit from higher interest rates, owing to favourable spreads in investment area – the bond markets. Below is how some of the stocks fared since the onset of 2021.
| | | |
| --- | --- | --- |
| Stock | Type | Move |
| Afterpay | Growth/Tech | -7.27% |
| Xero Ltd | Growth/Tech | -14.24% |
| NEXTDC Ltd | Growth/Tech | -5.70% |
| Charter Hall Group | Real Estate | -9.24% |
| Leadlease Group | Industrial | -1.90% |
| Transurban Group | Industrial | -5.63% |
| Goodman Group | Real Estate | -8.66% |
| QBE Insurance | Insurance | 4.86% |
| Suncorp Group | Bank/Insurance | 9.83% |
| Commonwealth Bank | Bank | 2.32% |
As of 13 January 21