Source: Freedomz, Shutterstock
The Australian stock market traded higher this week post the long Easter Weekend. Towards the session end, the benchmark index ASX 200 added 63.30 points and traded at 6991.30 points, up by 0.91% on yesterday's closure. 10 of 11 sectors ended in the green with Materials topping the charts followed by Telecommunications Services, Financial, IT and others.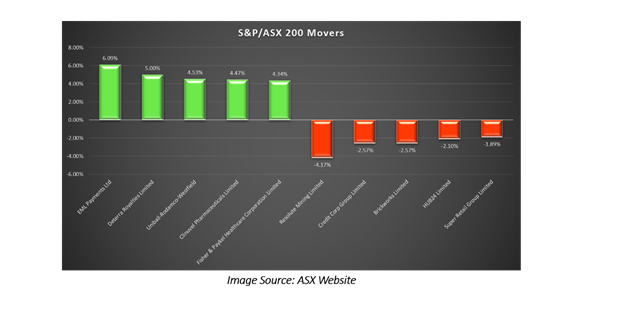 Shares of Deterra Royalties Limited and Champion Iron Limited (ASX:CIA) from Materials traded higher and surged by over 4%.
How is Australia doing by market close?
Federal Health Minister Greg Hunt has asked the advisory group to review the AstraZeneca vaccine side effects independently. The Australian technical advisory group has been asked to make the decision fearlessly considering the citizen's safety. He also stated that he is confident of Australia's regulatory group who gave the go-ahead for the vaccine.
He also confirmed that if the advisory group does not recommend the vaccine for the young Aussies, the government will accept it as in the UK, regulators have stopped giving AstraZeneca vaccine to people below 30 years over the blood clot issues found in some people after taking the jab.
Health Minister said there is no proof found yet related to the Queensland aged care resident death case with the vaccination. However, he said the probe in the case is going on.
Despite the vaccine supply issues, all Australians are anticipated to get their first dose of the Covid-19 vaccination by October this year. Mr Greg Hunt emphasised that October is still the target deadline. So, as per the estimate, all Australians won't get the vaccination until early 2022.
Mr Greg confirmed that 996,145 doses of the vaccine are administered in the country so far, mostly under territory and state programs. He also said nearly 1000 aged care facilities got their first vaccine jab, and around 435 have received the second one also.
A small recap of the other Asian Market
After Wall Street's mixed trading performance yesterday, most Asian stocks fell at the open today. Japan and South Korea index dipped. Japan's Nikkei index declined by 0.29%. However, Chinese stocks climbed on Thursday on the back of the increased vaccination efforts in the country after the new cluster of infections is found. Shanghai Composite index gained by 0.19%, the blue-chip CSI300 index rose by 0.15%.
The Real Estate index in China dipped by 1.57%, the consumer staples sector gained by 0.37%, and the healthcare sub-index increased by 1.45%. Hong Kong was up by 0.18%.