Summary

Share Prices are very sensitive to company announcements, especially the ones having a cost or profit impact.
Nearmap director today went for on-market purchasing to boost investor confidence.
A legal complaint has been raised against Nearmap US subsidiary
Share price movement is quite sensitive to company announcements. Since last week, we have been witnessing a seesaw movement in the share price of Nearmap (ASX: NEA).
The NEA saw a high of about 6% from opening until closing today on a director's news, increasing its stake in the company.
On 7 May 2021, shares pegged at AUD 1.72, and on 10 May 2021 price went up to AUD 1.825 at the end of the trading day.
Timeline movement of NEA stock price from last week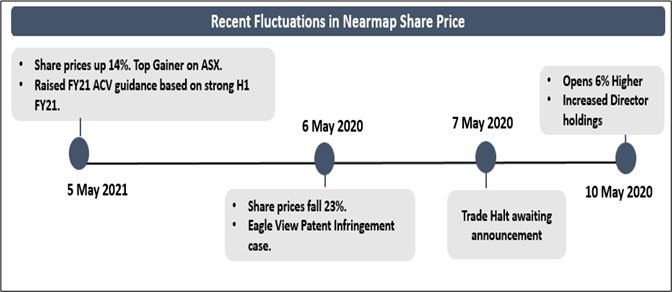 Copyright © 2021 Kalkine Media, Data Source: NEA Updates, May 2021
Change in Director's Interest-
Today's gain was majorly on account of a director increasing his interest in the company. A company's directors are insiders, and any trading update by them catches the investors attention. Nearmap issued a statement on Monday on behalf of a transaction that took place on 7 May 2021, wherein it updated that Ross Norgard will acquire an additional 500,000 fully paid ordinary shares indirectly.
The shares were purchased at AUD 1.857 per share i.e. for AUD 928,496, from the market. The shares are directly held by Longfellow Nominees Pty. Ltd. to which Mr. Norgard is a director and the beneficiary of the trust.
Price sensitive announcements-
On 5 May 2021, NEA was the top gainer on the ASX, rising over 14% after it raised FY21 Annual Contract Value (ACV) guidance based on a strong H1 FY21 performance.
The Next day its share price tumbled down 23% as Eagle View Technologies and Pictometry International Corp. filed a patent infringement case in the US. The case was filed against its subsidiary, Nearmap US, Inc, pertaining to the roof-estimation technology of the claimant.
Image Source: © Designer491 | Megapixl.com
The roof reports contribute nearly 41% of Nearmap's revenue in North America, coming from the Insurance sector.
For details read: Why Nearmap (ASX: NEA) shares nosedived today
NEA shares were put on a trading halt on 5 May 2021. The shares were supposed to be under halt until 7 May 2021 or when the pending announcement is released, unless ASX decided otherwise. The halt was to give time to the company to respond to the potential legal proceedings.
Share witnessed volatile trade on 07 May 2021. It was amongst the top mid-market gainers.
For more info read: Closing Bell: ASX200 hits a 14-month high of 7,100, Nearmap enters halt after 14% gain
Coming back to today's update, Nearmap with the current increase in director stake is trying to boost investor confidence. How successful will it be to bring back stable gains is still a matter of debate.