Summary

Acquisition of Lion Dairy and Drinks business by Bega Cheese is expected to help it deal better with supermarkets owing to diversified product range.
Post deal, the total revenue of Bega Cheese would double to nearly $3 billion in the current fiscal.
The deal is likely to create significant value for the shareholders of the company after synergising with largest cold store distribution network of Lion Dairy and Drinks
Bega Cheese (ASX: BGA) can now look forward to gaining clout in the global food sector after a A$560 million deal to buy Lion Dairy and Drinks business. With the addition of more well-known dairy products including yoghurt, cheese and flavoured milk to the portfolio, the ASX-listed diversified food company would now be better placed in dealing with the growing competition. Dare and Big M, Yoplait yoghurts, the Dairy Farmers, Pura and Farmers Union brands are some of the products to be added into Bega's stable.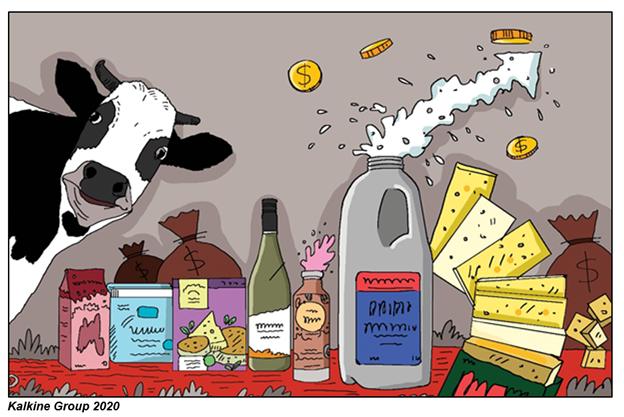 Even Kirin, Japanese parent of Lion, echoes similar views. The deal is expected to further drive Bega's business owing to its robust commitment to leading Australian brands and the local dairy industry, said Lion chief executive Stuart Irvine. The acquisition comes after the Australian firm which began as a farmer co-operative in 1899 bought back Vegemite from the US food giant Mondelez in 2017.
Bega Cheese (ASX:BGA) shares ended the Friday session at A$5.420,up 7%.
ALSO READ: Say Cheese! Bega Cheese (ASX:BGA) shares rise on Lion Dairy acquisition
Bega's revenue to double
The deal with Lion is expected to double the total revenue of Bega Cheese to nearly A$3 billion in the current fiscal as against A$1.49billionin FY20. The Lion operations are estimated to infuse A$1.6 billion to revenue and A$56 million to earnings. Bega recorded a net profit of A$21.3 million in FY20, up from A$4.4 million a year ago.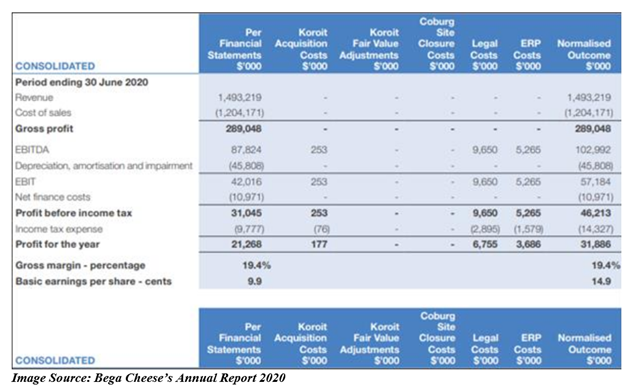 The deal is significant as it provides the firm higher reach to consumers and diversified product range, said Bega Cheese executive chairman Barry Irvin
Value for shareholders
Efficient milk network and corporate re-organization are expected to deliver annual synergies of at least A$41 million, Irvin said. The acquisition which is expected to close at the end of January is likely to create significant value for the shareholders of the company, he added .
Lion also owns the country's largest cold store distribution network that supplies food service and convenience stores from 13 sites. Lion also has strategic alliances and joint ventures with
Sodima and this gives former a license to produce and distribute Yoplait products in Australia and parts of South East Asia.
Post deal, Bega's core dairy footprint with the intake of annual milk is set to surge to 1.7 billion litres from 955 million litres.
The recent company restructure would allow it to take advantage of the various synergies and growth opportunities across domestic and international markets, said Bega Cheese CEO Paul van Heerwaarden.
Kirin to focus on beer, wine, spirits
With the sale of Lion Dairy and Drinks business, its Japanese owner Kirin is all set to make an exit from the non-alcoholic drinks category in Australia and New Zealand. The company says that it will now focus on the beer, wine and spirits category and invest more particularly in the craft beer segment.
Placement to fund Lion deal
On Thursday, Bega Cheese announced a A$401 million underwritten entitlement offer and placement so as to fund Lion's acquisition. The deal includes a 1 for 4.5 pro-rata accelerated non-renounceable entitlement offer of nearly A$220 million. It also includes an institutional placement of about A$181 million.
The company will raise funds at an offer price of A$4.60 per share while issuing nearly 87 million new shares. This offer price represents a 9.1 per cent discount to its last closing price on Friday, 20 November 2020.
MUST READ: Will the November boom in equity markets and bitcoin continue in December 2020?