Source: Shutterstock

Summary

Westgold Resources (ASX:WGX) is making waves after registering stunning 1H 2021 results.
The company reported strong financial results with a significant increase in profit before income tax, revenue, and gold sales.
Increased sales and higher gold prices helped the company in clocking strong half-yearly results.
Perth-based gold miner Westgold Resources Limited (ASX:WGX) has created a buzz after registering a dazzling 552% increase in net profit before tax, clocking AUD69.8 million for 1H 2021.
The company also built a significant amount of cash regardless of the hefty capital use during the period as its development projects advanced considerably.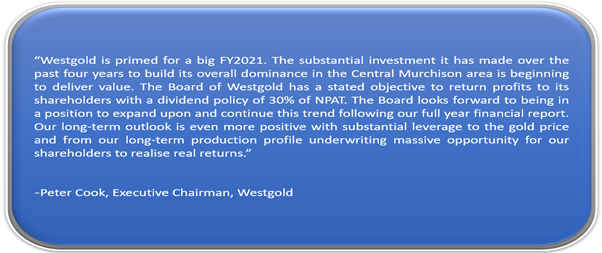 (Data Source: WGX ASX Update, dated 22 February 2021)
Financial Highlights:
The company has stated a profit of AUD 47.54 million from its continuing operations, well backed by the healthy revenue of AUD 72.95 million. A 9,500oz increase in gold sales and an increased average gold sales price of AUD 442 per ounce has helped the company hedge more profit.

2021 Half Year Financial Results
(Data Source: WGX ASX Update, dated 22 February 2021)
The total cost of sales for the period was AUD 228.66 million compared to AUD 219.55 million for the pcp. Total sales cost also included AUD 74,200,909 towards depreciation and amortisation expenses.
Cash flow from operating activities accounted for AUD 139.83 million for the period compared to AUD 54.39 million of 2019.
Investment in property plant and equipment incorporated a cashflow of AUD16.73 million, mainly associated with underground and surface mining plant.
Financial activities contributed to a cash flow of AUD 7.11 million compared to AUD 6.99 million for the pcp. AUD 8.37 million cashflow was included as a part of the exercise options over shares granted to employees.
Corporate Highlights:
The company didn't pay any dividend to the members for the period. However, the shareholders received a demerger dividend of AUD 13.05 million in 2019.
Westgold allotted 3,625,000 shares to the employees during the period and reported 423,855,270 fully paid ordinary shares at the end of 1H 2021.
The company reported a reduced hedge book of 168,000oz in the half-year. Westgold also paved its path to becoming the ASX-200 listed company and was added to the VanEck GDX Gold ETF.
Operational Highlights:
The company reported a consistent expansion in gold yield and revenue, leading to higher profits and decreased unit working costs than the pcp.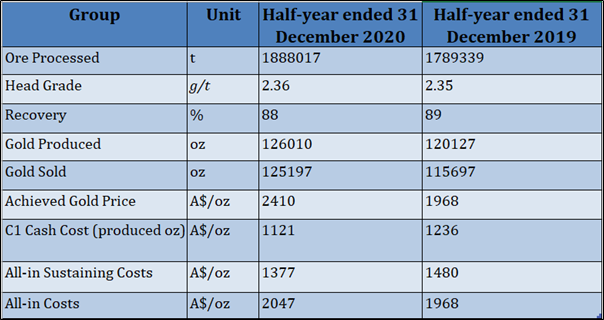 Consolidated Operational Results
(Data Source: WGX ASX Update, dated 22 February 2021)
Gold production from the Fortnum Gold Operations was 30,665oz, slightly lower than the previous corresponding period production of 33,229oz. The mine is further poised to extend the Starlight lode system and bolster plant feed successfully.
Good Read: Westgold Resources (ASX:WGX) Posts Solid December Quarter Results
The company faced a second decline in the Triton lodes located in Meekatharra Gold Operations. Bluebird advanced towards the production phase from the development phase with an expected output of 240,000 tpa. Meekatharra's gold production for the period was 53,180oz, slightly more than 51,391oz during the pcp.
Gold production from Cue Gold Operations was 42,166oz due to the start of production from Big Bell cave dirt.
The company holds a Total Mineral Resource of 127.6Mt at 2.14g/t containing 8.8Moz and ore reserves of 32.1Mt @ 2.48g/t containing 2.6Moz.
The stocks of WGX traded at AUD 1.97 on 22 February 2021 at 2:48 PM AEDT.
Must Read: 5 ASX- listed Penny Stocks Under $1