Summary

Variscan Mines (ASX:VAR) has encountered strong visual zinc mineralisation at three of the drill holes at the San Jose-Novales Mine.
Whole rock samples have showed promising results with Zn in the range of 7.6% to 31.2%.
The Company is planning to complete drill holes near mine entrance and explore an unmined area near the mine portal.
ASX-listed explorer and developer Variscan Mines Limited (ASX:VAR) has hit strong visible mineralisation in the three of five drill holes completed at the underground San Jose-Novales Mine. The sulphide mineralisation is consistent with high-grade zones observed in mined stopes.
The underground drilling program is designed to test the extent of high-grade zinc mineralisation at the mine.
Project Summary
The Novales-Udias Project sits within the Basque-Cantabrian Basin, approximately 30km south-west from Santander. The site is surrounded by various zinc anomalous working areas confirmed by recent and previous geochemical surveys.
The project area covers a large tenement of 68.3 square km with a trucking distance from the Asturias zinc smelter. Assessment of the samples taken from the underground Novales Mine have reported 31.83 per cent Zn and 62.3 per cent Pb.
Variscan has outlined a substantial mineralised trend of 9km across the Novales mining and Buenahora exploration permits.
Must Read: Variscan Mines (ASX:VAR) Embarks on ~2,000m Drilling Programme at San-Jose Novales Mine
Drilling Update
Variscan Mines drill tested a significant historical soil geochemistry anomaly near the mine portal at San Jose.
Three holes, including NOVDD004, 5 & 7, have shown extraordinary visible mineralisation with a moderate mineralisation level registered by hole NOVDD002. Sampling and logging and of drill core is ongoing.
Whole Rock Samples Result
Assays from six whole-rock samples collected from the vicinity of future drill target areas have shown promising outcomes with Zn ranging from 7.6% to 31.2% and Pb percentage ranging more than 40% starting from 3.4%.
The rock sample results provided trace geochemical profile which can be used to assess alteration changes assisting the planning of future exploration and drilling.
Way Forward
The Company remains committed towards progressing with underground drilling at the San Jose Mine. Exploration of an unmined area near the mine portal is planned.
In addition, rig is planned to be moved into the mine to test potential extensions of mineralisation along N-S strike of existing stopes. Moreover, the Company is looking ahead for assays from reporting channel samples and surface drilling applications.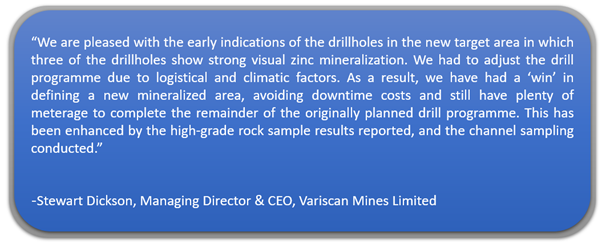 (Source: Variscan ASX Update, dated 12 January 2021)
The stock of VAR last traded at A$0.029 on 12 January 2021.