Source: Yarygin, Shutterstock
Summary

The Australian cannabis market is flourishing with growing patient numbers and better product selection.
Medicinal cannabis player Bod Australia has won a new PO for CBD products for the US cannabis market.
Althea Group has added an innovative addition, 'flexi' 20ml, to its range of medicinal cannabis products.
The cannabis industry has been under the spotlight for a while. Market experts believe that cannabis sales could hit the A$200 million mark by the end of the year. The growing number of patients and improved product selection are likely to drive the impressive sales figures anticipated for 2021. The industry has seen a marked improvement in the number of registered patients in the country in the last few years.
TGA now has a pathway to approval of over-the-counter (OTC) CBD products. This provides a significant opportunity to the industry players to develop products that consumers can access directly after consultation with their pharmacist.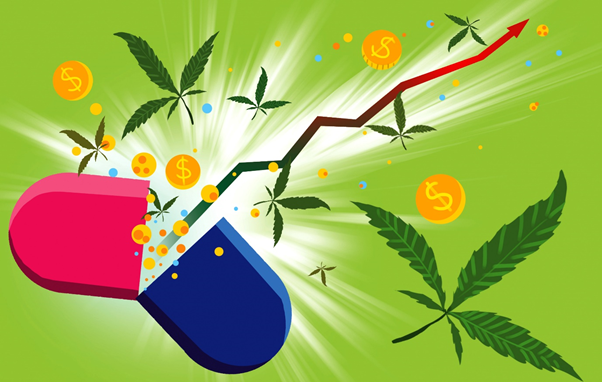 Source: Copyright © 2020 Kalkine Media Pty Ltd
In the Australian cannabis market, TGA's decision of approving OTC CBD products was welcomed by major cannabis players, including Althea Group Holdings Limited (ASX:AGH), AusCann Group Holdings Ltd (ASX:AC8), Bod Australia Limited (ASX:BDA), Creso Pharma Limited (ASX:CPH) and Little Green Pharma Limited (ASX:LGP).
With this backdrop, let us acquaint you with two ASX-listed cannabis stocks that have recently launched their products in the market:
Bod wins first binding PO for the US cannabis market
Medicinal cannabis player Bod Australia Limited announced that it had obtained a maiden AU$312,000 binding purchase order (PO) from Health & Happiness Group Limited (H&H) for CBD products for the US market.
This is the first of multiple binding POs anticipated in the upcoming period and marks the beginning of Bod's product expansion in the US.
With the new PO, the Company will now produce three full-spectrum CBD oil products derived from European GMP (Good Manufacturing Practice) CBD extracts for the US.
Bod also disclosed these products are the first of an extensive range, and the Company is planning to launch these products during H1 CY21 under the premium CBD brand CBII.
Jo Patterson, CEO of Bod, commented-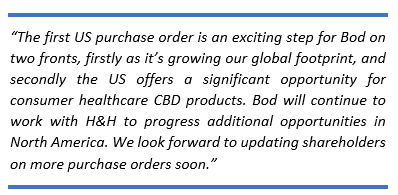 Stock Information: On 9 April 2021, BDA shares closed the day's trade at AU$0.530, up by 0.952%.
ALSO READ: Bod Australia (ASX:BDA), Drug Science collaborate to assess MediCabilis® efficacy
Althea rolls out the innovative range of 'flexi' products
Another global cannabis player Althea Group has updated the market with further additions to its market-leading range of medicinal cannabis products. The Company updated this new and innovative range of cannabis is 'flexi' 20ml cannabis oil products.
Source: © Monicaclick | Megapixl.com
Althea updated that these full-spectrum cannabis oil products carry the same trade names and utilise the same formulations as the existing Althea 50ml and 100ml sized products.
Further, the 20ml sized cannabis product is designed to promote flexibility in the treatment, particularly in patients who initiate the treatment and those suffering from intermittent illnesses.
The Company anticipates that this new and innovative product range will boost patient numbers and create incremental sales.
Moreover, this expanded product portfolio of Althea will also offer a lower entry point to the price-sensitive patients.
Joshua Fegan, CEO of Althea, commented: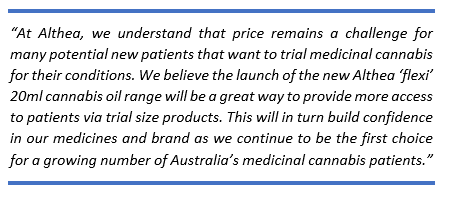 Stock Information: On 9 April 2021, AGH stock closed the day's trade at AU$0.50, down by 1.961%.