Source: Pressmaster, Shutterstock
Summary

The pet care industry has flourished during the pandemic, with pet care stocks benefitting from the unprecedented scenario.
During 1H FY21, Apiam delivered resilient revenue growth driven by solid dairy & mixed animal segment performance.
Blackmores' Pure Animal Wellbeing (PAW) achieved a 53% revenue increase.
2020 witnessed a surge in pet ownership amid the COVID-19 pandemic-led chaos. The pet care industry is an extensive one and includes veterinary services, diagnostics, medicine, food and supply retailers, manufacturers, and distributors.
Individuals have been spending more time at home than usual because of the imposed restrictions and precautions taken. The period witnessed a growing number of individuals adopting pets. This led to a rise in demand for pet care services and products, thus, benefitting companies working in this space.
Source: © Flydragonfly | Megapixl.com
With this backdrop, let us have a look at two ASX-listed pet stocks that have performed well in the market this year:
Apiam witnessed solid revenue growth in dairy & mixed animal clinic segment
Apiam Animal Health Limited (ASX:AHX) is a vertically integrated business offering diagnostics laboratories, veterinary wholesale, logistics, custom vaccines, and other auxiliary services. The Company provides a range of products and services to Production and Mixed animals vet practices.
In February 2020, the Company updated the market with financial results for the half-year FY21. Apiam delivered resilient revenue growth driven by solid progress in dairy & mixed animal segment revenue.
Key financial highlights for 1H FY21-
Apiam reported revenue of A$61.2 million, up by 8.9% compared to 1H FY20. The increase was driven by robust growth in dairy & mixed animal segment revenue.
Gross profit was 13.4% higher, highlighting ongoing margin expansion.
During the 1H FY21, the Company's EBIT was reported at A$4.4 million, up by 30.8% and NPAT rose by 53.8% to A$2.6 million, reflecting the ongoing operating cost leverage.
The Company delivered a strong revenue result in its pig segment because of its strategic move for higher value consultancy services.
The ongoing acquisition strategy was also a significant contributor to the dairy & mixed animal segment revenue growth during H1 FY21.
Outlook
In 2H FY2021, Apiam would focus on driving its clinic growth in targeted regional locations. The Company anticipates a strong earnings outlook for FY 2021.
Notably, Apiam expects the Company to increase its FY21 interim dividend by 50% to 1.2 cps.
Commenting on the outlook, Dr Chris Richards, Managing Director of Apiam, said:

Stock Performance: On 25 March 2021, AHX shares last traded at A$0.770, up 1.315%. In the last three months, AHX stock has delivered a 32.8% return. Apiam's market capitalisation of stands at A$91.87 million.
Blackmores' PAW brand gains momentum, revenue climbs 53%
An Australian health supplements provider, Blackmores Limited (ASX:BKL), is also engaged in offering products for pet healthcare. Blackmores' Pure Animal Wellbeing or PAW is an innovative product range of natural pet healthcare products. PAW delivers innovative and proven natural healthcare products for pet care.
Blackmores announced its half-year results in February, highlighting that the Company achieved its transformation program and reported remarkable 1H results despite COVID-19 induced disruptions.
Pure Animal Wellbeing attained a 53% revenue increase on pcp. It gained 82% brand awareness among pet households.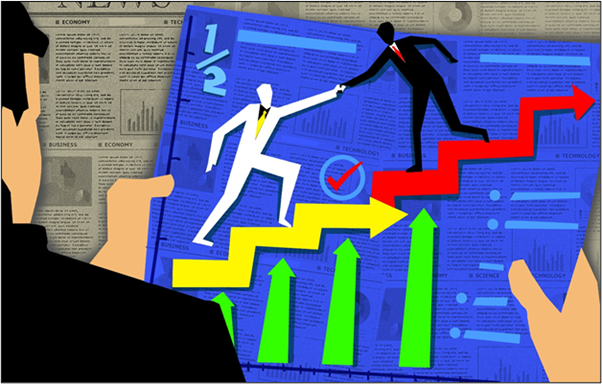 Source: Copyright © 2021 Kalkine Media Pty Ltd
The financial highlights are-
The Company recorded revenue of almost A$302.6 million, up by 4% on pcp, with the recovery and strong growth in international and China segments.
Underlying EBIT for the first half was reported A$30.8 million, up 15% on pcp.
Underlying NPAT was reported A$19.4 million, increased by 8% on pcp.
The revenue from the Australian segment was down by 10% on pcp. However, the Company retains its number one vitamin and dietary supplement (VDS) position in the market.
China and International segment revenues increased by 27% and 19%, respectively.
The Company declared an interim dividend (fully franked) of 29 cents per share. Blackmores would pay its dividend on 12 April 2021.
Alastair Symington, CEO of Blackmores, commented: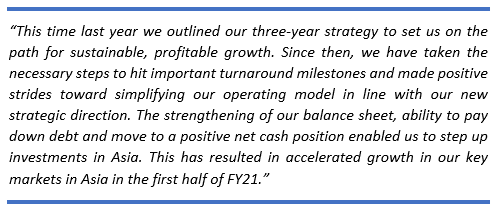 Outlook
In the second half, the Company will focus on delivering against its strategic priorities. Moreover, Blackmores is confident to delight its consumers by offering a more distinctive brand experience with Blackmores, BioCeuticals and PAW while maintaining cost discipline and operational excellence to support its growth in the upcoming period.
Stock Performance: On 25 March 2021, BKL shares last trading at A$82.570, down 0.423%. During the previous three months, BKL stock has delivered a return of 9.7%. Blackmores' market capitalisation stands at A$1.60 billion.