Highlights

Australian property prices reached its peak level due to the market fluctuations caused by the pandemic.
After a challenging year, the Australian property sector has gradually started to rebound in FY21.
CNI, INA and NSR delivered over 25% YTD returns followed by GOZ and GMG at 25% and 20%.
With the outbreak of COVID-19, the Australian real estate market was hit with southward trend in the rental yields despite increasing rent price. After encountering a period of rapid sales growth and price gains, Australian real estate market has slowed down and has begun to grow at a steady rate.
Today the real estate stocks are back in focus, given the fact that the country's central bank – Reserve Bank of Australia – has announced its monetary policy – a primary impact of which is on the real estate sector. The central bank has pressed ahead with its plans to truncate the bond buying stimulus, while maintaining the cash rate.
With recovering ASX real estate market, there are few stocks that have delivered notable returns over last 12 months. This article will walk you through some top ASX real estate stocks for 2021.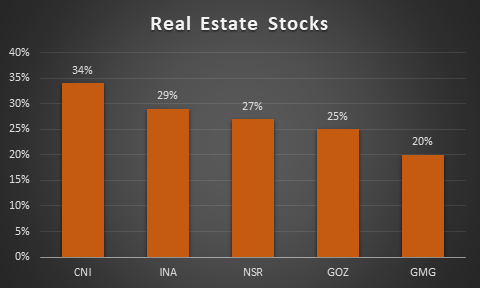 Kalkine Research Source: ASX
Centuria Capital Group (ASX:CNI)
ASX listed Centuria Capital Group is a specialist investment manager with its core business engaged in investment bonds and property funds management.
The property fund manager highlighted 61.8% total securityholder return (TSR) for the last year. According to its last financial report published in early August-
Centuria Capital delivered a strong growth achieving a significant growth of 98% under its AUM expansion, that stood at AU$17.4 billion.
Group's operating earnings remained in line with the last year at 12.0 cents per share.
The Company maintained a robust balance sheet for FY2021 with net asset value per security at AU$1.92.
RELATED READ - Buying a Property? Five questions to ask Real Estate Agent
On 7 September, CNI shares were trading at AU$3.470 at 10:26 AM AEST, remaining unchanged from the previous close.
Ingenia Communities Group (ASX:INA)
The large-cap real estate company Ingenia Communities Group is an ASX listed developer and owner of affordable seniors living accommodation and holiday communities.
Representative Image Source: © Jirsak | Megapixl.com
INA owns assets of worth AU$1.5 billion as of FY2021 and has achieved a continued residential rental income with 18% increase from the prior year. As per its FY21 full year results –
The Company's revenue went up by 21% from FY2020, that stood at AU$295.6 million.
INA's earnings before interest and taxes (EBIT) also stood at AU$94.4 million, highlighting a significant growth of 31% from last year.
The underlying EPS stood at 23.6 Australian cents, up 20% from FY2020 and the operating cash flow increased by 105% to AU$137.6 million.
Fueled by strong financial results, the Company also highlighted a growing portfolio of AU$215 million acquisitions settled in FY21. On 7 September, INA shares were trading 0.070% low at AU$6.390 at 12:04 PM AEST.
National Storage REIT (ASX:NSR)
National Storage REIT manages and operates self-storage centres across Australia.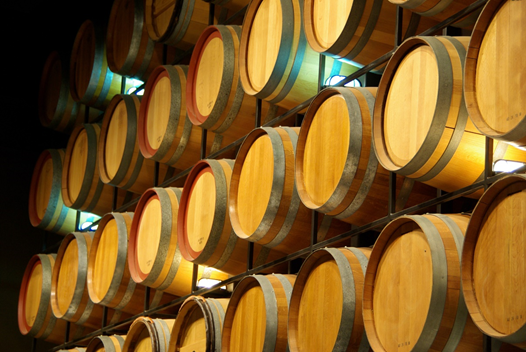 Representative Image Source: © Jirsak | Megapixl.com
The Company highlighted 25 acquisitions in the last year that generated AU$352 million. As per its full year FY2021 results –
Underlying earnings were up by 28% at AU$86.5 million and the underlying EPS had fair growth of 2.4% 8.5 Australian cents.
Total assets stood at AU$3.35 billion, highlighting a healthy jump of 32% from the prior year.
The Group occupancy also increased by 8.5% from FY2020 that came around 86.1% for FY21.
On 7 September, NSR shares were trading 0.040% high at AU$2.440 at 10:29 AM AEST.
Growthpoint Properties Australia (ASX:GOZ)
Growthpoint is an Australian commercial real estate investor with a market worth of AU$3.36 billion.
RELATED READ - 3 ASX200 Real Estate Sector Players to Watch- GMG, DXS, VCX
The real estate investor delivered a significant performance for the year ended on 30 June 2021. According to its annual report of FY2021-
The funds from operations saw 0.4% jump from FY2020, that stood at AU$25.7 cents per share.
Company's profit after tax attributed at AU$553.2 million, highlighting a jump by 103.3%.
The Group's portfolio occupancy increased to 97% for the last year. On 7 September, GOZ shares were trading 0.021% low at AU$4.340 at 12:36 PM AEST.
Goodman Group (ASX:GMG)
Goodman Group operates as an international business and industrial space property, funds and development management business.
The Group delivered a very strong FY21 result with operating profit jumping 15% to AU$1.22 billion. According to its latest financial results –
The operating EPS increased to 65.6 Australian cents from 57.5 Australian cents in FY2020.
Group maintained a robust balance sheet which was well positioned with net debt of AU1.1 billion.
Underlying property fundamentals across portfolio remained strong with an occupancy of 98%.
On 7 September, Goodman shares were trading at AU$23.320 at 10:27 AM AEST, remaining unchanged from the previous close.