Source: Fox_Ana, Shutterstock
Summary

Amid uncertainties, investors continue to explore dividend stocks to add an extra layer of safety to their investments.
ASX listed companies have been consistent dividend payers and declared dividends despite pandemic challenges in the last reporting season.
As a post Easter souvenir, several companies shelled out a chunk of their profits as dividend payments to their investors on 7 April 2021.
2021 has displayed huge market volatility so far amid the tug of war between rising COVID-19 cases and headway in economic recovery. While volatility is likely to continue over the coming days, investors should be vigilant of ASX listed stocks that have managed to deliver terrific returns this challenging year.
Currently, there are several upsides - dividend announcements have been better than projected this year, the RBA can keep interest rates low and global economies are poised to rebound as vaccine distribution expands- to name a few.
Experts opine that companies in the consumer staples, financials, energy, and technology sectors are most likely to raise dividends this year as they have sizable cash on hand and economies pick up steam.
CLICK HERE! Top 25 ASX Stocks By Dividend Yield
Let us look at 10 ASX stocks that can be deemed dividend stars, most of which have paid dividends on 7 April 2021!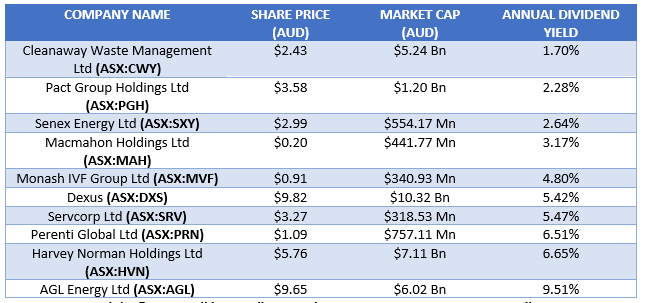 Copyright © 2021 Kalkine Media Pty Ltd, Source: ASX amounts as on 7 April 2021
Cleanaway Waste Management Ltd (ASX:CWY)
The Australian waste management company was one of the many that rewarded its shareholders with dividend payments on 7 April 2021. It issued 1,579,854 new ordinary shares at $2.29 under the Dividend Reinvestment Plan, that was in operation for the FY2021 Interim Dividend.
Besides, the Company has entered into an agreement to buy the local operations of Suez Groupe for $2.5 billion. The acquisition will deliver superior scale and increased operating leverage, says Executive Chairman Mark Chellew.
Pact Group Holdings Ltd (ASX:PGH)
Manufacturer of packaging and other related products, Pact Group demonstrated a solid improvement in all key metrics demonstrate a solid improvement in all key metrics- revenue of $894.4 million and NPAT of $50 million. So much so, the Company expects underlying EBIT for FY21 be better than last year.
Recognising the strong earnings and cash performance, the Board determined an interim ordinary dividend of 5 cents per share, franked to 65%.
Notably, demand for recycled products is gaining momentum as customers and governments progress delivery of ambitious 2025 sustainability targets.
Senex Energy Ltd (ASX:SXY)
Senex paid dividends of 1 cent per share for the half year on 7 April 2021, franked to 97%. As the cherry on the cake, the Board has determined to pay a special dividend of $0.005 per share franked at 93%, conditional upon completion of the sale of the Cooper Basin business.
The long-term dividend policy will target a range of 20-30% payout of free cash flow. The Company is progressing to achieve its FY25 annual production target of over 60 PJ per year.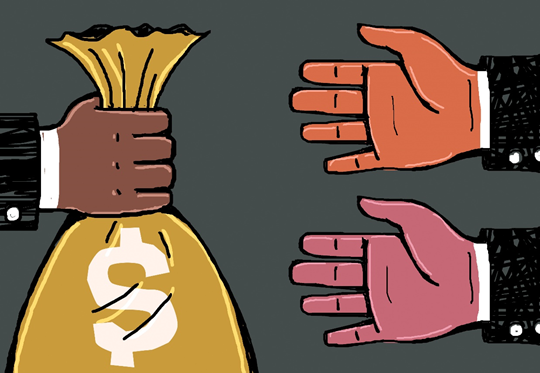 Copyright © 2021 Kalkine Media Pty Ltd
Macmahon Holdings Ltd (ASX:MAH)
Offering the complete package of mining services to miners, Macmahon continued earnings and margin growth in first half FY21. The Company is well placed to fund growth opportunities with cash and unutilised facilities of $255 million.
It paid an increased interim dividend of 0.30 cents per share for the first half. This represents a 20.7% payout ratio. The Company's FY21 revenue is expected to be in the range of $1.3 billion – $1.4 billion.
Monash IVF Group Ltd (ASX:MVF)
one of the leading providers of Assisted Reproductive Services, Monash IVF reported NPAT of $14.7 million in 1H21 against $8.2m reported in the prior corresponding period. The improved operating cash flow generation and the balance sheet is poised for future organic and in-organic growth including support for strategic infrastructure projects.
Notably, dividends recommenced with 2.1 cent fully franked interim dividend declared for 1H21, paid on 7 April 2021.
For this Australian REIT, the first half of FY21 was characterised by improved leasing activity, comparatively strong rent collections, schemes to grow the funds management business and the selective recycling of assets.
Distribution per security of 28.8 cents was up by 6.7% relative to the prior corresponding period. The market should look out for developments around the recent JV with Mercatus and the Implementation Agreement with AMP Capital Diversified Property Fund.
Servcorp Ltd (ASX:SRV)
Supporting workspace and remote work needs, Servcorp's first half FY2021 result highlighted strong cash flow generation from operations. The Company announced interim dividend of 9.0 cents per share (paid on 7 April 2021). It expects to continue making dividend payments in the future.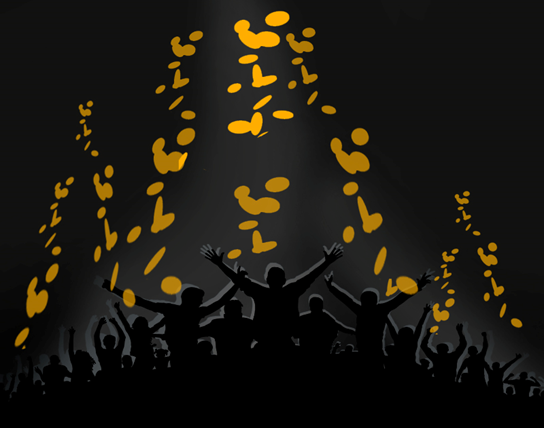 Copyright © 2021 Kalkine Media Pty Ltd
While flexible workspaces will be more important than ever, it will be interesting to watch how Servcorp's unique positioning, global reach, technology platforms, longstanding track record and cash generation drives growth.
Perenti Global Ltd (ASX:PRN)
The diversified global mining services group generated revenue of $1.0 billion in 1H21. Liquidity of $539.5 million supported an unfranked interim dividend of 3.5 cents per share that was paid on 7 April 2021.
Work in hand on 31 December 2020 was of $5.5 billion, while the target tender pipeline amounted to $9.2 billion. On 7 April 2021, Perenti announced the appointment of Mr Rajiv (Raj) Ratneser as Joint Company Secretary.
Harvey Norman Holdings Ltd (ASX:HVN)
The Company announced NPAT for the half year ended 31 December 2020 of $462.03 million. As on 31 December 2020, the value of net assets was $3.74 billion and net cash position was $21.75 million. Customers continued to engage strongly with the retailer's brands.
For the period, the Board recommended the payment of a fully-franked interim dividend of 20.0 cents per share.
AGL Energy Ltd (ASX:AGL)
The Company intends to create two prominent energy businesses concentrating on executing distinct strategies, through a structural separation- New AGL and PrimeCo.
For 1H21, interim ordinary dividend of 31 cents per share and special dividend of 10 cents was declared. In FY21, underlying EBITDA is projected between $1,585 million and $1,845 million and underlying Profit after tax is likely to be between $500 million and $580 million.
While these stocks seem attractive, investors should remain constantly vigilant of the sinusoidal market trends, conduct fundamental and technical research, and then proceed with any investment decision.