Summary

Temple & Webster reported an outstanding first-half FY21 performance with revenue and EBITDA growing 118% and 556% respectively, on PCP.
Active customers have grown substantially, and brand awareness also improved during the half-year period.
The online retailer also bolstered its brand awareness and scored high on customer satisfaction.
Australia's prominent online retailer of furniture and homeware, Temple & Webster Group Ltd (ASX:TPW) has posted impressive numbers for the six months ended 31 December 2020. The financial results become more significant, considering the pandemic-linked challenges during the period, especially for non-essential items' retailers.
Let us look at TPW's key developments during the first half:
Financial Highlights
H1 FY21 revenue stood at A$161.6 million, up by 118% compared to the prior corresponding period (pcp).
EBITDA was A$14.8 million, a massive jump of 556% on pcp (H1 FY20: A$2.3 million).
The half-year period ended cash flow positive with an ending cash balance of A$85.7 million against A$38.1 million by H2 FY20.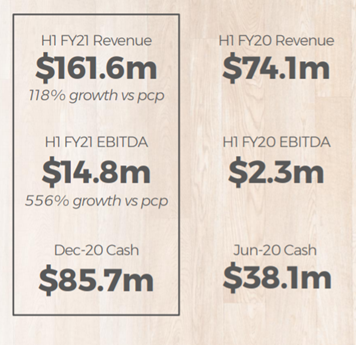 Image source: ASX announcement dated 02 February 2021
TPW maintains growth trajectory
Temple & Webster has a large addressable market with accelerating digital adoption. The online retail market leader continues to grow its market share.
Image source: ASX announcement dated 02 February 2021
Apart from the robust top-line numbers, the Company also witnessed a notable increase in brand awareness driven by the nation-wide TV campaign. Further, TPW's active customers have grown to 687k, an increase of 102%.
Temple & Webster CEO, Mark Coulter highlighted that the Company's strategy of being a category specialist is working. Despite the pandemic-induced challenges, customers are turning to TPW's furniture and homeware products.
The significant profit growth empowers the Company to invest in brand awareness, private label, data, and technology to drive market share. TPW will continue its reinvestment strategy in growth areas to improve its already established market leadership position.
Outlook
The outlook remains positive for TPW with the second half starting positively (January's revenue growth exceeded 100%).
Tailwinds supporting TPW's growth include:
The continuing adoption to digital shopping due to demographic and structural shifts and also due to pandemic.
Improved discretionary income due to travel restrictions.
Recouping housing market and employment levels.
Also Read: Homeware Hot stocks To Fire Up Your Christmas Season – TPW, NCK, ADH
Other Highlights
Temple & Webster experienced robust growth across channels & demographics and geographies, and customer satisfaction remained at the core of its services. It improved its range, quality and service and reported steady y-o-y growth in Net Promoter Score (NPS). The Company is working with logistics associates on scaling through peak periods.
The Company has increased tech investment and launched iOS app, AI created room ideas, expanded AR/3D team and capabilities. TPW also invested in training and infrastructure while growing the team.
On 02 February 2021, TPW shares closed at A$10.530. The Company has a market capitalization of A$1.32 billion.