S&P ASX 200 opened on weakness across financial and technology sectors. Index had a flat trading session today, ending in red, down by 0.48% to 7061.70, after setting a new 52-week high yesterday. The gains in the heavyweight miners backed by higher commodity prices were squared off by losses in Banks and Technology stocks.
Most of the sectors, 9 of 11, ended in red today along with the index. Materials was the best performing sector ended with a gain of 1.39%.
On that note, let's look at some MAJOR NEWS from the ASX listed companies.
Qantas Airways Limited (ASX: QAN)
Image Source: © Boarding1now | Megapixl.com
Qantas is always in talks because of some reason or other. The recent announcements from Qantas are:
Australian Competition and Consumer Commission (ACCC) regulator denied joint business agreement between Qantas Airways Ltd. and Japan Airlines Co Ltd. The deal was covering the flights between Australia, New Zealand, and Japan.
ACCC denial is to keep the healthy competition as the agreement would undermine competition significantly in Melbourne-Tokyo and Sydney-Tokyo route when international travel resumes.
The proposed deal would allow the 2 key competitors to share fares and schedules among themselves. As per ACCC this deal could be approved only if it's for public benefit. At this stage, the proposal set forward fails to pass this condition.
Qantas is still hopeful and is preparing to convince the regulator about the deal merits.
Another reason why Qantas is in talks today is:
Qantas has decided to continue with its head office in Sydney and Jetstar head office in Melbourne after extracting government waivers and other subsidies. The company also highlighted the agreement with state governments include new investment in each state; to build a new flight training centre; develop a comprehensive and diverse employment program. The company is pleased to announce that Sydney will be the city to launch its first non-stop flights to London and New York.
The QAN shares are trading at AUD 4.74 per share, down by 1.45%, on 6 May 2021.
Also read: Qantas Tops The List Of World's Safest Airlines For 2021
Nearmap Limited (ASX:NEA)
Nearmap Ltd shares are down by about 23% today and are ended the day at AUD 1.81 per share after the announcement of legal action from a US rival over patent infringement. The law action has been commenced by a company named Eagleview ruling the aerial mapping market in the US. Eagleview claims are about 8 of its aerial roof reports patents, which, as stated, have been infringed by Nearmap.
These aerial reports are used to estimate the cost of roof repairs, construction, insurance, by a wide range of organizations, across industries including the government.
As per Nearmap, it always takes the subject of patent very seriously and will vigorously defend itself against the complaint.
Also read: Nearmap Dips; Downgrades Guidance for FY20
National Australian Bank (ASX:NAB)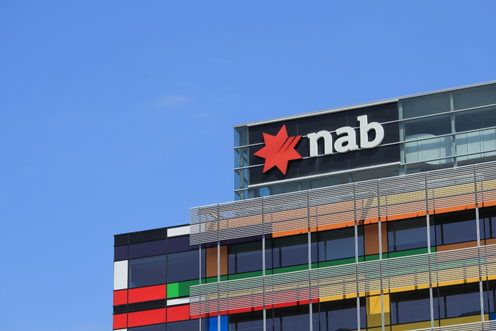 Image Source: © Tktktk | Megapixl.com
National Australian Bank announced it had exceeded market expectations in paying an interim dividend to shareholders of 60 cents, which is almost double the amount it paid the same time last year. The company also declared record levels of demand for its new business loans. Its new business accounts rose by 16% higher as compared to the previous year.
It has also warned against government spending cuts as the economy shows signs of bouncing back to pre-covid levels. NAB CEO, Mr McEwan highlighted that pipeline is growing, which was never seen in years.
A key driver for the bank rising profits was the change in its credit impairment provision. Even after exceeding the market expectations, the share price of NAB closed in red, down by 2.96% at AUD 26.56 per share.