Soucre: dolphfyn, Shutterstock
Summary

Spacetalk Adventurer wins international Red Dot Award for Product Design
The Red Dot Product Design Award dates its origins back to 1955 and appraises the best products created every year for outstanding design quality
Adventurer, launched in December 2020, is Spacetalk's next generation 4G all-in-one smartphone watch and GPS device for kids aged 5-12
Adventurer incorporates major industrial design, hardware and software engineering breakthroughs and enhancements into an iconic connected smartwatch
Smartwatches are the fastest growing market for wearables globally, and Spacetalk (ASX:SPA) is a leader in kids connected smartwatches
ASX-listed developer of breakthrough software and wearable device for families, Spacetalk Ltd (ASX:SPA) has been honoured with the prestigious Red Dot Design Award for Product Design. With over 18,000 entries across three main design disciplines, the German Red Dot Design Award is one of the world's largest global design competitions.
Spacetalk has built a global reputation for incorporating best practice data encryption, security and privacy technologies in connected smartwatches purpose-built for kids aged 5-12 and seniors aged 60+, with a professional, user-centred design approach.
The Red Dot Product Design Award judging criteria amongst others includes: Degree of innovation | Functionality | Formal quality | Ergonomics | Durability | Symbolic and emotional content | Product periphery | Self-explanatory quality | Ecological compatibility
Mr Mark Fortunatow commented: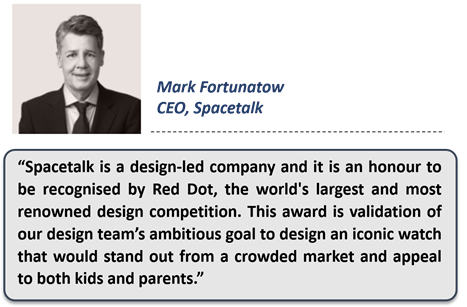 Spacetalk's holistic design approach in developing a game-changing product
Mr Fortunatow underscored that a key design challenge for the development of Adventurer was to generate a non-intrusive device from both visual and comfort sense while retaining its robustness to endure anything kids can throw at it.
Adventurer was designed and developed from the ground up by a cross-disciplinary design team from Australia and the UK with leading industrial design team, Tangerine Design, directing the product design from their offices in the UK. The Company adopted a holistic design approach right from the start of the project to ensure every aspect of the product was design-led from a product design, digital design, service design and experience design perspective. Receiving the Red Dot Award for Product Design is validation of the huge advancement Spacetalk Adventurer has made in the kids connected wearables category, building on what the Company learned from the phenomenal success of their original Spacetalk Kids connected smartwatch, and incorporating major industrial design, hardware and software engineering breakthroughs and enhancements into a high-quality device.
Spacetalk Adventurer in a nutshell
Spacetalk Adventurer is the Company's all-in-one next-generation 4G smartphone watch and GPS device for 5-12 year old kids.
The Company launched this device in December 2020.
Adventurer is explicitly designed for children and is built with a tough kid-proof ruggedness, IP67 water resistance, and customisable comfortable straps.
It features advanced technologically advanced to provide confidence for the child, augmented controls for the parent, and exciting functionalities for a family to stay connected.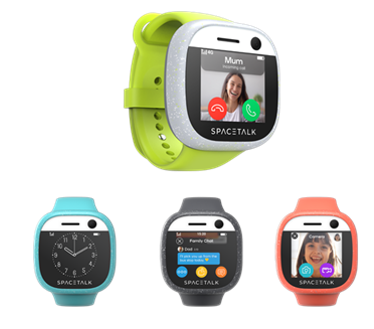 Image Source: SPA
In March 2020, SPA.ASX announced a partnership with Telstra Corporation Limited ("Telstra"). Pursuant to receiving Full Technical Approval from Telstra, which marked the completion of exhaustive device testing, the Company announced the ranging of Spacetalk Adventurer across all Telstra retail stores in Australia and Telstra online channels; with a planned launch date of 13 April 2021.
READ MORE: Spacetalk Adventurer a step closer to launch with crucial Telstra approval
Telstra Retail and Regional Executive Fiona Hayes commented-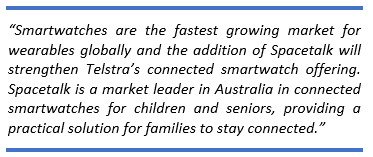 About the Spacetalk App
Spacetalk smartwatches are connect to a parent-controlled Spacetalk App, charging $5.99 p/m to connect to two devices or $8.99 for up to five devices
The app provides instant messaging and calls, similar to WhatsApp, with the added benefit that Spacetalk communications are restricted to an ecosystem of "family and friends" contacts approved by the parent for their child. In doing so, Family Chat creates a unique secured "family" environment where every linked contact (i.e. parent-approved contacts) can engage in wholesome fun ways, including with picture, video and audio sharing
Having more users on the app, creates a strong network effect and a stickiness to the platform as well as increasing awareness of the devices and driving further device sales. This is encouraged with the app fee charged only for the device's control-app whereas all other family/friend Apps connected to the smartwatches attract no monthly fee
Spacetalk App works with both Android and iOS phones and tablets
On 7 April 2021, SPA shares closed at A$0.140.

To know more about Spacetalk Ltd., click here.