When tremors of an epidemic were felt in December last year in China, there was a lack of attention to the potential consequences of an epidemic, which turned into a pandemic by next year.
Likewise, policymakers and legislators were also complacent about the consequences.
While the pandemic has been excessively labelled as unprecedented, there had been precedents because the epidemics and pandemics go alongside human history.
Let's not go back to Spanish flu of 1920s. In this century, politicians and policymakers lacked decisiveness and long-term approach when pandemics like SARS and Ebola broke out.
Image Source: © Kalkine Group 2020
But the worst might have passed now since vaccine hopes are getting stronger as late stage trial results are flowing out favourably.
In March, the markets witnessed one of the steepest downturns ever in a record time. Interestingly, the recovery in mainstream benchmarks had been quite swift as well.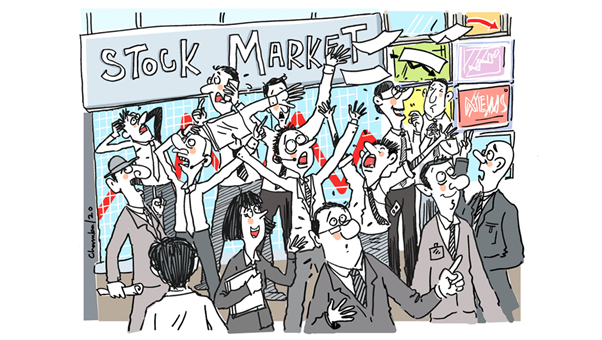 Image Source: © Kalkine Group 2020
With record low interest rates, cheaper cost of capital, and accommodative fiscal policy, the floor was already set for the risk assets to march higher.
The recovery in markets and optimism in stocks that experienced tailwinds because of pandemic induced liquidity gush are reminiscent of the current environment of policy approach.
Six Multibagger stocks that saw gross margin expansion or maintained it despite pandemic
Gross margin is a measure of a company's ability to control costs or improve its products selling price. Many investors closely track companies that can expand gross margin. Here in this article, the stocks discussed have gained substantial attention this year as apart from many other aspects, these companies have been able to maintain gross margin or expand it despite pandemic, and these stocks on the ASX have skyrocketed.
Tesserent Limited (ASX:TNT) up 8x
Tesserent is Australia leading cybersecurity provider. It provides organisations with a secure environment to fend off cyberattacks. The company provides products, services and strategic advice to over 800 enterprises.
TNT shares are up a whopping 769% this year. The magnitude of outperformance is definitely very large. The demand for cybersecurity has increased because of increasing ransomware attacks and large sections of workforce operating remotely.
For the year ended 30 June 2020, gross margin of Tesserent was 73.01% compared to 56.82% in the previous year, meaning an improvement of around 1600 basis points.
Redbubble Limited (ASX:RBL) up 4x
Redbubble is a platform connecting independent artists with potential customers. As an online platform, the company ships items across the world. Artists upload their designs on the website and customer selects design, while Redbubble arranges shipping and printing.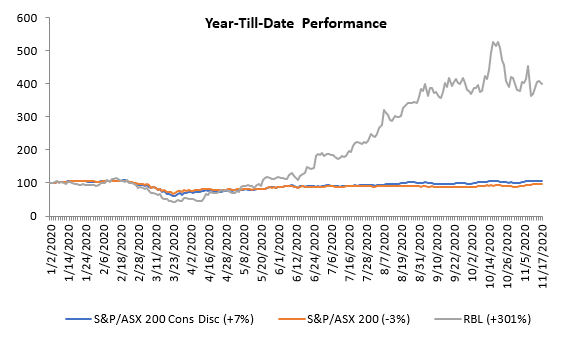 RBL shares are up just north of 300% this year and have outperformed the benchmark return during the same period. The performance of e-commerce businesses had been similar because the pandemic has accelerated take up digital services.
For the year ended 30 June 2020, the gross margin of Redbubble was 32.28% compared to 30.8% in the previous year, meaning an improvement of 148 basis points.
Sezzle Inc (ASX:SZL) up 3.5x
Sezzle is a buy now pay later company and labels itself as a public benefits corporation. As a fintech business, it is a payment platform allowing consumers to purchase goods and pay later through interest free instalments.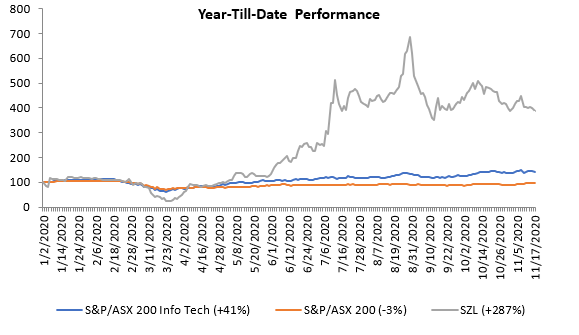 SZL shares are up 287% this year. The performance of Sezzle shares also dwarfs the returns generated by the S&P/ASX 200 and the sector specific benchmark. In fact, the BNPL sector has seen phenomenal penetration amid the pandemic.
For the half-year ended 30 June 2020, the gross margin of the company was 51.4% against a gross margin of 36.11% in the previous year. This equates to an improvement of around 1500 basis points.
Kogan.com Limited (ASX:KGN) up 2.5x
Sometimes people refer Kogan.com to as Amazon.com of Australia. The e-commerce company has seen phenomenal growth in the wake of the pandemic. It is Australia's largest online retailer and offers a range of categories and brands.
KGN shares are up 155% this year and have outperformed benchmark as well as sector benchmark. The magnitude of outperformance against the S&P/ASX 200 is 158%, while the outperformance against sector specific benchmark is 148%.
For the year ended 30 June 2020, the gross margin of Kogan.com was 25.41% compared to 20.67% in the previous year. This equates to a margin expansion of 475 basis points.
Macquarie Telecom Group Limited (ASX:MAQ) up 2.3X
Macquarie Telecom labels itself as a company that went head to head with Telstra – the monopolist in the industry. In the first ten years, it grew revenues from nothing to $200 million. Macquarie Telecom also opened its first data centre in 2000.
Now the group operates in four different business verticals: telecom, cloud services, government, and data centres.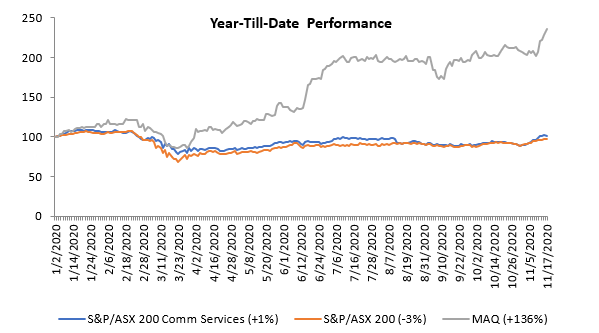 In 2020, Macquarie Telecom has outperformed benchmarks significantly. In 2020, the stock is up by 136% compared to 3% decline in S&P/ASX 200 and a marginal rise in the sector benchmark S&P/ASX 200 Communication Services.
For the year ended 30 June 2020, the gross margin of the company was 67.76% against a gross margin of 67.29% in the previous year, showing a marginal improvement of 47 basis points.
Netwealth Group Limited (ASX:NWL) up 2x
Netwealth Group is a wealth management business in Australia. As a platform operator, it supports the delivery of financial products. Netwealth also provides superannuation, non-super investment, investor directed portfolio services, managed accounts, managed funds.
In 2020, NWL shares are up by 107%, which is an outperformance of 110% against the mainstream benchmark S&P/ASX 200. Netwealth has outperformed its subsector index with even higher margin of 118%.
Margins for Netwealth contracted marginally in the year ended 30 June 2020. This was largely driven by investments in technology, security, collaboration and communication, server technology, storage and networking etc.
Underlying EBITDA margin was down by 30 basis points to 52.3% compared to 52.6% in the previous year. Likewise, NPAT margin was down by 110 basis points to 35.3% compared to 36.4% in the previous year.
Note: Performance of stocks and indices is indexed to 100 and period is 2 January to 17 November.
Data source Thomson Reuters