Highlights

ASX-listed healthcare companies rarely fail to bring joy to the market participants, with a few of them providing outstanding returns in the last couple of months.
Rhinomed, IDT Australia, and Prescient lead the way with outstanding returns in the last three months, followed by Wellfully, Neuren Pharmaceuticals, Telix and LBT Innovations.
The impressive returns are largely driven by exceptional results announced during the reporting season.
The Australian benchmark index ASX 200 closed marginally lower on Thursday (-0.54%), while the healthcare sector index also fell, closing 0.814% lower.
Despite the decline in the sector index, healthcare has fared well of late and is one of the most noticeable sectors on the ASX. Healthcare players rarely fail to bring joy to the market participants, with a few of them providing outstanding returns in the last couple of months.
This article will look at seven such ASX-healthcare shares that have delivered more than 40% returns in the last three months.
RELATED ARTICLE: Seven ASX healthcare stocks delivering 1-month returns of over 15%
Rhinomed Limited (ASX:RNO)
ASX listed medical device company Rhinomed is a leader in wearable nasal and respiratory technology platform.
On 11 August 2021, the Company disclosed that it had obtained purchase orders (POs) and started supplying NSW Health Pathology with an initial one million Rhinoswabs. Furthermore, Rhinomed has initiated deliveries with these initial orders being fulfilled in upcoming weeks.
Michael Johnson, CEO of Rhinomed, commented-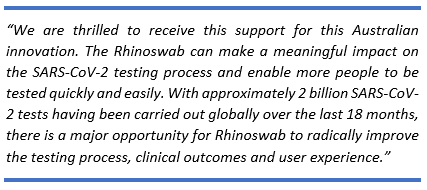 ALSO READ: Four ASX dividend stocks in the healthcare space
IDT Australia Ltd (ASX:IDT)
Australian pharmaceutical manufacturing player IDT Australia has broad experience in developing and producing high-potency as well as high-containment pharmaceutical products.
On 25 August 2021, IDT Australia released its financial results for the year ended 30 June 2021, mentioning the business and financial highlights.
In its report, the Company mentioned that it was progressing discussions with the Victorian Government as well as with Monash Institute of Pharmaceutical Sciences, in June 2021, for progressing the development of the first locally manufactured mRNA COVID 19 vaccine candidate of Australia.
In FY21, IDT made progress on manufacturing medicinal cannabis and has developed its own proprietary medicinal cannabis active pharmaceutical ingredient (API) and finished dose form products.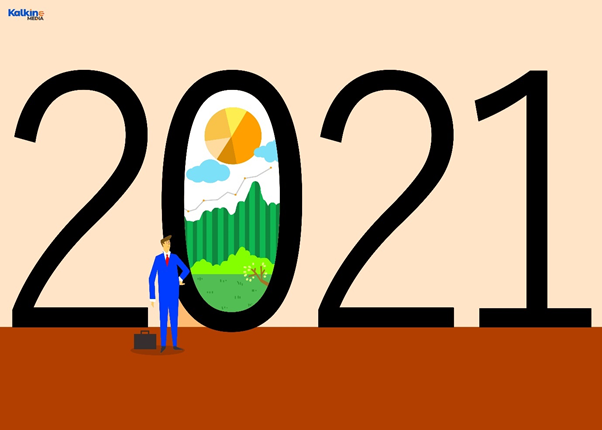 Copyright © 2021 Kalkine Media
The key financial highlights are-
The Company recorded an NPAT of AU$2.1 million in FY21, representing almost 209.6% YoY improvement.
IDT's revenue for the year of AU $16.9 million represents a YoY growth of 19.5%.
The Company ended FY21 with a strong cash balance of AU$6.9 million.
Prescient Therapeutics Limited (ASX:PTX)*
Clinical stage oncology firm Prescient Therapeutics is engaged in developing personalised therapies for cancer, including targeted and universal CAR-T. PTX is developing two targeted therapies, including PTX-100 and PTX-200. The CAR-T therapies of Prescient comprise the OmniCAR platform and Cell Therapy Enhancements program.
In August 2021, the Company announced the onboarding of Donald M. O'Rourke, MD, to its SAB (Scientific Advisory Board). In June 2021 quarter, PTX made significant progress across its cancer programs and ended the period in a healthy financial position.

To know more about Prescient Therapeutics, Click here
RELATED READ: Prescient ends June quarter with notable progress in cancer programs and a healthy financial position
Wellfully Limited (ASX:WFL)
Fully integrated, science-based wellness company Wellfully Limited offers products for several target wellness sectors, including personal care, personalised medicine, healthcare and anti-aging, nutrition, and weight loss.
On 29 July, Wellfully disclosed an overview of its quarterly activities for the period ended on 30 June 2021. The Company highlighted that it had signed a supply agreement and third-party partnership with BORK, a Russian luxury consumer brand.
With this deal, the Company will supply RÉDUIT One, Spa applicator devices as well as a selection of Skinpods and Hairpods supplied in Russia under the BORK brand.
Moreover, Wellfully can focus on its market expansion and growth strategy in Russia and the CIS markets of Europe and Central Asia with this collaboration. The Company expects to launch a partnership with BORK in the second half of 2021 and will primarily run to 1 September 2022.
Neuren Pharmaceuticals Limited (ASX:NEU)
ASX-listed Neuren Pharmaceuticals is engaged in developing two innovative drug therapies for multiple neurological disorders.
On 25 August 2021, Neuren Pharmaceuticals announced its interim report for the half-year to 30 June 2021. During the period, the Company achieved significant progress in the development of trofinetide for Rett syndrome as well as of NNZ-2591 for Phelan-McDermid syndrome, Angelman syndrome and Pitt Hopkins syndromes.
Source: © Arturszczybylo | Megapixl.com
The Company has completed enrolment of the LAVENDER Phase 3 clinical trial of trofinetide in Rett syndrome and is on track for top-line results in Q4 2021.
The promising results will allow the Company to receive revenue in 2022 and 2023 for Rett syndrome in the US alone of AU$111 million.
Neuren highlighted that Phase 2 clinical trials of Phelan-McDermid, Angelman and Pitt Hopkin are all on track to commence in H2 2021.
Neuren continually towards three crucial drivers of future value:
RELATED ARTICLE: How did Ansell, Estia Health and 4DMedical perform in FY21?
Telix Pharmaceuticals Limited (ASX:TLX)
Biopharmaceutical player Telix is engaged in developing diagnostic and therapeutic products by using MTR or Molecularly Targeted Radiation.
On 23 August, Telix entered into a strategic collaboration agreement with UK-based Lightpoint Medical. With this collaboration, the duo will explore a combination of Telix's TLX599-CDx and Lightpoint's SENSEI® for RGS (radioguided surgery) to detect cancer in real-time.
The collaboration will aim to advance the new technology and transform treatments in the fast-growing, high-value field of precision-guided cancer surgery.
Dr Christian Behrenbruch, CEO of Telix, stated-
LBT Innovations Limited (ASX:LBT)
A frontrunner in medical technology automation LBT Innovations has a history of working on world-leading products for microbiology automation. The Company is developing the Automated Plate Assessment System or APAS®, being commercialised through its joint venture (JV), Clever Culture Systems.
On 18 August 2021, the Company announced that clinical results from the evaluation of the APAS® Independence by The Johns Hopkins Hospital was published in the Journal of Clinical Microbiology (JCM).
Steven Giglio, Scientific Director of LBT, commented-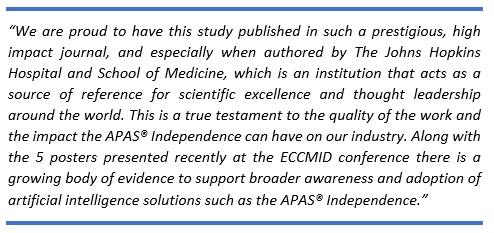 ALSO READ: Looking for pathology stocks? Here are five exciting ASX-listed shares
* Prescient Therapeutics is a sponsored client.