Summary

May 2021 could prove to be a good month to find ASX shares that are growing and could deliver good returns.
Retailers, technology companies and miners are especially well-poised to perform in today's changing landscape.
While several stocks seem alluring, technical analysis, detailed research, and constant vigilance of the market sinusoidal trends should be duly practised.
When it comes to the weather, May in Australia offers something for all preferences. The final month of autumn in most parts is also the start of the dry season in the tropical north.
Just like the weather's diversity, investors can currently consider a mixed bag of lucrative ASX-listed stocks that are poised to be the next market darlings. Industry experts opine that May 2021 could prove to be a good month to find ASX shares that are growing and could deliver good returns.
INTERESTING READ: 5 Exciting ASX-listed technology stocks to watch in May
Copyright © 2021 Kalkine Media Pty Ltd
Let us look at 7 ASX hot stocks for May 2021-
The Reject Shop Limited (ASX:TRS)
One of the largest discount retailers in Australia, The Reject Shop is undergoing a cost-cutting program- to ensure that its business has the right cost base to be efficient and profitable.
Strategically, the retailer is ready to close stores where it cannot get lower rental costs. Besides, it is working on an online offering.
In the FY21 half-year result, The Reject Shop's underlying profit soared by over 46% to A$16.3 million.
Megaport Limited (ASX:MP1)
This technology company offers software for managing network connections. It is on track to achieve EBITDA breakeven, on a run rate basis, by June 2021 (representing a A$25 million turnaround on an annualised basis).
The Company achieved a full quarter's positive cashflow from operations early in Q2 FY21, signed a record number of new logos and delivered a 43% increase in monthly recurring revenues across the past 12 months.
"We have a phenomenal opportunity to help businesses across the world modernise their network and change the way they operate and succeed in this cloud-enabled world", says Chairman Bevan Slattery.
ALSO READ: Is Megaport Ltd. (ASX: MP1) Ready for A Big Leap?
Kogan.com Ltd (ASX:KGN)
eCommerce giant with a portfolio of retail and services businesses, Kogan.com has maintained a razor sharp focus on charming customers in a dynamic environment. In 3Q21, the Company grew its gross sales by over 47%, revenue grew by over 65% and active customers grew by over 77% to 3,215,000 for Kogan.com and 742,000 for Mighty Ape.
The Company is investing in technology, brand awareness, logistics capability and platform improvements. Strong levels of inventory and exciting new product launches have also continued.
Besides, investors are likely to benefit from the solid dividend that Kogan continues to pay to shareholders.
Copyright © 2021 Kalkine Media Pty Ltd
Coles Group Limited (ASX:COL)
Operating several retail chains, Coles has been savouring the ongoing successful execution of its refreshed strategy. Below are key excerpts from the 2021 third quarter sales results-
Supermarkets B2C eCommerce sales growth of 57%.
Own Brand witnessed A$2.5 billion in sales and reached 31.6% penetration.
7 Own Brand products bagged awards.
Smarter Selling is on track to deliver cost savings more than A$250 million in FY21.
The Company launched 'Together to Zero' strategy. The commitments are to deliver net zero greenhouse gas emissions by 2050, the entire Group will be powered by renewable electricity by FY25, reduce combined scope 1 and 2 greenhouse gas emissions by over 75% by FY30.
RELATED READ: Why Investors Are Fixing Their Gaze At Coles (ASX:COL)
Newcrest Mining Limited (ASX:NCM)
Newcrest Mining's exploration focus is on finding new resources with tier one prospective. The Company is witnessing the benefits of leveraging technology to identify targets and optimise its drilling program.
Newcrest Mining recently revealed the East Ridge discovery- a new zone of an exciting higher grade mineralisation at Red Chris. At Havieron, infill drilling concluded, raising the Company's belief in the continuity of high grade mineralisation.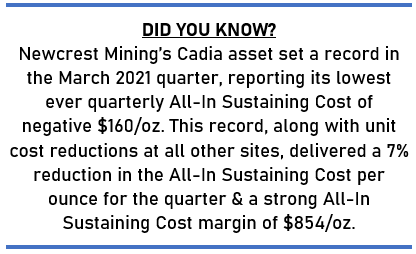 Sandfire Resources Limited (ASX:SFR)
The ASX copper miner seems to be in a good position to outperform, suggests its March quarter production update. Most importanty, the Company has been controlling costs.
Besides, multi-pronged exploration programs continued across the Doolgunna Province. Strong mine production and milling rates were maintained. The current phase of drilling was completed at the Old Highway Gold Prospect.
RELATED READ: How OZL and SFR are faring on the charts amid a surge in copper price?
FY2021 guidance provided is upper end of 67-70kt Cu and 36-40koz Au. C1 cost guidance is US$0.80-$0.85/lb.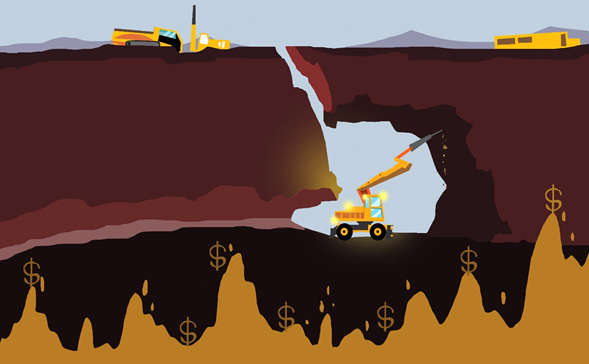 Copyright © 2021 Kalkine Media Pty Ltd
Pacific Current Group Limited (ASX:PAC)
The global multi-boutique asset management firm is encouraged by the breadth of growth across the portfolio. Since several of the Group's portfolio companies are very well positioned to grow, continued capital raising success is expected across 2021 and 2022.
During the quarter ended 31 March 2021, USD-oriented fund managers saw FUM increase by 7.9%. The Group witnessed strong inflows across the portfolio including GQG, ROC, Carlisle, Proterra, and Victory Park. It also acquired an interest in Astarte Capital Partners.
Stock performance
The below table illustrates how the above discussed stocks have performed on the ASX. Please note that all prices are sourced from ASX, as on 4 May 2021 at 3:00 PM AEST.
Copyright © 2021 Kalkine Media Pty Ltd, Source: ASX