Summary

NOVONIX, battery testing company, is a brand name known for quality and services in the battery industry.
The Company's purpose is to assist in the international deployment of lithium-ion battery (LIB) technologies designed for a cleaner energy future.
During FY20, NOVONIX was involved in the development and implementation of a downstream integration strategy, catering to the global LIB space.
The Company has been transforming its business into a supplier of advanced battery materials, equipment, and services to the global LIB market.
Foreseeing a bright outlook for FY21, the Board and management are excited by the immediate opportunities ahead for growth and sales.
NOVONIX Limited (ASX:NVX) is a respected and revolutionary battery testing company. It is indicated to have spun out of Dr Jeff Dahn's laboratory at Dalhousie University. Today, the team is known as world leaders in new battery technologies.
NVX shares traded at $ 1.80, up 5.9% mid-day on 23 September 2020. The share price has grown 10x over the past 6-months.
The Company recently released its FY20 Annual Report for the year ended 30 June 2020. Several developments along with implementation of a downstream integration strategy took place across the reporting period. These have well-positioned NOVONIX to participate in the broader long-term growth of the global battery market.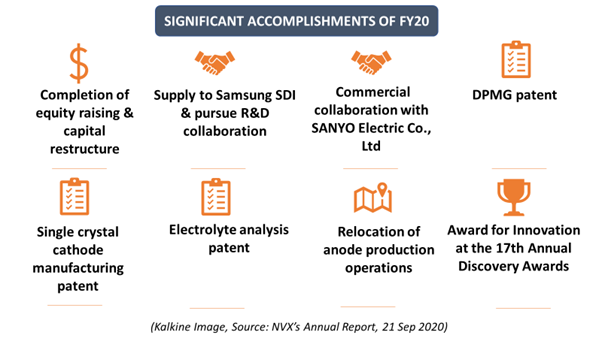 Equity Raising & Capital Restructure
On 30 June 2020, NOVONIX completed $ 63 million equity raising. In the capital raising, outstanding convertible notes were redeemed, and loans from Directors, related parties were repaid and invested in the Company. Funds raised were indicated to be utilised to-
offer working capital and capex to comply with an initial SAMSUNG supply contract.
facilitate commercialisation and development of the DPMG technology for the anode, cathode as well as other million-mile battery innovations.
offer general working capital as well as capital investment, to enable the Company in increasing production to 2,000 tpa.
Also read about NOVONIX's Recent Retail Entitlement Offer HERE
Conditional Agreement with SAMSUNG SDI
In December 2019, the Company reached a conditional agreement to supply LIB anode material to SAMSUNG SDI. Below are specific details about the agreement-
NOVONIX will initially supply a volume of 500 tonnes with preliminary deliveries expected to start in late 2020.
Larger volumes will be considered each year. These will be subject to supply performance by NOVONIX, market conditions and SAMSUNG SDI requirements.
The signing of the purchasing agreement for 500 tonnes remains subject to SAMSUNG SDI's quality assurance processes as well as an audit of supplier processes.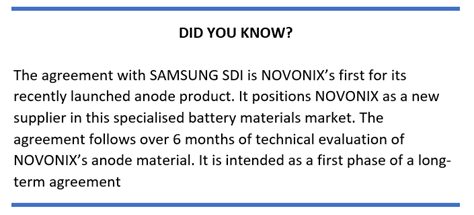 Reportedly, both the parties will explore opportunities for the supply of new graphite anode materials use in Samsung SDI products targeting for electric vehicles (EV) and energy storage system (ESS), under an R&D collaboration.
Commercial Collaboration With SANYO
In January 2020, the Company announced a commercial collaboration with SANYO Electric Co., Ltd. of Japan. NOVONIX has also signed and executed a nonbinding MoU with SANYO. Under the MoU, both parties will investigate NOVONIX's opportunity to supply graphite anode material for LIB manufacturing.
Patents Update – DPMG, Single Crystal Cathode Manufacturing & Electrolyte Analysis
In this backdrop, let us look at a few facts-
DPMG & 'single crystal' NMC cathode material were both developed via the partnership with the Research Group of Professor Mark Obrovac at Dalhousie University.
Single crystal cathode cells far surpass the lifetime of other NMC or graphite cells (J. Dahn et al. Journal of the Electrochemical Society, 2019). This battery material innovation may deliver a breakthrough step-change improvement in cost, performance, and sustainability within the battery, EV and renewable energy sectors.
Using Li-DTA, battery developers and researchers can comprehend changes in the composition and amount of the liquid electrolyte (in the battery during cycling). The new patented technology along with its associated commercialisation strategy is an additional testimony of the suite of pioneering technologies that are instituting NOVONIX as a frontrunner in battery and materials advancement.
INTERESTING READ! Know about NOVONIX'S recent agreement with Lake Resources HERE
Relocation of Anode Production Operations
The Company relocated its anode production operations to a larger facility in Chattanooga, Tennessee. The greater expansion capability is underpinned by a long-term 5-year lease with two options for renewal, each for a further 5 years.
Initially, NOVONIX will occupy 3,700 sqm (of 11,150 sqm from the facility). It will hold right-of-first offer to lease the rest of the entire facility. The initial 3.700 sqm will house the first 1,000 tpa manufacturing capacity and the lab, office, and development pilot plant.
Award for Innovation at the Annual Discovery Awards
On 22 November 2019, NOVONIX Battery Technology Solutions bagged the Award for Innovation at the 17th Annual Discovery Awards held in Halifax, Nova Scotia. The award recognised the Company's work in the field of LIB testing and development.
FY21 Outlook
NOVONIX is well positioned with the essential people and technology to partake in the swiftly growing EV and ESS markets. The Company is focused on ramping up the capacity at its plant in Chattanooga. Besides, the R&D centre in Halifax is eying new and improved technologies, strategic partnerships with leading global battery companies. A growing patent pipeline may position NOVONIX to be at the forefront of battery technology of the future.