Highlights
The ASX 200 index was up around 0.88% in afternoon trade buoyed by the US market rally last night.
While A-REITs and technology stocks are gaining, healthcare and financial companies face losses.
Covered here are the mid-day performances of QBE Insurance, Sonic Healthcare, REA Group and Xero Limited from the ASX 50 index.
The benchmark ASX 200 index was up over 0.88% by noon to reach 7,175.30 points, backed by the US market rally. With the majority of sectors in green, A-REITs and Information Technology stocks were also rising. On the flip side, financials and healthcare stocks were losing. Alongside the broader market index, large-cap stocks shown by ASX 50 index (XFL) have also advanced about 0.937% today.
With this in mind, let us look at the performance of four ASX 50 stocks from the aforementioned sectors as of noon today. QBE Insurance Group Limited (ASX:QBE), Sonic Healthcare Limited (ASX:SHL), REA Group Limited (ASX:REA) and Xero Limited (ASX:XRO).
QBE Insurance Group Limited (ASX:QBE)
QBE Insurance Group Limited is a dominant player in the Australian insurance industry. The insurance behemoth commands a market capitalisation of AU$18.89 billion. QBE shares have traded in the 52-week range of AU$10 to AU$12.88 apiece.
By today noon, QBE share price is up 0.08%. The underwriting and reinsurance company did not publish any updates in the exchange today. Its last announcement was yesterday, relating to a change in the director's interest and conversion of securities related to an employee incentive scheme. Both did not appear to have a major impact on QBE share price. At the beginning of the month, QBE Insurance had announced latest performance update on the ASX, reflecting growth on prior-year numbers.
However, in the last five days of trade, QBE share price has gained over 3% alongside and on a YTD basis, the stock has gained around 7%.
Price performance and dividend yield on Wednesday noon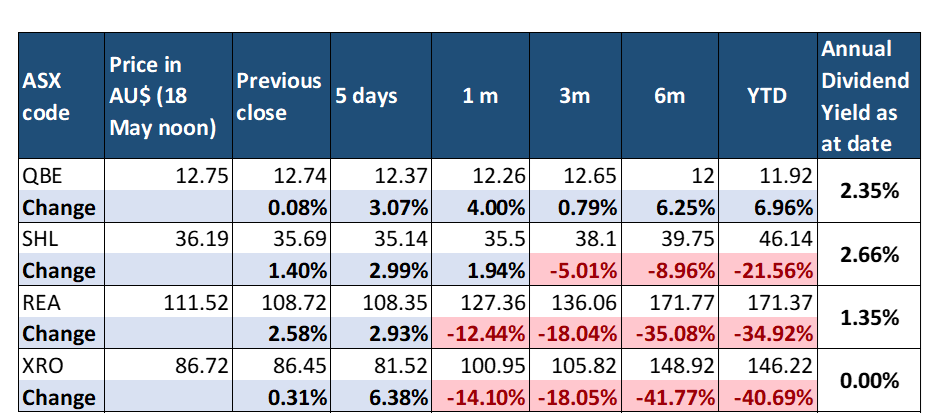 Image Source © 2022 Kalkine Media ®
Sonic Healthcare Limited (ASX:SHL)
Sonic Healthcare shares traded on a strong note in noon trade, up 1.40%, outperforming the healthcare sector, which was in the red today.
While Sonic Healthcare Limited has not made any new announcements on ASX except for its daily buy-back notice, its shares are moving higher. It has been on a gaining streak for the last five days, up about 3%.
With a market capitalisation of 17.13 billion shares, Sonic Healthcare Limited shares trade in the 52-week price range of AU$32.12 to 46.95 a share.
REA Group Limited (ASX:REA)
Next is the real estate marketing company REA Group Limited. The stock is up today in-line with its industry benchmark.
By noon trade, REA share was over 2.58%. The company seems to be reversing the losses it made earlier this month post- release of its Q3 financial results. While the share price dip earlier seemed to be a profit-booking move by investors, shares have come back in the green.
Meanwhile, its market capitalisation on ASX is AU$14.36 billion and REA shares trade in the 52-week price range of AU$104.37 to 180.67 each.
Xero Limited (ASX:XRO)
Covered from the Information technology sector is Xero Limited, the cloud-based accounting software provider. Xero Limited holds a market capitalisation of AU$12.92 billion, and its share price is quoted in the range of AU$75.8 to AU$156.65 a share.
Lacking any new announcements as of today, XRO share price gained 0.31%. Its latest announcement from the company was related to the cessation of trade for its restricted stock units. Given this fact, the only push for today's gains seems to be the gains in the overall technology sector.
Meanwhile, XRO share price has in the last five trade days gained over 6.3%, reversing part of the losses made in the recent past.
More from ASX-PL8, FGG: These 2 ASX investment firms to pay dividend in May 2022