Source: © Alexandersikov | Megapixl.com
Summary

Plenti Group Limited focuses on making the lending experience faster and simpler for everyone powered by smart technology.
The Company has witnessed staggering growth over the recent period, and the performance is underpinned by its strong offerings.
PLT is suitably positioned to benefit from upcoming trends in the lending space with a scalable business model, borrower acquisition, funding diversity, etc.
Fintech lender Plenti Group Limited (ASX:PLT) offers consumers finance alternatives with faster and fairer loans using smart technology with an intention to meet evolving customer expectations by providing them access to high-quality lending.
Since its formation in 2014, PLT has emerged as a rapidly growing fintech consumer lender in Australia and has expanded across all its business segments. The Company leverages its proprietary technology to provide the best finances accessible, delivering customers a range of loans.
How is Plenti positioned?
In addition to its proven credit track record and capabilities, Plenti's positioning is underpinned by proprietary end-to-end technology, varied funding platforms and diversified lending products & distribution.
PLT delivered 58% year-on-year growth in loan origination in Q3 FY21 and has AUD 508 million loan portfolio with over 62,000 borrowers.
Its proprietary technology offers a sustainable competitive advantage to the Company and encourages development and efficiency.
Being a high-growth fintech pioneer, PLT has a track record of delivering strong and consistent growth with $1 billion in cumulative lending after three additional record loan origination months for the quarter ended 31 December 2020.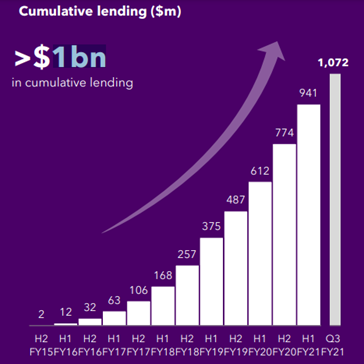 Cumulative lending ($m) (Source: PLT Announcement 17/03/2021)
PLT's rapid growth over the recent period
The Company is witnessing rapid growth in large lending markets and is developing a comprehensive product offering across major lending verticals, each of which is witnessing massive changes.
The Company believes that the automotive market is undergoing structural, regulatory, and technological changes with car purchase and finance journey is moving online while banks/traditional lenders are making an exit.
In renewable energy lending space, there is strong growth in household solar uptake with growing battery adoption and broadening finance opportunity.
In the personal lending space, PLT believes that the bank market share is diminishing as increasing number of consumers are shifting to alternative providers in pursuit of value and convenience.
PLT believes that its growth is driven by superior customer and partner experiences delivered through its proprietary technology platform, Venus, which helps in delivering faster, easier loans to customers as well as distribution partners.
Key features of Venus
PLT's diverse funding platforms offer great funding capacity with diminishing cost of funds.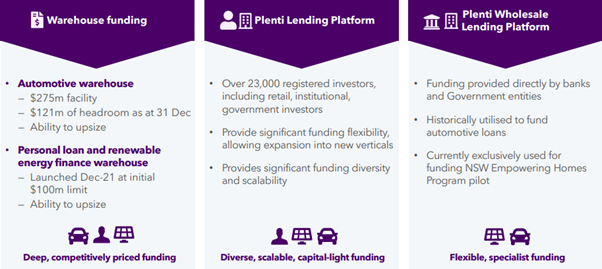 Source: PLT Announcement 17/03/2021
Lately, the Company has expanded its funding facility by increasing the limit of its automotive warehouse from AUD 275 million to AUD 350 million to support its secured automotive loan origination and loan book growth.
As an outcome of this upsizing, the Company's total warehouse funding program stands at AUD 450 million.
PLS positioned to prosper
The Company continues to strategise to build scale in order to expedite growth in loan originations as well as establish a leadership position in core lending verticals while expanding its product portfolio. The products include Renewable BNPL which was launched in March, Commercial automotive and renewable which are currently being developed.
The Company also intends to expand technological advancement by continuing to invest in proprietary technology platform and improve the credit decision capabilities including further automation.
Another area of focus is optimising the funding structures, where PLT plans to move to lower-cost warehouse funding and capture additional opportunities to enhance funding costs through term-out transactions.
© Alexandersikov | Megapixl.com
PLT is optimistic that it is suitably positioned to thrive in the coming times. This optimism is primarily based on the scalable business model, delivered by proprietary technology with a focus on prime credit as well as high growth in large lending markets.
Armed with an experienced, founder-led management team, the Company's efforts towards borrower acquisition and funding diversity fortify its positioning amid attractive loan economics.
On 1 April 2021, PLT stock was trading at AUD 1.030, with a market capitalisation of AUD 173.99 million.