Summary

Perseus Mining (ASX:PRU) has poured first gold from Yaouré Gold Mine before schedule.
The Company is targeting to produce 500,000oz of gold by FY2022.
Perseus Mining is on the verge to become a reliable intermediate gold company.
Perseus Mining Limited (ASX:PRU) has reached a significant milestone, in line with its 'stretch target' for Yaouré in December 2020. The Company has announced the first pour of gold at its Yaouré Gold Mine in Côte d'Ivoire, almost five weeks before schedule.
Post the significant market update, the stock traded higher by 1.930% from its previous close to $1.320 on 18 December 2020 (AEDT 12:22 PM).
The Company is now targeting performance tests to start commercial production from the mine by the March quarter in 2021. To back the production plan, the firm has almost completed the construction of the processing plant and associated infrastructure.
Project Summary
Perseus acquired the mine in April 2016 in a merger with Amara Mining plc. The Company has completed a confirmatory drilling and test work in addition to preparing a definitive feasibility study (DFS).
The Company started construction at the US$265 million mine in August 2019 after negotiating a Mining Convention with the Ivorian government and receiving necessary permits.
Good Read: Perseus Mining Provides June 2020 Quarter Activities Report; Gold Production Increased by 12%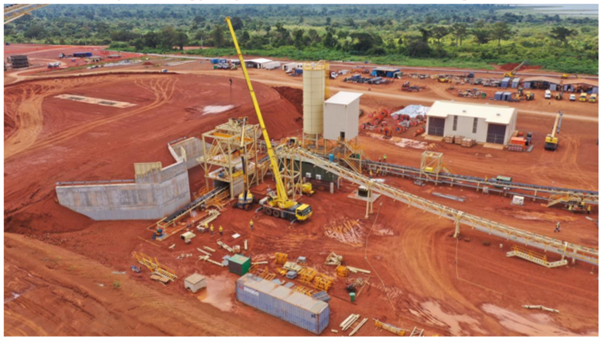 Photographic record of Yaouré Gold Mine Development Project
(Source: Perseus September 2020 Quarter Activities Report)
Yaouré Mine Plan
Initially, Perseus will carry out the processing of low-grade oxide ore, obtained from the decommissioned heap leach pads. Subsequently, the higher-grade fresh ore, which is yet to be obtained from the CMA pit, will be processed.
Aligning with the DFS forecast, the mine is expected to produce around 215,000 ounces at AISC of about US$750 per ounce during the initial five years of the Yaouré mine life.
An updated mine plan containing actual commissioning date, working costs, mining rates and potential expansions in Mineral Resources, is expected to release in the March quarter, 2021.
Perseus-A Reliable Intermediate Gold Company
Perseus is on the verge of becoming a reliable intermediate gold company with the successful development and commissioning of three major gold projects - Edikan, Sissingué and Yaouré in Ghana and Côte d'Ivoire.
The Company is all set to produce more than 500,000 ounces of gold every year with a cash margin of over US$400 per ounce in FY2022.
Source: Perseus ASX Update, dated 18 December 2020
Good Read: Gold jumps to a one-week high on hopes of Fed stimulus