Summary

Pendal Group has reported an increase in funds under management for the quarter ended December 2020.
It has also reported significant improvement in JOHCM performance fee, which would be partially recorded in the current financial year.
Pendal Group Limited (ASX:PDL) has reported funds under management (FUM) update for the period ended 31 December 2020. During the quarter, its FUM increased 5.4% or $5 billion to $97.4 billion.
A rising Australian Dollar against major currencies impacted the FUM by $2.7 billion, while investment outperformance and strong markets led to a FUM uplift of $9.3 billion.
Source © Kalkine Group 2021
Net outflows of $1.6 billion were recorded primarily in J O Hambro Capital Management UK strategies and client re-balancing and profit-taking from high performing investment strategies.
Pendal estimated $41.2 million JOHCM performance fee for the 12 months to 31 December 2020, up significantly from $0.6 million in the same period last year. The result was generated across six different investment strategies.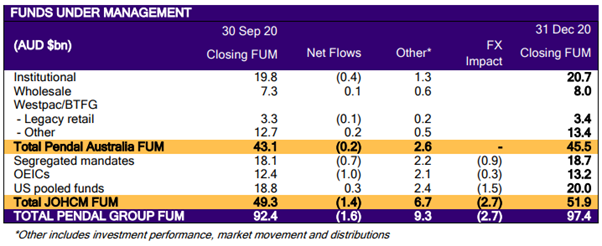 Source: PDL Announcement, 15 January 2021
Out the $41.2 million, the performance fee would contribute $21.4 million to the group's underlying /statutory profit after tax for the year ending 30 September 2021.
The performance fee for Pendal Australia will contribute to the second-half of the period. During the quarter, Pendal Australia's FUM was up by $2.4 billion as investment performance offset outflows of $0.2 billion, which were primarily in low margin cash category in institutional channel.
In JOHCM, the net outflows were $1.4 billion primarily from outflows in the UK Dynamic OIEC ($0.8 billion) due to underperformance throughout the pandemic albeit an improvement in the December quarter.
In JOHCM institutional channel, the net outflows of $0.7 billion were recorded after clients rebalanced their portfolios. There was strong flow momentum in the US Pooled funds in the International Select Strategy.
Pendal said Regnan Global Equity Impact Solution will be launched in January after regulatory approval. The strategy will be launched through an Irish fund vehicle for the European market. The solutions will complement UK OEIC and Australian unit trust launched in December quarter.
At the time of writing, PDL was trading at $6.545, down by 2.02% from the previous close.