Summary

Origin Energy (ASX:ORG) has farm in for interests in seven permits in the Canning Basin.
The deal has been entered with Buru Energy, a long-established operator in the basin.
The transaction includes five permits owned by Buru and two permits from the subsidiaries of Buru and Rey.
Origin Energy Limited (ASX:ORG) is farming-in into seven permits in the Canning Basin that cover an area of around 20,000 square kilometres.
Under the deal with Buru Energy Limited (ASX:BRU), Origin will get access to half of the equity shares in five permits wholly owned by Buru Energy. The Company will also secure 40 percent of equity shares in two permits (EP 457 and EP 458) held by the subsidiaries of Buru and Rey Resources Ltd (ASX:REY).
Transaction Highlights
For the transaction, Origin Energy is required to cover around $12.3 million of its share of work program costs. Over a two-year period, the Company is expected to spend a total of ~ $35 million including seismic surveys and well drilling programs.

Origin Energy has contingency options to carry $10.6 million of costs (Buru and Rey's) over a four-year period, in addition to the option to assume operatorship for any further significant gas development or any carbon capture and storage development in the future.
Good Read: Origin Energy (ASX:ORG) Uplifts Gas Production Guidance for FY21
Future Exploration Plans
Under the first agreement, wherein Origin will earn the 50% interest, the initial work program includes two wells (Rafael 1 and Kurrajong 1). It also covers seismic programs on the permits of regional and prospect-level during next year.
An additional funding of $10 million will be required from Origin after successful execution of drilling and surveying to maintain its interest in both the permits.
Under the second agreement, wherein Origin will earn the 40% interest, after the completion of the 2D seismic survey in the Buru and Rey permits, the Company will further decide by January 2024 on further expenditure.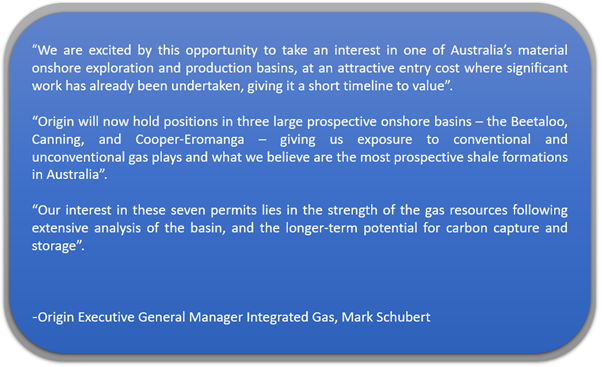 Source: ASX Update, dated 21 December 2020