Source: Shutterstock
Summary

Full-year report of Oil Search (ASX:OSH) reflects demand collapse and oil price downturn.
Revenue declined by USD510.6 million and net loss stood at USD320.7 million.
The company maintains a strong, flexible balance sheet.
OSH is focused on driving sustained low costs, simplifying operations in PNG, and further optimising the business.
ASX-listed energy company Oil Search Limited (ASX:OSH) has released its 2020 full-year report. The company has cut its final dividend by 89% as revenue went down by 32% in 2020, owing to the oil price crisis. Last year, the global crude oil benchmarks observed significantly lower levels due to the pandemic-induced challenges.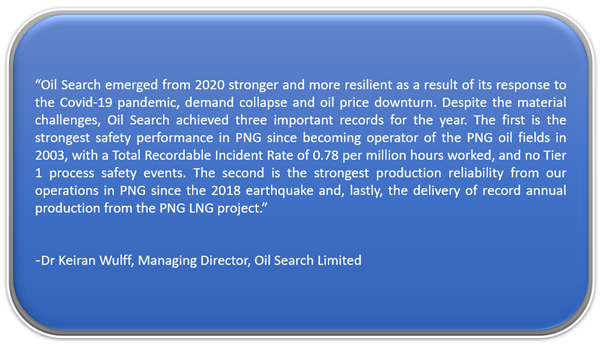 (Data Source: OSH ASX Update, dated 23 February 2021)
Highest Post-Earthquake Production in Dismal 2020
Oil Search recorded a decline of US$510.6 million in revenue in 2020, primarily due to lower realised oil and gas prices.
However, the company witnessed a 4% increase in production, backed by excellent performance from Papua New Guinea (PNG) LNG project, which operated at 8.8Mtpa and delivered its highest production for the year since its commencement. Even after critical COVID conditions, the company delivered ~29Mmboe in production during 2020 compared to ~28Mmboe in 2019. This is the highest post-2018 earthquake production for the company.

(Data Source: OSH ASX Update, dated 23 February 2021)
Sluggish sales combined with lower crude oil prices drove after-tax profit from US$312.4m in 2019 to a net loss of US$320.7m in 2020. Core net profit after tax (NPAT) excluding impairment charges stood at US$22.0m.
For 2020, EBITDAX was 37% lower than 2019, clocking US$721.1m. However, the company reduced its net debt by 20% to US$2,376.2m.
The company also reduced its final dividend from US$0.045 to US$0.005. Liquidity was strong with total liquidity of US$1,436.4m as of 31 December 2020.
2020 Operational Highlights
The company delivered record safety performance in 2020 with operated TRIR of 0.78.
Record PNG LNG production of 8.8Mtpa at its Papua New Guinea business unit.
The Hides field supplied 89% of the gas to the PNG LNG plant in Port Moresby. Other fields including Kutubu, Gobe Main and SE Gobe supplied the remaining volumes.
The company reported a 33% rise in 2C contingent resources, driving gross Alaskan North Slope 2C resources to 968 mmbbl.
It completed the construction of the project production facility pad, Pikka NDB well pad, a 59-metre bridge, operations centre pad and an 18.5-kilometre road in Alaska.
Good Read: ASX Energy Stocks Rejoice as Black Gold Regains Strength
2021 Outlook
For 2021, Oil Search anticipates total production in the range of 25.5 to 28.5Mmboe.
The licence holders of PRL 15 offered a five-year extension of the retention licence in February 2021. Along with its partners, the company is also open for discussions with PNG Government regarding the P'nyang Gas Agreement during 2021.
The company expects to proceed into FEED with Pikka Phase 1 in early 2021, with FID anticipated in late-2021 and first oil in 2025.
OSH stock traded at A$4.310 on 23 February 2021, up 6.42% from its previous close.