Summary

NOVONIX Limited (ASX:NVX) plans to be a tier-1 global supplier in the fast-growing advanced materials market in the global lithium-ion battery industry.
NOVONIX is the first supplier of graphite anode material in North America to reach a supply contract with a major cell manufacturer, Samsung SDI.
With cathode technology entering pilot-scale and commercialisation phase, additional technology advantages in anode, cathode and electrolyte are expected.
NOVONIX Limited (ASX:NVX) is a respected ground-breaking battery testing company. It has several integrated business streams comprising advanced manufacturing of battery materials, R&D of next-gen battery materials, testing services, development and sales of advanced battery testing diagnostic technology.
The Company is efficiently redefining the manufacturing procedures to lower wastes, costs and emissions. It raised $63 million in June and also underwent a capital restructure.
On 25 September 2020, NOVONIX commenced trade on the North American market, OTCQX® under the symbol "NVNXF". On 14 October 2020, NVNXF shares quoted USD 0.824. On the ASX, NOVONIX trades under the ticker NVX, which quoted $ 1.125 during early morning trade on 15 October 2020.
MUST-READ: FY20 Highlights & FY21 Outlook
NOVONIX's Market Opportunity
Renewables and green energy demand are likely to drive battery materials' growth 10x by 2030 (Source: Avicenne Energy 2020). Breaking this down further, the total addressable market of anode and cathode materials is expected to soar from ~USD 10 billion today to a range of USD 50 billion – USD 100 billion in the next 5 - 10 years.
In America, battery growth has continued. The world's biggest economy expects to have 130 GWh online by 2023 (Source: Avicenne Energy 2020). Europe, another global superpower, expects to have 198 GWh by 2023. It has already indicated over 400 GWh to be in the pipeline.
Let us look at some more facts (Source: Avicenne Energy 2020). -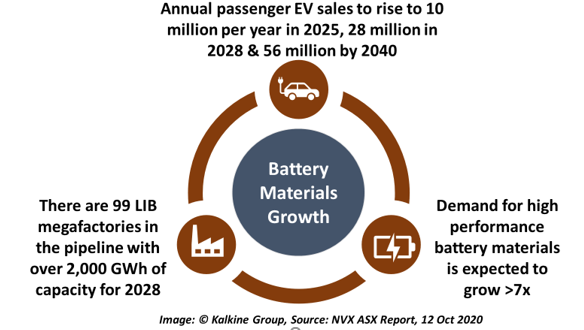 Industry pioneers like TESLA and General Motors have emphasised on the significance of their respective million-mile battery launches. In its recent Battery Day event, TESLA flagged the probable launch of the million-mile battery in China first.
NOVONIX's In-House Elements For Million-Mile Battery
NOVONIX's technologies support "million-mile+ battery" performance. Interestingly, the Million-Mile Battery requires three critical elements, and the Company has all three, exclusively and in-house.
NOVONIX Anode Material
The Company has stepped into its first commercial technology in PUREgraphite anode material in a contract with Samsung SDI. Numerous deliveries are scheduled over the ensuing 6 months. Cell mass production is also scheduled to commence in April 2021.
A non-binding MOU agreement with SANYO was also inked in January 2020. Mass production samples will be evaluated with production line operational.
It is one of NOVONIX's key business strategy to become a prominent producer of ultra-long-life anode materials for lithium-ion batteries for EV as well as ESS. The Company is engaged with cell manufacturers, auto OEMs, and ESS focused companies.
It is scaling relationships with supply chain partners and has continued product development. Improved materials are being produced at pilot scale on test at Novonix BTS.
NOVONIX offers-
Improved coulombic efficiency along with cycle life relative to industry prominent materials
Re-engineered product and process, globally competitive energy input
Low emission energy sources, no chemical purification
Supply diversification, safety
NOVONIX Cathode Material
NOVONIX's cathode technology offers low-cost synthesis. Most significantly, the Company has been leveraging its DPMG technology, that involves a dry synthesis of high nickel materials at a significantly lower cost. Progress continues for single crystal and polycrystalline cathodes, while installing pilot scale is also advancing with patents filed.
Besides, the Company is also focussed on high nickel cathode materials, including cobalt-free as well as dopant and coatings for improved performance.
Cathode Development Update-
Work continues with Dr. Mark Obrovac's group at Dalhousie and internal team on new IP generation.
Pilot-scale equipment and analytical lab on course to be running by the end of CY2020.
Work continues with prospective lithium suppliers (for example: Lake Resources) in the process, expanding on precursor production and final cathode production.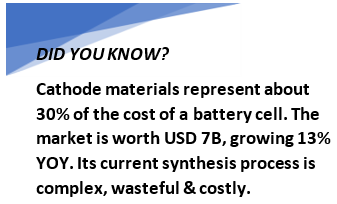 ALSO READ: NOVONIX Marking Strong Presence
Overview of TESLA'S Battery Day
On 23 September, TESLA held its much anticipated Battery Day investor event. The carmaker intimated that its innovation might drive down the battery cost. The focus remains on higher automation in cell production, cost reduction in materials, cell-to-vehicle / structural cell integration and new form factor 4680. Consequently, TESLA hopes to deliver a USD 25,000 vehicle in 2023.
It should be noted that TESLA's focus on major cost savings upstream reaffirms NOVONIX's business plan and assessment of the market opportunity. NOVONIX's DPMG and SCC technologies eliminate unnecessary steps and conversion of materials, need for expensive feedstock, and reduce waste materials and wastewater.
NOVONIX seems to be advancing towards its mission of advancing battery technology and materials to hasten the global deployment for a cleaner energy future.