Highlights

The benchmark ASX 200 was trading 0.28% down to 7,115.6 in the first 15 minutes of trading on Tuesday.
US Treasury yields surged past a two-and-a-half-year high on Monday.
Commodity prices retraced on Monday as investors weighed positive comments of cease-fire talks between Russia and Ukraine.
The Australian share market edged lower on Tuesday as a retreat in commodity prices dragged local mining and energy stocks. A weak overnight close on Wall Street further dented investors' sentiments. The benchmark ASX 200 was trading 0.28% or 19.8 points down to 7,115.6 in the first 15 minutes of trading on Tuesday.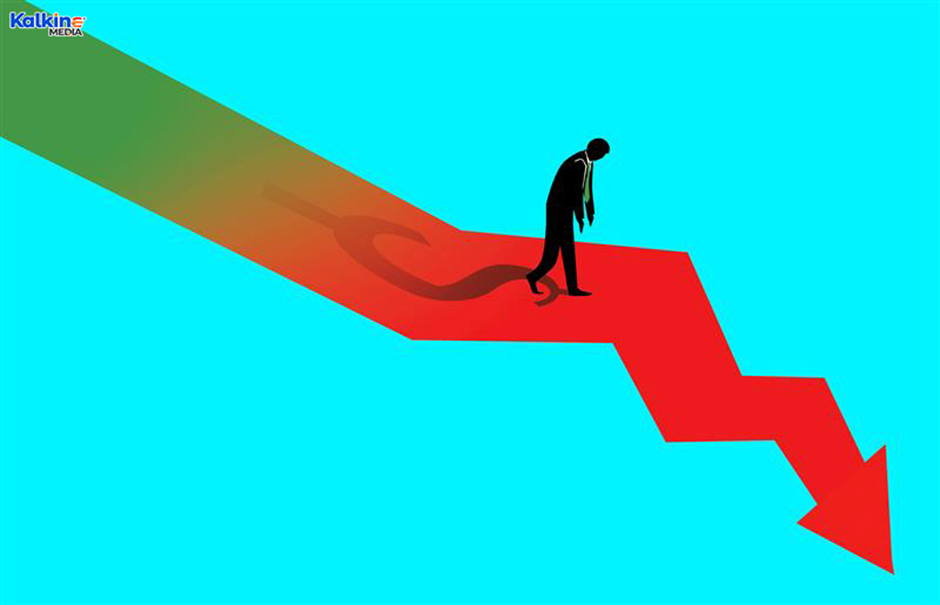 Image Source: © 2022 Kalkine Media®
US Treasury yields surged past a two-and-a-half year high on Monday, while oil prices took a breather as investors weighed positive comments of ceasefire talks between Russia and Ukraine during their fourth round of discussion.
Wall Street closed lower on Monday, led by a drop in the NASDAQ, as investors sold tech and big growth names in the expectations of the US Federal Reserve's first rate hike after the COVID-19 pandemic. The US fed meeting is due this week.
On Monday, the Dow Jones Industrial Average closed flat at 32,945.24, while the S&P 500 lost 0.74% to end at 4,173.12 points. The NASDAQ Composite ended the session with a 2.04% cut to 12,581.22.
How has the market performed so far?
As of 11:00 AM AEDT, the ASX 200 fell further to 7,095.4, losing 0.76% or 54 points, while the ASX All Ordinaries index was down 1.02% or 75.4 points to 7,346.8. The A-VIX rose 2.32% to 19.67.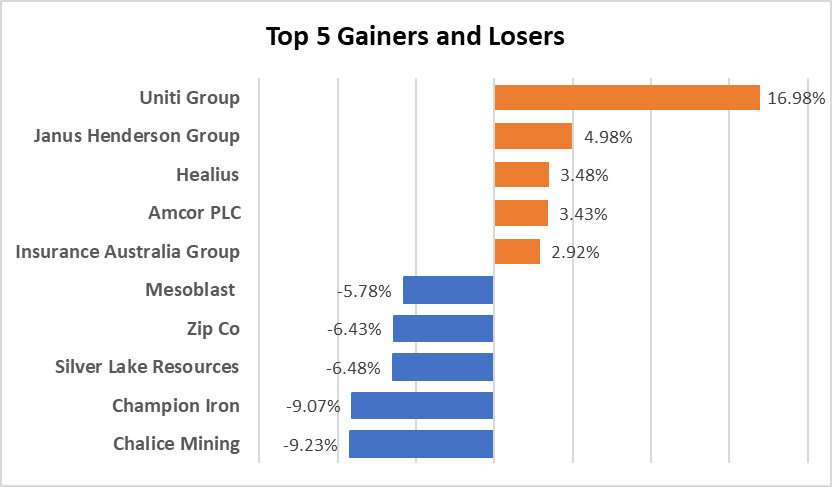 Data Source: ASX (as of 15 March 2022, 11:00 AM AEDT)
Image Description: Top 5 ASX gainers and losers
Coming to the top ASX 200 laggards, Chalice Mining Limited (ASX:CHN) took a massive hit, falling 9.23% to AU$6.88, followed by Champion Iron Limited (ASX:CIA), which fell 9.07% to AU$6.41. On the flip side, Uniti Group Limited (ASX:UWL) was the top gainer, soaring 16.98% to AU$3.68, followed by a 4.98% rise in Janus Henderson Group CDI (ASX:JHG) to AU$46.98.
Coming to the sectoral performance, bears dominated the scene with eight out of 11 sectors trading in the red zone. The materials and energy sectors were trading with deep cuts of 3.42% and 3.31%, respectively. The IT sector was also down over 1.5%. The financial sector was leading on the other end, with a 0.9% rally.
Read More: 99L, OEC and MOH: Three ASX penny stocks on investor's radar today
Newsmakers
Healius Limited (ASX:HLS)
The management has approved an on-market buyback worth AU$100 million over the next one year.
The buy-back will be managed within the '10/12 limit' permitted by the Corporations Act, and therefore does not require shareholder approval.
The 10/12 limit stipulates that a company cannot buy back more than 10% of its voting shares within the span of any 12-month period.
FAR Limited (ASX:FAR)
FAR has commenced steps to withdraw its interests in the Esperanca Blocks 4A & 5A and Sinapa Block 2 offshore Guinea Bissau.
FAR has already met the minimum financial commitments associated with the licence, and there are no 2022 commitments in place.
In the event of withdrawal, FAR will not participate in any future development and production.
Pushpay Holdings Limited (ASX:PPH)
The company trimmed its FY22 EBITDAFI guidance, from a range of US$60 million–US$65 million to US$61.5 million–US$63.5 million.
The company's strong operating cash flow continues to enable Pushpay to pay down its debt facility, having reduced its net debt balance from US$90.0 million as at August 2021, to US$54.0 million as at 28 February 2022.
Pushpay also advises that it is intending to buy back the remaining 138,336 Pushpay shares currently held by Pushpay Trustee Limited.
Rio Tinto Limited (ASX:RIO)
Rio Tinto intends to acquire approximately 49% of the issued shares of Turquoise Hill that the mining giant does not currently own.
Under the terms, Turquoise Hill minority shareholders would receive C$34 in cash per Turquoise Hill share.
This proposal would value the Turquoise Hill minority share capital at approximately US$2.7 billion.
Bio-Gene Technology Limited (ASX:BGT)
The company announced that it has completed a strategic placement to a new shareholder family for AU$1.5 million.
The Placement is by way of the issue of 7.5 million fully paid ordinary shares at $0.20 per share.
The proceeds would be used towards progressing major registration enabling studies, specifically longer-term toxicology, to support Bio-Gene's commercial partners.
Read More: Three ASX commodity ETFs on investors' radar