Source: katjen, Shutterstock
The market could not extend yesterday's gains to today's session and traded in the red by lunchtime. It dropped 19.30 points and traded at 7039.30, down by 0.30%. Energy remained the worst performing sector. 6 of 11 sectors traded in the green zone, with Materials being the topmost performer.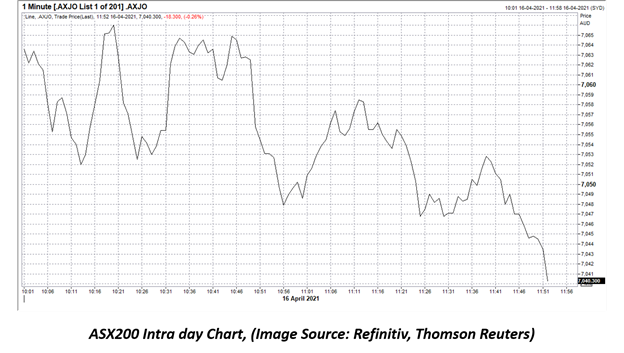 Top gainers position was taken by Materials shares, with gold stocks active in trade. Silver Lake Resources Limited (ASX:SLR), Perseus Mining Limited (ASX:PRU), Resolute Mining Limited (ASX: RSG), Gold Road Resources Limited (ASX: GOR), Evolution Mining Limited (ASX:EVN), and Beach Energy Limited (ASX:BPT) were leaders.
Altium Limited (ASX:ALU) from IT traded higher by afternoon.
Must read: ASX 200 opens flat; why is the benchmark index under pressure today?
Citi Group bids Adieu
Image source: © Alexeynovikov | Megapixl.com
As part of the global move to divert its attention to businesses with more potential, Citi Group put its Australian retail banking assets on auction. On Thursday, the banking giant said it would still operate in Australia in commercial banking, investment banking, trade services, and markets.
The shares that remained on trading halt on Friday
K2fly Limited (ASX: K2F) and Exopharm Limited (ASX:EX1) are on trading halts pending announcements related to capital raising. Field Solutions Holdings Limited (ASX:FSG) is expected to make an announcement related to a significant contract project.
Stocks in news today
Mayne Pharma Group Limited (ASX:MYX) MYX and Mithra Pharmaceuticals announced receiving FDA approval for novel combined oral contraceptive NEXTSTELLIS®. The commercial launch is expected by the end of June 2021. Mithra develops NEXTSTELLIS, and its main USP is that it contains a plant produced native estrogen called estetrol. In more than 50 years, Estetrol is the first new estrogen introduced in the US. Mayne Pharma Shares were up by 7.608%.
Must read: Why are Mayne Pharma and Antara Lifesciences shares flying high today?
Monadelphous Group Limited (ASX:MND) announced an update on the Rio Tinto filing a Writ of summons against its wholly owned subsidiaries related to a fire incident that occurred in January 2019 at Rio's iron ore process processing facility in Western Australia.
The latest is that both parties have reached a confidential out of court settlement in the matter, and accordingly, the matter is now concluded. The settlement is being covered by the insurance proceeds. The company also emphasised that it values its long-term relationship with Rio and is pleased with the settlement. Shares gained by 4.448%.