Source: Jirapong Manustrong, Shutterstock
The ASX 200 is trading in the positive territory today. The benchmark lost some points in the first 15 minutes post market open. However, post the initial blip the market has steadily moved up. By lunchtime, it added 43.50 points and traded at 7020.40, up by 0.62% on Tuesday's closure. 8 of 11 sectors traded in the green, IT performed the best, followed by A-REIT and others.
After yesterday's sharp rally, tech stocks are back on a growth path and Zip Co Limited (ASX:Z1P) like yesterday added points. During the initial trade, it remained among the top gainers. Resolute Mining Limited (ASX: RSG), Perseus Mining Limited (ASX:PRU) and Ramelius Resources Limited (ASX:RMS) from materials also traded higher by noon. Gold shares are trading high today. Whitehaven Coal Limited (ASX:WHC) from Energy also traded higher today.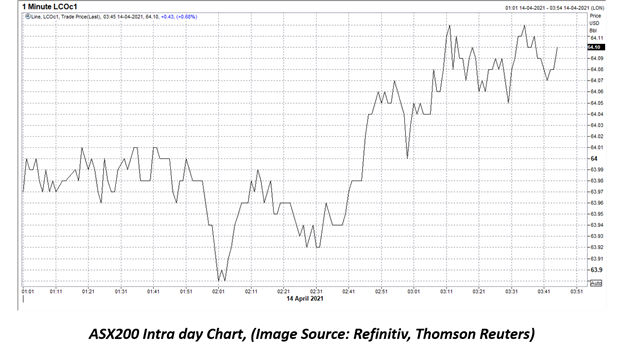 OPEC has revised the demand outlook for the second half of 2021, the demand is projected to stand 190,000 bpd higher than last month's estimates. On the back of continuing supportive oil market fundamentals, spot crude prices increased for the fifth consecutive month in March. In the current year, additional US stimulus packages and recovering economies and further easing of restriction are expected to positively impact the oil demand in 2H21.
News highlights from other Asian Market
As per the government data, Japan's core machinery order dropped unexpectedly in February. It dashed the hopes for a capital expenditure recovery needed for the private sector. Policymakers want companies to spend big on equipment, plant and workers to pull the country's economy back on track. However, companies are playing safe and not making such big investments, fearing a fourth wave of infection.
Ahead of the listing of coin base in the US, ASX crypto-related stocks jumped as bitcoin hits a record peak on Tuesday. The listing is seen as the turning point for the crypto industry.
Why are these shares on a trading halt?
Alcidion Group Limited (ASX: ALC) is on a trading halt pending an announcement related to an acquisition and capital raising.
Viking Mines Limited (ASX: VKA) and Empire Energy Group Limited (ASX: EEG) are on trading halt as these companies are expected to make announcements related to capital raising.
ASX movers by noon
Pharmaxis Ltd (ASX:PXS) announced the sale of distribution rights in Russia, for its cystic fibrosis product Bronchitol. The sale price is AUD 2 million, further Pharmaxis also got ongoing annual savings of AUD 1 million. The company confirmed it would continue manufacturing Bronchitol at its Sydney factory and export this product to Russia and also to other markets such as Australia, the US and Europe.
Following a change in legislation in Russia, Bronchitol was approved as the first orphan drug, and it is listed on the Essential Drugs List. Pharmaxis shares zoomed by 11.392%.
Wisr Limited (ASX:WZR) reports 19 quarters of back-to-back growth in Q3FY21. New loan originations reported record growth of 151% to AUD 97.8 million against the previous corresponding period. On 31 March 2021, total loan originations stood at AUD 488.3 million. The warehouse loan funding facility was upsized to AUD 350 million in Q3. The company reported a record Q3FY21 average credit score of 771, showing the company's ability to attract the most creditworthy clients. Wisr Shares were up by 2.222%.