Source:ShutterstockProfessional, Shutterstock
Summary

Althea Group Holdings Limited updated the market with a new and innovative range of its oil-based cannabis products.
Cann Group and Emyria have entered in collaboration to accelerate the registration of CBD-only capsule with the TGA.
The Australian cannabis industry is flourishing and is set to snowball. Experts believe that in the last five years, the local cannabis industry, including industrial, medicinal, recreational and cannabidiol (CBD), has expanded significantly, becoming a market worth millions of dollars.
Cannabidiol, a component of cannabis herb, has numerous health benefits, and in December 2020, it was made available as over-the-counter (OTC) after Therapeutic Goods Administration's (TGA) approval.
With this backdrop, let us look at three Australian pot stocks that are in focus today:
Althea launches new trial-size 'flexi' products
Althea Group Holdings Limited (ASX:AGH) updated the market on its new and innovative range of 20ml full-spectrum cannabis oil products. The new cannabis products range has similar trade names and has the same formulations as 50ml, and 100ml sized cannabis oil products.
Source: © Monicaclick | Megapixl.com
DO READ: Althea Group (ASX:AGH) welcomed TGA's approval for OTC sale of CBD medications
The Company disclosed that the new and innovative product range is designed to promote treatment flexibility, especially in initiating patients and those suffering from intermittent illnesses.
The smaller unit size product range offers new medicinal cannabis patients an option to trial the medication over the recommended two or three-week titration period and then, in conjunction with their Healthcare Professional, determine if the treatment was beneficial for them.
If the patients experience encouraging results from their medication, the Company expects the transition of these new products to the more economical larger sized bottle.
Joshua Fegan, CEO of Althea, commented-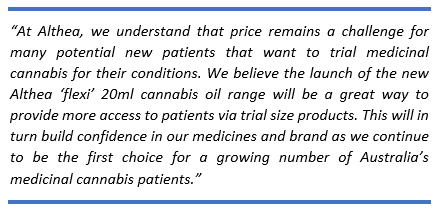 The Althea new 20ml product range is another innovation by the Company and further enhances its unique value proposition. At this stage, the Company is planning to launch 20ml products in Australia only.
Stock Information: On 29 March 2021, AGH shares were trading at A$0.515, down 0.962% (at AEDT 1:11 PM).
Emyria to use Cann Group's Gelpell microsphere technology
Cann Group Limited (ASX:CAN) and Emyria Limited (ASX:EMD) have signed an agreement to accelerate the registration of a low dose, unique CBD-only capsule with the Therapeutic Goods Administration (TGA).
Can Group expects significant patient demand for a TGA-registered CBD medicine that shows the highest standards of quality, safety, as well as efficacy and is convenient to patients.
Source: Copyright © 2021 Kalkine Media Pty Ltd.
As part of the deal, the EMD-003 drug development program will use CAN's proprietary Gelpell microsphere technology to pursue a Schedule 3 registration for the unmet medical needs in mental health.
Moreover, the companies will form a joint project committee to oversee the allocation of registration costs and the advancement of commercialisation agreements.
The collaboration capitalises on several key milestones that have already been met, including:
Source: Copyright © 2021 Kalkine Media Pty Ltd (Data Source: CAN Announcement, 29 March 2021)
Peter Crock, CEO of Cann Group, commented-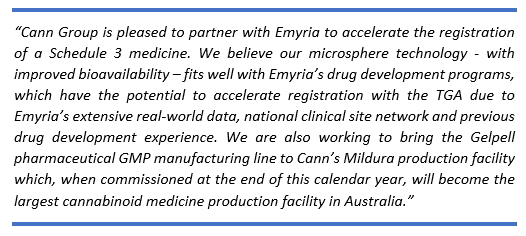 On successful completion, the collaboration will deliver a new, Schedule 3 cannabis-based treatment of psychological distress and symptoms of depression, anxiety, and stress.
Stock information: On 29 March 2021, CAN shares were trading at A$0.550, down by 3.509%, while EMD shares were up 11.428% at A$0.195 (at AEDT 1:12 PM).