Kingstone Resources Limited (ASX:KSN) has received high-grade gold intercepts at the Homestead prospect. The Company expects the development to pave the way for upgrading its existing JORC 2004 Inferred Resource.
The high-grade assay results are from the recently-completed reverse circulation drilling over the Company's 75 per cent-owned Livingstone Gold Project in Western Australia.
Intercepts Building on Historical Results
The initial drilling at Homestead comprised five reverse circulation holes, accounting for 513m to expand on and confirm previous drilling.
Furthermore, the drilling conducted by the Company was within the existing JORC-classified Inferred Resource of 990,000 tonnes at an average grade of 1.6g/t of gold, hosting 50,000 ounces of contained gold.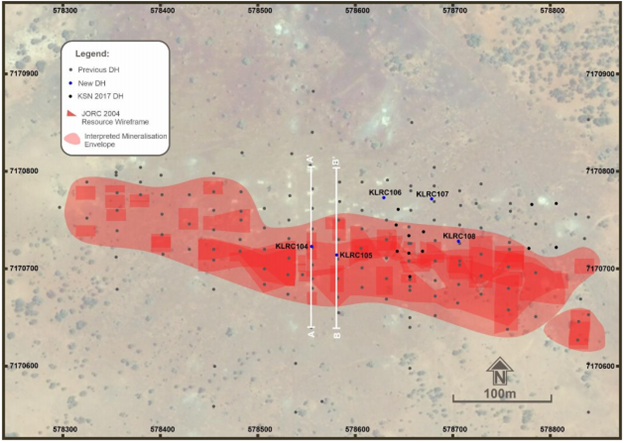 Strike Extent of Interpreted Mineralised Trends at Homestead (Source: Company's Report)
As a result of the drilling, KSN received some strong intercepts, and some of the considerable intercepts from the drilling activity are as below:
The drill hole identified as KLRC104 resulted in 17m of 3.07g/t of gold, including 1m of 7.94g/t of gold and 2m of 9.36g/t of gold.
The drill hole identified as KLRC105 resulted in 7m @ 3.32g/t of gold, including 1m @ 9.74g/t of gold and 2m @ 5.08g/t of gold.
The drill hole identified as KLRC107 resulted in 11m @ 1.00g/t of gold, including 1m @ 4.97g/t of gold.
Other drill holes resulted in grade ranging from 1.00g/t of gold to 1.18g/t of gold.
As a result of the decent intercept, confidence in the historical drilling has improved. Currently, the Company is conducting a project-wide geological study of the Livingstone tenement package.
The study would further integrate all historical data as well as new information gained during Kingston's tenure over the prospect, in order to place several individual prospects into a wider geological context at the Livingstone area.
This would assist KSN in enhancing the understanding of the relationship between mineralisation at the various deposits, which then could be integrated into a mineral systems model to identify and rank areas that are highly prospective.
Also Read: Kingston Resources Announces To Increase Its Stakes In Misima Gold Project
What's Next?
KSN is conducting a project-wide review over the Livingstone Project area that is anticipated to be completed in the near-term. The project-wide review plans to position the targets at the project within a mineral systems model, which would be further utilised to form an exploration program next year.
Results from drilling conducted across other prospects such as Stanley and Winja would also be integrated into the mineral systems model.