Summary

Kathmandu Holdings' (ASX:KMD) same-store sales declined in Q1 largely due to the pandemic.
The Board expects to resume dividend payments following 1H FY21 results, subject to trading conditions.
Kathmandu Holdings Limited (ASX:KMD) convened its Annual General Meeting (AGM) today. Also, the specialist outdoor retailer has released the first quarter trading update.
For the three-month period ended 31 October 2020, total group sales were 72% above the same period last year, driven by the acquisition of Rip Curl.
On a proforma basis relative to the year-ago period including three months of Rip Curl before the acquisition, KMD's direct-to-consumer same-store sales were down 7.6% for the 16 weeks to 15 November 2020 against the same period last year.
The contraction of 7.6% also includes online sales and has been adjusted for lockdown closures. On an unadjusted basis, the result is down 24.1% with Rip Curl down 1.7% and Kathmandu down 37.7%.
The group's online sales for the 16 weeks to 15 November 2020 were up 37% compared to the same period last year. Similarly, its wholesale sales tanked 14.4%.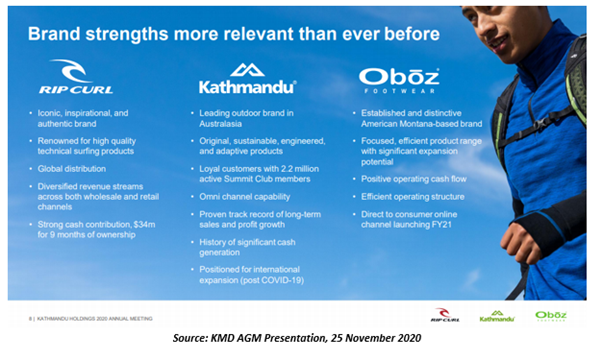 It was noted that Kathmandu Holdings' EBITDA is consistent with the same period last year, including Government subsidies and cost synergies.
The lockdowns in Melbourne impacted the sale as 60 stores were closed for most of the first quarter, while 14 stores in Auckland were closed for two weeks.
KMD's airport stores in Australia and Rip Curl stores in Europe and Hawaii continue to be impacted by either pandemic-related travel restrictions or Government-mandated lockdowns/closures.
Group CEO Xavier Simonet has highlighted that the company has realised the benefits of a diversified group, driven by strong performance in summer weighted products of Rip Curl after a successful winter trading for Kathmandu.
Rip Curl's performance was strong in North America, Australia and Europe. Kathmandu sales were impacted by the pandemic, along with lower traffic in CBD, tourist locations and travel-related purchases.
Oboz witnessed strong sales to key accounts, and forward order book was tracking above pre-pandemic levels. The group half-year results would depend on the Christmas trading period, and consumer sentiment remains a risk due to the pandemic.
Kathmandu Holdings has maintained a strong balance sheet and liquidity position, which allows to respond to current trading conditions and capitalise on attractive growth opportunities.
Following the first half of the financial year, KMD intends to resume dividend payments, subject to trading performance and market conditions.
Transformational Acquisition
The acquisition of Rip Curl has been a transformation for KMD, positioning the business as a global outdoor lifestyle and sports company. It was highlighted in the AGM that Kathmandu Holdings is underpinned by three iconic and inspirational brands with loyal customers.
The transaction has provided a diversified sales channel and expanded global footprint. KMD now owns 325 retail stores, 233 licensed and joint venture stores, 10 online sites and more than 7,500 wholesale doors, globally.
Similar to Kathmandu and Oboz, Rip Curl is also a strong cash generative brand.
On 25 November 2020 (AEDT 03:02 PM), KMD traded at $1.280, down by 2.662% from the previous close.