Source: Shutterstock
Summary

Corporate Australia is observing a dividend resurgence in the ongoing earnings season.
Some ASX-listed stocks have emerged as star performers in terms of dividend payout.
It is yet to be seen whether this record payout season will kick-off the dividend supercycle or not.
No doubt, the COVID-19 pandemic initially delivered a massive blow to the stock dividends, with several ASX-listed companies either suspending or cancelling dividends to preserve cash. However, it seems that the tide is turning for the Australian share market with dividend resurgence among Aussie firms.
Several ASX-listed companies have increased their dividend payout ratios in the ongoing earnings season amid improving operating conditions across different sectors. The promising revisions to the dividend payouts have come after the Australian regulator lifted the cap on dividend payments in December 2020, allowing companies to restore dividend payments.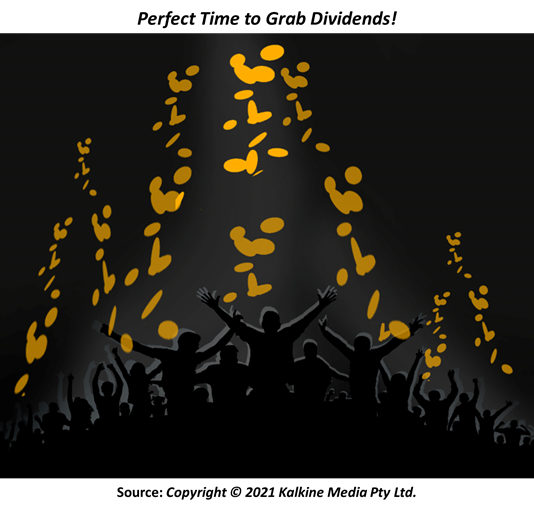 Interestingly, the dividend payouts are surpassing analyst expectations, stimulating prospects of positive growth in the Australian share market. Furthermore, speculations are rife that this revival in dividend payments could also initiate years of amped-up payments, giving rise to a dividend supercycle.
Related Read: How will Australian companies fare in terms of dividend?
Given the scenario, let us glance through five ASX-listed dividend-yielding stocks that stole the limelight in the continuing earnings season:
Rio Tinto Limited (ASX:RIO)
Australian miner Rio Tinto Limited (ASX:RIO) lately unveiled the biggest dividend in its 148 years history of USD 9 billion, representing a 72 per cent payout ratio. The mining group declared a final ordinary dividend of USD 5.0 billion as well as a special dividend of USD 1.5 billion in recognition of its robust financial performance in the financial year 2020. The Company has planned to pay the 2020 final dividend and the special dividend to shareholders on 15 April 2021.
The Anglo-Australian miner has been able to reward investors with this spectacular dividend as it was one of the biggest beneficiaries of robust demand for iron ore from China. The Company's 3 per cent surge in revenue during FY 2020 was primarily driven by an uptick in iron ore price amid strong demand in China.
Fortescue Metals Group Ltd (ASX:FMG)
The world's 4th largest iron ore miner, Fortescue Metals Group Ltd (ASX:FMG), recently announced a fully franked bumper dividend of AUD 1.47 per share for H1 FY21. The interim dividend represents an 80 per cent payout of H1 FY21 net profit after tax (NPAT) and is 93 per cent higher than the FY20 interim dividend.
Fortescue further observed a 66 per cent year-on-year increase in its Underlying NPAT in H1 FY21 to USD 4.1 billion. The Company's strong results were primarily driven by sky-high iron ore price during the half-year amid China's increased focus on the infrastructure sector. The miner anticipates iron ore shipments of 178 - 182mt in FY21 as a whole.
BHP Group Ltd (ASX:BHP)
Diversified natural resources firm BHP Group Ltd (ASX:BHP) lately smashed its interim dividend record, announcing a dividend of USD 1.01 per share for the half-year ended 31 December 2020. The dividend is 55 per cent higher than the prior corresponding period and equates to an 85 per cent payout ratio on an underlying basis.
The Company declared a record dividend amid a massive rise in iron ore prices and solid exports from WA's Pilbara region. These factors further helped the Company achieve its best underlying half-year profit in the last nine years, of USD 6 billion.
Newcrest Mining Limited (ASX:NCM)
Gold miner Newcrest Mining Limited (ASX:NCM) recently doubled its interim dividend to USD 15 cents per share as its statutory profit climbed by 134 per cent during the six months ended 31 December 2020. The Company is determined to pay this fully franked dividend on 25 March 2021. Notably, the gold price increase translated into improved profitability for the Company, enabling it to enhance the returns to shareholders.
Newcrest also announced a new dividend policy targeting a total annual dividend payout of 30 to 60 per cent of free cash flow produced for the financial year, with the total annual dividends being at least USD 15 cents per share on a full-year basis.
JB Hi-Fi Limited (ASX:JBH)
Retail player JB Hi-Fi Limited (ASX:JBH) announced a whopping 81.8 per cent increase in its interim dividend for HY21. The Company declared a fully franked interim dividend of 180 cents per share, which represents 65 per cent of the NPAT. The record date for the interim dividend stands at 26 February 2021, while the payment will be made on 12 March 2021.
The electronics retailer reported an increased payout as its NPAT climbed up by 86.2 per cent to AUD 317.7 million amid a considerable growth in sales. The Company observed a strong sales momentum during the half-year, with continued elevated customer demand for home appliance and consumer electronics products.
Before you exit, take a look at the dividend yields of these attractive ASX-listed stocks below:

All in all, the Australian stock market appears to be maintaining its reputation of a high dividend-yielding share market with a revival in the heaviest-weighted sectors from the COVID-19 crisis. However, it is yet to be seen whether this record payout season will kick-off the dividend supercycle or the dividend increase will remain short-lived.
Also Read: 10 ASX-listed dividend stocks under the spotlight