Source:shablovskyistock,Shutterstock
Summary

Image Resources NL (ASX:IMA) has posted strong annual results with robust revenue and NPAT.
The company has announced an inaugural dividend, backed by robust financial performance, early debt repayment and strong demand for its HMC product.
IMA has also updated ore reserves for its zircon-rich Boonanarring project.
Australia's newest mineral sands miner Image Resources NL (ASX:IMA) has posted robust financial results for the 12-month period ended 31 December 2020. The company delivered strong revenue and announced the first-ever unfranked dividend of A$0.02 per share.
Source: ASX Update, dated 11 March 2021
Robust Financial Performance
Image Resources reported total revenue of A$176 million for CY20, around 20.5% higher from the total revenue of A$146 million in the same period a year ago. Project EBITDA stood at A$86 million, approximately A$14 million higher on the previous year.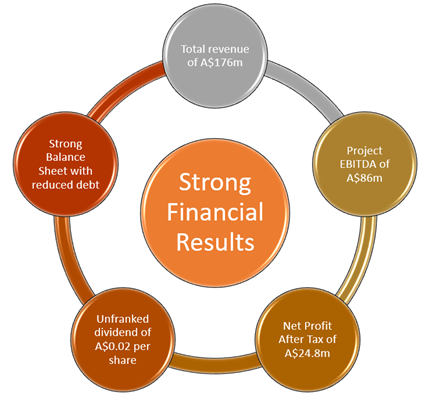 Source: ASX Update, dated 11 March 2021
Net profit after tax for CY20 stood at A$24.8 million, around 19.2% higher from A$20.8 million in CY19. The significant increase in profit was registered on the back of strong HMC sales in the third quarter, which steered the company to surpass the guidance range despite the ongoing economic downturn induced by the COVID-19 pandemic.
The demand for HMC continued to soar in Q1 2021, with strong sales of 67kt in the first two months of the year.
A good read: 3 retail stocks investors are accumulating
Strong Balance Sheet and First-Ever Dividend
As per the company's announcement on 16 February 2021, IMA has moved to a debt-free position three months earlier than originally scheduled. Net cash position stood at A$32 million.
Early debt retirement, robust financial results, and soaring demand for the HMC product channelised the company's management to pay an unfranked dividend to the shareholders, subject to relevant paperwork anticipated to complete in the coming weeks.
Sturdy Ore Reserve Base
Recently, the company released an annual update of ore reserves at its fully-owned, zircon-rich Boonanarring and high-grade Atlas mineral sands projects in the North Perth Basin in WA.
IMA owns and operates ore processing and open-cut mining facilities at the Boonanarring Mineral Sands Project. The company also holds a shallow and high-grade open-pit mine of Atlas Project with mineralisation extending up to 16m depth with an average thickness of 3.5m.
Boonanarring Ore Reserves stand at 6.1Mt @ 7.8% THM and 24% zircon in the HM, whereas Atlas Ore Reserves remain unchanged at 9.5Mt @ 8.1% THM and 11% zircon in the HM.
IMA was trading at A$ 0.170 on 12 March 2021 (AEDT 2:22 PM)