Source: Peshkova, Shutterstock
Summary

Computershare has unveiled asset acquisition of Wells Fargo Corporate Trust Services.
The acquisition will be funded through a combination of debt and equity.
The company is undertaking a pro-rata entitlement offer to raise AUD 835 million.
Computershare Limited (ASX:CPU) has entered a deal for the acquisition of assets of Wells Fargo Corporate Trust Services (CTS). The acquisition is anticipated to deliver attractive financial returns to shareholders. The company is expecting CTS to generate more than 15% on invested capital by FY25.
Image source: CPU announcement dated 24 March 2021
About CTS
Based in the US, Wells Fargo is a leading provider of trust and agency services, catering to corporate and government clients. The company holds more than 80 years of experience in the corporate trust sector. It is currently appointed to administer approximately 26K mandates across bond issuances and a range of securities, aiding the business to generate high quality recurring revenue streams and growing fee income.
Wells Fargo is a strategic fit for CPU's existing US and Canadian corporate trust operations and growth strategy. With this acquisition, Computershare is anticipating to be at the fourth place in the attractive US corporate trust market.
The deal and improved scale will allow CPU to have more exposure to long-term and positive structural growth trends in securitisation and trust products.
The Acquisition Details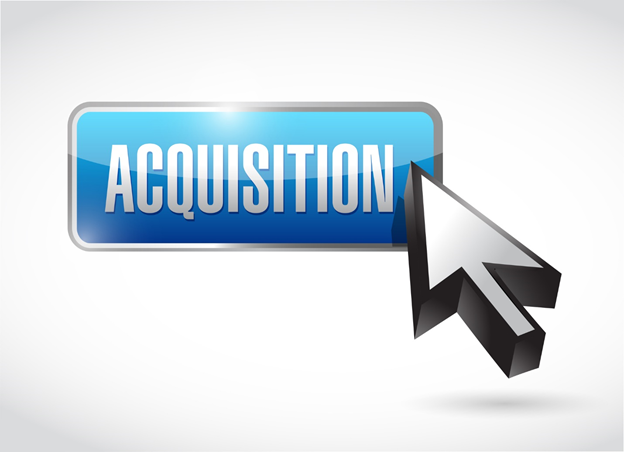 Image source: © Alexmillos Megapixl.com
The purchase price is USD 750 million. It represents an EV/LTM EBITDA acquisition multiple of 8.9x. Furthermore, after including full run-rate synergies, regulatory capital requirements and stand-up capex, the price reflects an EV/LTM EBITDA acquisition multiple of 5.9x.
The deal is anticipated to be a minimum of 15% management EPS accretive on a pro forma FY21 basis. The consideration for the acquisition will be funded through equity and debt.
Must read: Two Australian Tech Stocks That Gained Market Attention This Week
Entitlement Offer to Raise AUD 835 Million
Computershare has announced a fully underwritten pro-rata entitlement offer to raise AUD 835 million.
Nearly 61.6 million new shares will be issued, which will rank equally with the existing shares from the time of issue. The entitlement offer comprises:
An institutional entitlement offer opened on 24 March 2021 for eligible institutional shareholders and is set to close on 25 March 2021.
A retail entitlement offer for eligible retail shareholders in Australia and NZ. Interested shareholders can participate in the offer by 5.00 pm (Melbourne time) on 19 April 2021.
The eligible shareholders would be able to subscribe for one new CPU share for every 8.8 shares held on the record date of 29 March 2021. The offer price for the new shares is AUD 13.55 per new share, representing an 8.7% discount on TERP of AUD 14.84 and a 9.6% discount to the last close price on 23 March 2021 which was AUD 14.99.
The deal is subject to customary closing conditions and regulatory approvals, which is likely to be obtained by the second quarter in FY22. The company's FY21 guidance remains unchanged.
Also read: Tech Stocks Under the Spotlight, is There Any Steam Left?