Summary

Logistic problems have impacted the revenue pipeline of the company.
Compumedics continues to pursue potential sales opportunities in the US market.
Compumedics Limited (ASX:CMP) released a business update on Wednesday. The medical device company noted that H1 FY21 sales orders were around $20.3 million, up by 13% from $18 million in H1 FY20.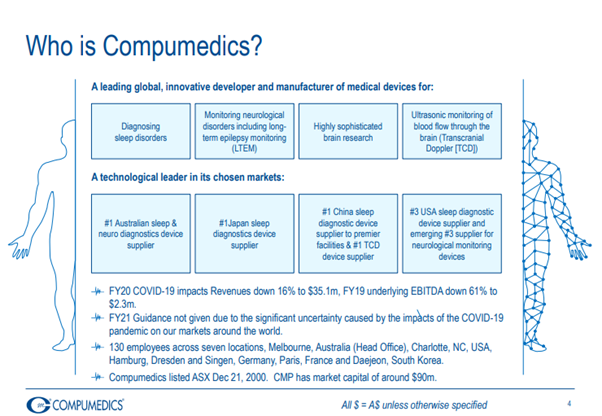 Source: CMP Presentation, 19 November 2020
It expects first half revenues to be around $17.1 million against $18.3 million in the same period last year. The company has attributed the potential dip in revenue to logistics delay in the Northern Hemisphere, due to COVID-19 restrictions.
Now, the company expects to ship the pending order in the early second half. Sales growth was achieved in Australia, Europe and DWL, while sales in the US were flat against the same period last year.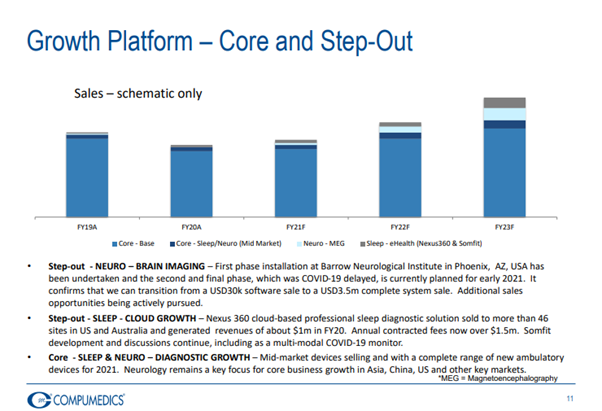 Source: CMP Presentation, 19 November 2020
Compumedics has not provided the full year guidance, but said 2H sales pipeline is tracking similar to last year's 2H levels. The company is poised to declare the detailed and final first half results on 24 February 2021.
Meanwhile, the medical device company is progressing with its first MEG sale to BNI, which has been delayed due to the pandemic concerns in the US. Compumedics expects to complete the sale sometime in 2021 and is pursuing potential 2nd and 3rd sales from its current opportunities.
CMP last traded at $0.43, up by 2.4% from the previous close.