Summary

HomeCo is accelerating the incorporation of HealthCo REIT with six acquisitions.
It is launching a $125 million fully underwritten placement.
The company has upgraded FFO/security guidance by 4% from the earlier forecast.
Home Consortium (ASX:HMC) has announced the acquisition of several properties for an initial investment of $62 million and a total investment of $131 million including fund through contributions.
It is acquiring a portfolio of six properties, which includes health, education, and Government services.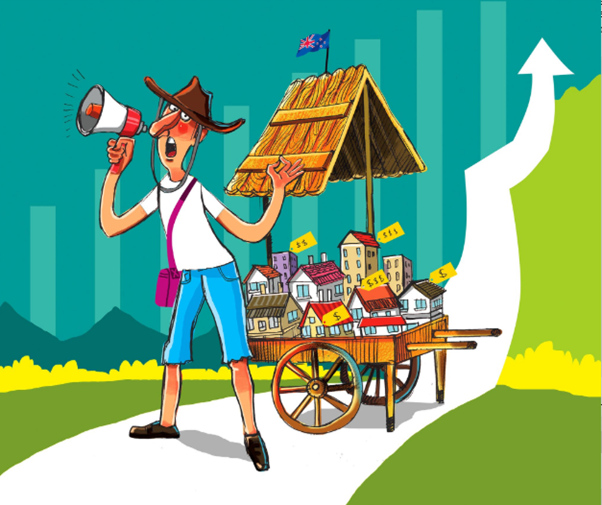 © Kalkine Group 2020
These acquisitions are consistent with the strategy to increase exposure in health, wellness, and Government assets.
HomeCo has also entered an agreement to acquire Gregory Hills Home Centre, NSW. It is paying a total consideration of $32 million for this acquisition, which expands its footprint into the Western Sydney growth corridor.
Health, Wellness & Government REIT
The proposed acquisition of six properties would increase HomeCo's exposure to health, education, and Government assets to more than $400 million.
It also enables HomeCo to establish a second standalone fund, which would be managed by HomeCo in the first half of 2021.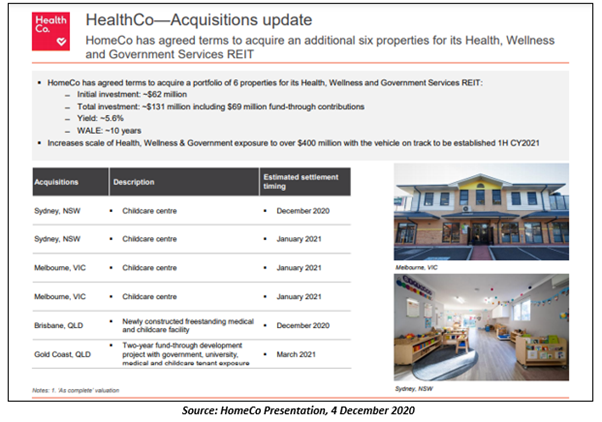 Subject to regulatory approvals, the REIT would appoint advisors to assist with HealthCo's private institutional sell down and IPO before the end of CY2020. HomeCo is targeting the establishment of HealthCo REIT in early 2021.
Capital Raising
HomeCo is also launching a $125 million fully underwritten placement at an issue price of $3.80 per security. It would use the funds to finance the acquisitions and transaction costs of the placement.
As a result of the placement, the REIT would issue 32.9 million new securities, accounting for around 12.8% of existing HomeCo securities on issue.
Financial Impact
The acquisitions would increase HomeCo's assets under management to over $1.7 billion across 47 assets. This indicates growth of 83% since the IPO in October 2019.
HomeCo is now well placed to accelerate its objective to grow AUM to $5 billion over the medium term through capital recycling.
New securities issued under the placement would be eligible for the distribution for the half-year ending 31 December 2020.
The acquisition is expected to increase HomeCo's FFO per security to 6.9 cents per security, meaning an increase of 4% to an earlier forecast of 6.6 cents per security.
After the placement and acquisitions, June 2020 proforma balance sheet gearing and look-through gearing is expected to decrease to 22% and 27.9%, respectively.
Securities of HomeCo were placed on a trading half before the release of announcements today.