Fortescue Metals Group Ltd (ASX:FMG) traded higher on the exchange after reporting a 66 per cent jump in net profit for the half year ended 31 December 2020. Thanks to increasing iron ore prices and robust demand across China, the company's underlying NPAT reached USD 4.1 billion.
This has been Fortescue Metals' best half-year operating and financial performance since its establishment, according to Fortescue CEO Elizabeth Gaines.
High Iron Ore Prices and Demand Boded Well for Periodic Earnings
The world's fourth-largest iron ore miner registered a 44 per cent year-on-year jump in revenue to USD 9.34 billion.
Higher demand for the steel-making commodity across China and increasing price on global exchanges seem to be unfolded well for the miner. The underlying EBITDA for the period stood at USD 6.6 billion for the period, up by 57 per cent against pcp. Additionally, EBITDA margin increased to 71 per cent.
H1 FY21 Financial Highlights (Image Source: Company's Report Dated 18 February 2021)
The strong financials for the six-month period to December 2020 were primarily complemented by higher demand and strong operations.
Strong Operations Complemented the Income Growth
FMG mined 108.4 million tonnes and sold 90.2 million tonnes, up 3 per cent from the same period a year ago, respectively. Additionally, the Company realised 42 per cent higher prices on sales against pcp at USD 114.02 per dry metric tonne.
H1 FY21 Operational Performance (Image Source: Company's Report Dated 18 February 2021)
Cashflow of USD 4.4 Billion from Operations
Apart from robust income statement items, FMG also remained cash rich with the miner reporting a cashflow of USD 4.4 billion from operational activities. This led to a free cashflow (FCF) of USD 2.5 billion, post adjusting with the capital expenditure of USD 1.9 billion.
FMG held USD 4.0 billion in cash at the end of the period with a gross debt of USD 4.1 billion following a repayment of USD 1.0 billion related to a revolving credit facility. Additionally, the Company ended the period with ~57.36 per cent lower net debt against pcp at USD 110 million.
FMG Loosens Dividend Purse
In the wake of strong cashflow and robust financials, the Board approved a fully franked interim dividend of $1.47 a share, up by 93 per cent from the year-ago period. The dividend represents an 80 per cent payout of NPAT, in line with the dividend policy of the Company to maintain a payout ration of 50 to 80 per cent of full-year NPAT.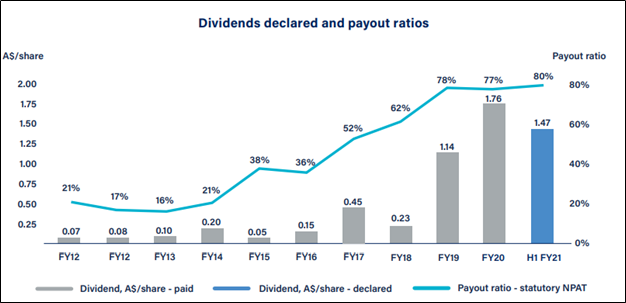 H1 FY21 Operational Performance (Image Source: Company's Report Dated 18 February 2021)
Guidance for FY21
FMG anticipates the full-year iron ore shipment between 178 and 182 million tonnes with a cash cost of USD 13.50 to USD 14.00 per wet metric tonne.
Additionally, the Company expects capital expenditure in the range of USD 3.0 to USD 3.4 billion.
The stock traded at $24.880 on 18 February 2021, up by 1.925 per cent against its previous close on the ASX.