Summary

Harris Technology released its Q2 FY2021 results reporting growth in cash receipts from A$2.35 million in Q2 FY2020 to A$9.586 million in Q2 FY2021.
The positive unaudited cash flow for the quarter was a significant turnaround for the Company.
Q2 FY2021 sales improved significantly due to Australian Black Friday/Cyber Monday Sales Event.
However, group revenue was slightly lower than the September quarter.
Online IT and Consumer Electronic goods retailer Harris Technology Group Limited (ASX:HT8) released its quarterly results for Q2 FY2021 ended 31 December 2020, posting impressive growth in cash receipts. However, the cash receipts were only marginally above the September quarter figures.
During the period, the cash used in procuring inventory was below the previous quarter's numbers. This indicated the rise in spending in Q1 FY2021 due to funds available via capital raising of A$3.5 million concluded in August. Further, HT8 leased an additional warehouse to hold the increased inventory.
The sales during December 2020 quarter were in line with the September quarter. In November 2020, Harris Technology achieved record sales in the four-day period of Amazon Australian Black Friday/Cyber Monday Sales Event.
Below are the unaudited daily sales figures highlighted by HT8 in its announcement dated 07 December related to the event:
27 November 2020: A$235,000
28 November 2020: A$273,000
29 November 2020: A$103,000
30 November 2020: A$118,000
During the period, the Company's gaming products business grew with another specialist employed to release a new line of tailor-made gaming PC systems.
While HT8 witnessed growth in its gaming business, there was slowdown in its HT8 Pro-Hygiene business. The slowdown was because of abundance of supply in the market and alleviations in health constraints in the country. However, the revenue generated via the IT/Technology product helped offset the reduction in revenue from the Pro-Hygiene division.
In 1H FY2021, HT8's revenue surged by 373% to A$19.39 million compared to the prior corresponding period.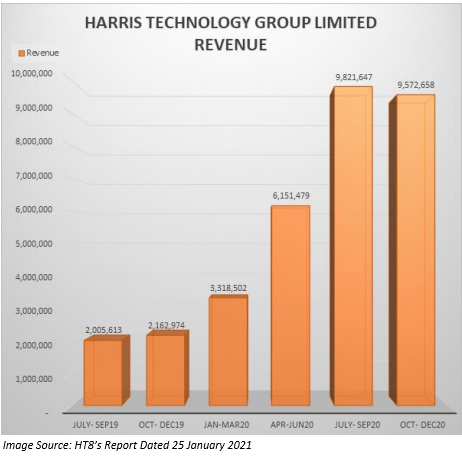 Do Read: ASX Small Cap Retailers Flying High - AuMake, Harris Technology, Temple & Webster
A Glance at Q2 FY2021 Expenses
Purchase of inventory: A$8,809,000.
Advertising: A$2,000
Staff administrative and corporate costs: A$454,000
Cash Flow Highlights
Net cash from operating activities: A$0.421 million.
Net cash used in financing activities: A$1.537 million.
Net cash and cash equivalent by ended December 2020 quarter: A$2.228 million.
Post the quarterly update announcement, HT8's shares nosedived and were trading at A$0.160 at AEDT 1:20 PM, down 15.790%. The Company has a market capitalisation of A$48.44 million.