Summary

World leader in new battery technologies, NOVONIX Limited (ASX:NVX) released its Quarterly Activities Report for July – September 2020.
NOVONIX remains well positioned to partake in the rapidly growing electric vehicle and energy storage system markets.
During the reporting period, NOVONIX updated their management structure to be better positioned as they transition into the next phase of growth.
Also during the reporting period, NOVONIX provided a market update on the much publicized Tesla Battery Day and the positive implications for NOVONIX.
PUREgraphite's mass production line is operational after commissioning and optimisation, and contracts are progressing.
Pilot scale cathode equipment along with analytical lab is on track to be running by the end of CY20.
NVX was added to ASX All Technology Index and the Company listed on the OTCQX®.
NOVONIX Limited (ASX:NVX) has multiple integrated business streams. Advanced research and development of next-gen battery materials, battery research, development and testing services, development and sales of advanced battery testing diagnostic technology- this ground-breaking and highly respected Company does it all! Make sure to also read how NOVONIX is bringing all these components together to support the quest for the million-mile battery .
Strategic Leadership Updates
In September, the Company announced a restructure and recommitment of the Board, key shareholders and Executive leadership. The idea behind this strategic revision was to maximise leverage of the significant talent and capability available with the Company to tap the exciting opportunities ahead.
Key Leadership Changes Included:
Dr Chris Burns was appointed as Chief Executive Officer.
Nick Liveris was appointment as Chief Financial Officer.
Philip St Baker retired as Managing Director and resigned from the Board.
Trevor St Baker AO replaced Philip St Baker on the Board as Non-Executive Director.
Admiral Robert (Bob) Natter was announced to take an Executive Director role.
Greg Baynton shifted from an Executive Director role and remains a Non-Executive Director.
Non-Executive Directors, Rob Cooper and Andrew Liveris AO, remain on the renewed Board.
Two committees of the Board will be established- an Executive Committee chaired by Tony Bellas, and a Remuneration Committee, chaired by Robert Cooper.

Progressive PUREgraphite Developments
NOVONIX Anode Materials (PUREgraphite) aims to develop and commercialise ultra -long-life high-performance anode materials for the growing lithium-ion battery market. Since 2017, NOVONIX has been making significant progress executing on this business plan.
The Company has deals with two of the world's largest battery manufacturers, namely SAMSUNG SDI and SANYO/PANASONIC, which are progressing well:
Mass production line is operational after commissioning and optimisation.
Multiple scheduled deliveries are planned over the next 6 months towards the Samsung SDI Contract.
Cell mass production at Samsung SDI with PUREgraphite material is scheduled to start in April 2021.
Mass production samples are awaiting evaluation with production line operational towards the Sanyo MoU.
Samples were issued to prospective customers under confidentiality agreements.
NOVONIX progressed with new engagements with cell manufacturers, auto OEMs and ESS focussed companies.
The Company is leveraging established relationships with supply chain partners.
Enhanced Battery Technology Solutions (BTS)
NOVONIX BTS aims to provide cutting edge battery R&D and technology advantage. It is based in Bedford (near Halifax), Nova Scotia, Canada, that makes accurate lithium-ion battery cell test equipment, used by leading battery makers, researchers, as well as equipment makers.
Through the reporting period-
The Company continued work with Dr. Mark Obrovac's group at Dalhousie as well as an internal team on IP generation.
The pilot scale cathode equipment along with analytical lab remains on track to be running by end of CY20 as planned.
NOVONIX continues to work with budding lithium suppliers (Lake Resources, for instance) for expansion on precursor production as well as final cathode production.
Focus of technical work includes High Nickel Cathode Materials (including cobalt free), Dopant and Coatings for improved performance, single crystal cathode and polycrystalline cathode processes.
GOOD READ: Advanced Materials Market
Corporate Developments
NOVONIX is rapidly diversifying its investor base internationally. The Company already leverages from a historical concentration of Australian investors owing to the primary listing on the ASX. During the reporting period, NVX was added to ASX All Technology Index
Besides, the Company listed itself on the OTCQX® Best Market in North America and commenced trading on 25 September 2020 under the symbol "NVNXF".
NOVONIX also launched an Investor Newsletter. On financial front, the cash balance as at 30 September 2020 amounted to $33,389,000.
Tesla Battery Day Implications
In its much-anticipated Battery Day event held on 23 September 2020, legendary car maker Tesla focused on major cost savings upstream. Interestingly, this reaffirmed NOVONIX's business plan and assessment of market opportunity. The importance of technologies that reduce manufacturing costs for Auto Co's and Battery OEMs, such as NOVONIX's DPMG and SCC technologies was one of the key highlights of the event.
Tesla's announcements reaffirmed NOVONIX's strategy to reduce manufacturing cost of battery materials via innovation.
Way Forward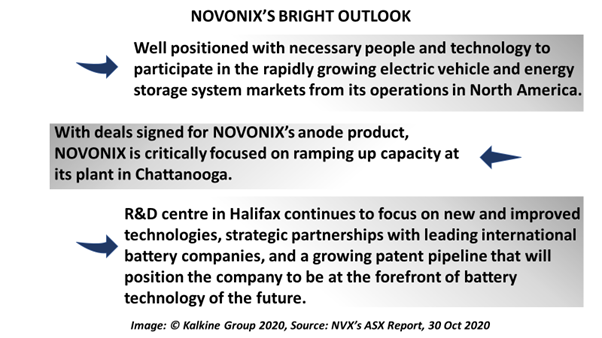 ALSO READ: FY20 Highlights & FY21 Outlook
NOVONIX shares traded up by 6.72% to $1.19 on 17 November 2020.