Summary

Drug development and clinical services company Emyria has obtained Class IIa TGA registration for its medical-grade monitoring tool, Openly.
With this TGA registration, Emyria is in a leading position to develop Real World Evidence (RWE) data technology.
Initially, Emyria plans to use its software platform to capture objective clinical measures remotely for its upcoming clinical trials and projects.
Data-backed treatment development and clinical services company Emyria Limited (ASX:EMD) has received an Australian-first Class IIa SaMD (software-as-a-medical-device) registration with the Therapeutic Goods Administration (TGA) for its remote health monitoring tool, Openly.
Following the update, EMD shares moved up to AU$0.230 before going in the opposite direction. At AEST 2:30 PM, the shares were trading at AU$0.215, down 2.273%.
ASX 200 was lower today, down 1.14% at AEST 2:30 PM, though a few ASX healthcare shares were faring well, including Respiri Limited (ASX:RSH), Antisense Therapeutics Ltd (ASX:ANP), and Medibio Limited (ASX:MEB).
DO READ: ASX 200: Will the federal budget impact the market today?
Let us now discuss EMD's announcement in detail-
Emyria receives Class IIa SaMD registration with the TGA
EMD has obtained Class IIa registration for a unique smartphone-based, medical-grade monitoring application using only a smartphone camera. The software platform can be used to monitor heart rate (HR), heart rate variability (HRV) and atrial fibrillation (AF).
This achievement opens up further opportunities for Emyria to remotely capture health data for its drug development, telemedicine, as well as consumer healthcare projects.
With the successful TGA registration, Emyria is in a leading position to develop RWE technologies. This also highlights the commitment to meet the best regulatory standards for novel treatments for unmet medical needs. The medical-grade monitoring tool can be operated for both Apple and Android phones.
Source © Mazirama | Megapixl.com
Dr Michael Winlo, Managing Director of Emyria, commented-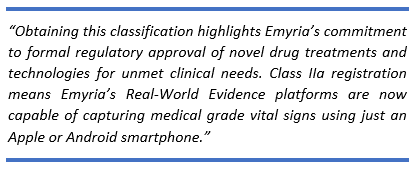 He further added that Emyria is planning on using this capability in its upcoming drug development programs. The unique smartphone-based monitoring software allows EMD's clinical team to monitor additional safety and efficacy outcomes data remotely in the trial participants.
ALSO READ: Emyria (ASX:EMD) to initiate psychedelic-assisted therapy program for PTSD
Initial application and use of software platform
The expanded functionality authorisation of the Openly platform from the TGA provides a unique opportunity to remotely monitor patients in clinical trials, provide telehealth services to patients and facilitate other consumer healthcare products.
The remotely captured vital signs data complements routinely collected clinical evaluation and patient-reported outcomes measures.
Furthermore, EMD plans to initially use its software platform to capture the objective, clinical events remotely during the below mentioned upcoming clinical trials and projects-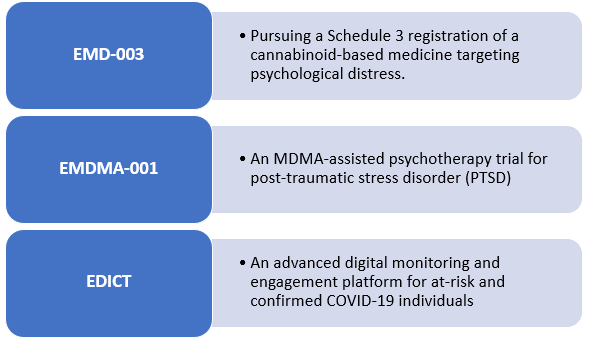 Copyright © 2021 Kalkine Media (Data Source: EMD Update, 12 May 2021)