Source: Vintage Tone, Shutterstock
Summary

Selecting dividend-paying stocks with price appreciation capability is essential to a successful portfolio strategy.
Investors seeking to derive passive income from their shareholding often view a stock's dividend yield as one of the most important metrics.
The ASX is home to many dividend shares and amid low interest rates, they have become even more popular.
It has been a tough twelve months, owing to the pandemic that has left us rattled. However, there have been silver linings that seem to keep the stock markets' excitement alive.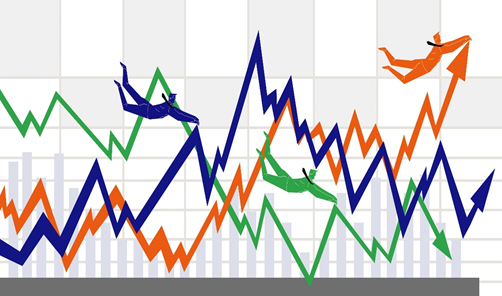 Copyright © 2021 Kalkine Media Pty Ltd
Dividend stocks for the win?
After several companies slashed/cancelled dividend payouts last year amid the coronavirus pandemic, experts expect dividends to bounce back in 2021. With interest rates at record lows, investors are searching for alternative places to multiply their cash. One way to earn passive income is via dividends paid out by the companies whose shares one has invested in.
Dividends rebounded in the February reporting season. Experts believe that they may grow again in August (given economic recovery is not impacted by lockdowns). So much so, investors are likely to reap the gains of double digit growth in dividends and dividend payout ratios can also be higher this year.
Copyright © 2021 Kalkine Media Pty Ltd
All in all, the major catalysts for better dividend in 2021 are stimulus packages, the COVID vaccine rollouts and the global recovery underway. These factors are also instrumental in driving earnings, increasing confidence, and boosting dividend growth.
Let us now look at five ASX stocks that offer a rational balance of reliability and growth-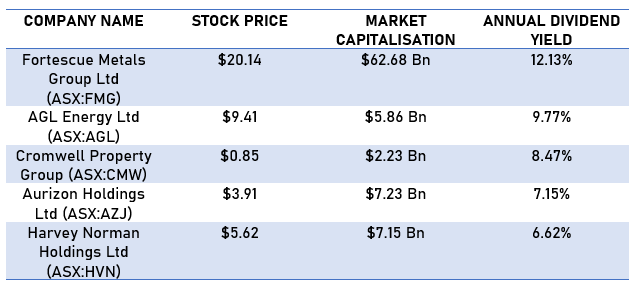 Copyright © 2021 Kalkine Media Pty Ltd, Source: ASX Prices in AU$ at 1:30 PM AEST on 14 Apr 2021
Fortescue Metals Group Ltd (ASX:FMG)
In March 2021, the mining giant announced the completion of the US$1,500 million offering of Senior Unsecured Notes at an interest rate of 4.375%, maturing in April 2031.
A fully franked interim dividend of AU$1.47 per share was paid on 24 March 2021. The allocation price for shares to be issued to participants in the Dividend Reinvestment Plan was AU$21.937.
The Company continues to deliver outstanding operational and financial performance, with its balance sheet structured on low cost, investment grade terms, maintaining flexibility to support ongoing operations and the capacity to fund future growth.
Notably, Fortescue has pledged to achieve carbon neutrality by 2030, ten years earlier than the previous target.
AGL Energy Ltd (ASX:AGL)
At the forefront of energy innovation in Australia, AGL recently announced its plans to create a couple of energy businesses - New AGL and PrimeCo.
For FY21, AGL declared an unfranked interim ordinary dividend of 31 cents and an interim special dividend of 10 cents per share, which were paid on 26 March 2021.
In FY21, the Company expects Underlying Profit after tax in the range of AU$500 million to AU$580 million and EBITDA in the range of AU$1,585 million to AU$1,845 million. Besides, programs remain under way to deliver AU$100 million reduction in sustaining capital expenditure by FY23.
Cromwell Property Group (ASX:CMW)
The real estate investor and manager has revamped it Board in the last few weeks - Dr Gary Weiss AM was elected as Chair, Mr Ooi Eng Peng as Deputy Chair and senior independent director, while Mr Rob Blain and Mr Ooi Eng Peng was onboared as Non-executive Directors.
The business continued to demonstrate its relative resiliency as reflected by the numbers. The company's HY21 statutory profit was $146.8 million and total value of investment properties held on balance sheet stood at $3.8 billion, as of 31 December 2020.
HY21 distributions of 3.75 cps were paid, and second half distributions are forecasted to be 3.25 cps. The company recently declared FY21 forecast distribution guidance of 7.00 cps.
Copyright © 2021 Kalkine Media Pty Ltd
Aurizon Holdings Ltd (ASX:AZJ)
The positive outlook of Australian commodity markets coupled with a significant growth in Aurizon's Bulk business has kept the market tuned to the Company.
GOOD READ: Aurizon Holdings (ASX:AZJ) delivers decent half-year FY2021, ups dividend
Final dividend for the year ended 30 June 2020 amounted to 13.7 cents 70% franked per share. The Directors declared a 70% franked interim dividend of 14.4 cents per ordinary share for the six months ended 31 December 2020, which was paid on 31 March 2021.
Harvey Norman Holdings Ltd (ASX:HVN)
Harvey Norman has been looked upon for its integrated retail, franchise, property, and digital strategy. Besides, the Company's ability to adapt and transform to the changing retail landscape and sail through COVID-19 uncertainties has been commendable. As a result, customers continue to engage strongly with its brands.
The company has also decided to pay a fully-franked interim dividend of 20.0 cents per share on 3 May 2021.
MUST READ: Harvey Norman (ASX:HVN) Clocks Record H1 Numbers, Positive Momentum Continues
While these stocks may appear appealing, technical analysis, in-depth research and constant vigilance of the sinusoidal trends of the share market should be duly practiced before making any investment.