Summary

Several companies on the Australian share market have been growing at a rapid rate in recent years, keeping growth investors in luck.
Growth investing still holds significance amid pandemic uncertainty, given the strong growth plans of virus-resilient businesses.
com (ASX:KGN) is likely to leverage the ecommerce boom, and Pushpay (ASX:PPH) plans to win a 50% share of the American medium to large church market.
Integrated Research (ASX:IRI) continues to invest to drive internal innovation and operational effectiveness.
For the year of renewed optimism and hope - 2021, businesses which are growing profit could be the ones to keep an eye on. Market experts advice that investing in growth stocks can prove to be a wise move, especially when some businesses are tipped to grow strongly on the back of government stimulus, recovering economies and optimism around vaccine development.
Growth stocks usually have a higher risk profile than other investments. This also means that they offer potentially higher rewards if the company is successful in executing its strategic goals
Growth stocks have been garnering particular investor interest off late. Notably, growth investors are looking to tap companies that see their financial performance and share price grow at a rate ahead of the market average.
Besides, businesses of growth stocks often have elevated revenue - a significant entrusting factor in the current trying times. Growth stocks represent fast-growing companies that operate in "new and ever-changing business areas"- opportunities of the new normal in the pandemic era.
In this backdrop, let us look at 3 potential ASX-listed growth stocks under the investors' radar.
Kogan.com Limited (ASX:KGN)
Ecommerce company with a growing portfolio of retail and service businesses.
Continue leveraging from the accelerating shift to online shopping.
The COVID-19 pandemic sent millions of consumers online for their shopping, much to the thrill of online retailers like Kogan. What's even exciting is the fact that this trend is likely to soar in 2021, partly due to the pandemic uncertainty and also because consumers have developed the new shopping normal.
Besides, FY20 was strong for the Company.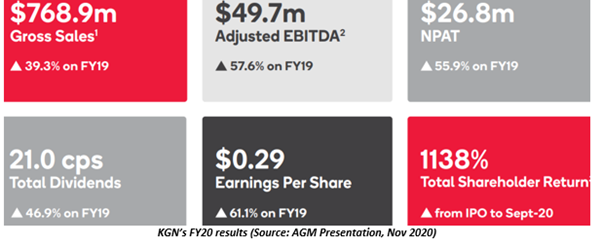 More recently, Kogan acquired online retailer Mighty Ape for NZD 120 million as well as furniture retailer Matt Blatt for $4.4 million- strengthening its business and increasing its scope.
KGN shares are seen to be trading at $19.310 during market open hours on 12 January 2021.
Pushpay Holdings Group Limited (ASX: PPH)
A leading donor management and community engagement platform provider for NPOs and the faith sector.
For the year ending 31 March 2021, PPH is expecting EBITDAF of USD 54 million to USD 58 million.
Digital tools are vital in helping churches foster their physical and online communities, and thwarting people from falling through the cracks. Pushpay envisions a robust integrated ecosystem, offering products via its exclusive marketplace.
DON'T MISS: Pushpay (PPH) in trading halt to facilitate sell down
In its interim 2021 results, Pushpay demonstrated strong growth and an expanding operating margin.
Notably, the Company has plans to bag a 50% share of the US medium to large church market in the future. CEO Bruce Gordon believes that Pushpay's value proposition and strategy to become the preferred provider of mission critical software to the US faith sector is resonating well with investors.
RELATED READ: What's the reason behind Pushpay Holdings' (ASX:PPH) remarkable growth?
The Company advised in December 2020 that the bookbuild for Chris Heaslip and Chris Fowler's NZD 97.9 million sell down finally closed successfully.
PPH shares are seen to be trading at $1.495 during market open hours on 12 January 2021.
Integrated Research Limited (ASX:IRI)
A leading software company with products that monitor and troubleshoot critical IT infrastructure, payments, and communications systems.
The Company has a loyal consumer base, consistent revenue and has depicted impressive profit growth in the recent years.
In FY20, IRI achieved an increase of 10% in NPAT to $24.1 million, the 7th consecutive year of annual profit growth. Besides, EBITDA margin measured as EBITDA/revenue was 39%. And 38 new customers were added during the year. The Board also declared a final dividend of 3.75 cps taking the total dividend for the year to 7.25 cents.
Expanding IR's footprint with existing customers is a key focus. The Company recently witnessed a renewal and extension licence agreement with a long-term financial services customer resulting in the largest deal in its history at USD 10 million.
Notably, the Company continues to invest to drive internal innovation and operational effectiveness. New SaaS products are a key driver to future growth, says CFO Peter Adams.
IRI anticipates revenue for the half-year ending 31 December 2020 to be in the range of $34 million to $37 million. Profit is anticipated to be in the range of breakeven to $2 million.
IRI shares are seen to be trading at $2.55 during market open hours on 12 January 2021.