Summary

ASX 200 Listed Crown Resorts' new Chief Executive Officer and Managing Director is expected to aid in the ongoing reforms.
The company has received a merger bid worth AUD12 billion from The Star Entertainment Group.
Many players are in the race for Crown Resorts.
Crown Resorts Limited (ASX: CWN), on Monday, announced the appointment of new Chief Executive Officer and Managing Director, Mr. Steve McCann, effective 1 June 2021. Mr. McCann is an experienced global executive with good exposure to the Australian corporate and regulatory environment. Boasting a 25-year executive career, he is currently the Group CEO of real estate and investment group Lendlease Corporation Limited (ASX: LLC).
Additionally, Crown Resorts has received a merger proposal from The Star Entertainment Group Limited (ASX: SGR). Star Group has offered 2.68 Star shares for each Crown share along with a cash alternative of AUD 12.50 per Crown share, subject to a cap equal to 25% of Crown's total issued capital.
Post the significant updates, CWN was trading higher by 7.260% to AUD13.00 on 10 May 2021 (AEST 12:42 PM), while SGR was quoting at AUD4.22, up 7.928%.
Copyright © 2021 Kalkine Media Pty Ltd, Data Source: CWN Updates, 10 May 2021
ALSO READ: Here's how Crown (ASX:CWN) is embarking on reboot
Annual Cost Synergies Expected at AUD150-200M from the Merger
If the cash option is fully availed, the merger would result in a 59% ownership of the merged entity by Crown shareholders and 41% by Star shareholders. Its' Board would comprise of the current Directors of Crown and Star.
The proposed merger is forecast to result in cost synergies between AUD 150 million to AUD 200 million per annum. Star also sees a potential to obtain noteworthy value from a sale and leaseback of the merged entity's property assortment.
Crown Resorts is one of Australia's largest gaming and entertainment organisations. It operates Australia's biggest gambling hubs and has investments in integrated resorts. The Star Entertainment Group is one of its biggest domestic rivals. The proposed deal shall enhance asset portfolios for both of them.
Crown's Board has not yet formed any opinion on the merits of this merger. Though there is no certainty of this merger, Crown is planning assessment and engagements with relevant stakeholders.
In the past, the company has received many proposals.
Read here: Crown Resorts (ASX:CWN) to assess the Oaktree Proposal
Blackstone tweaks conditions for Crown Resorts acquisition proposal
New CEO to Aid In the Ongoing Reforms
Recently, Crown has been looking for a CEO committed to speed up reforms within its' business, and Steve McCann seems to be the ideal choice. He is well experienced to smoothly run the ongoing operations and bring in sweeping reforms when needed.
McCann has over 25 years' experience in real estate, banking, mergers, and capital markets. He began his journey with taxation accounting, then worked for four years as an M&A lawyer before getting on a successful 13-year career in investment banking.
In the past, he has served as the Head of Property at Bankers Trust and Head of Industrial Mergers & Acquisitions and Head of Equity Capital Markets in Australia and New Zealand.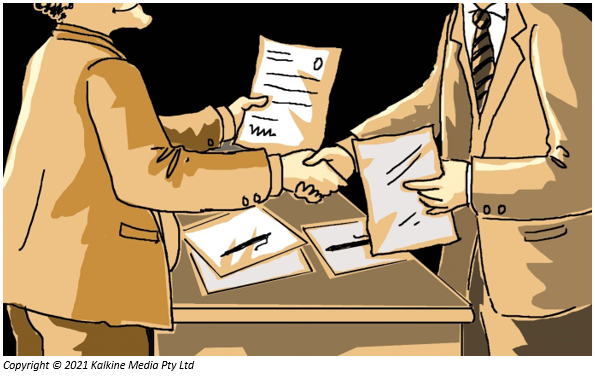 He has received a conditional offer of AUD 2,500,000 per annum of fixed remuneration along with 400,000 sign-on performance rights as incentive from Crown. If he joins, McCann would also be bound by post-employment non-solicit and non-compete restraints for 12 months from the end of his employment.
Currently, Helen Coonan is continuing as Interim Executive Chairman until McCann receives the necessary approvals for joining.
With his experience in mergers and acquisitions, he is expected to guide and aid Crown, if it goes for the proposed merger with Star Group. Other than this, he would also help drive substantial shareholder value for Crown as the company seeks to emerge from the challenges posed by the coronavirus pandemic.
Also Read: Crown Resorts (ASX:CWN) posts half year loss amid pandemic restrictions