Summary

Collection House Limited announced the completion of its recapitalisation process, commenced earlier as part of its Strategic Review.
The Company entered into a binding agreement with Credit Corp Group under which the latter would purchase the former's Australian PDL book.
Collection House believes that the transaction offers a stable capital structure to grow and expand its capabilities in coming times.
Collection House Limited (ASX:CLH) announced the completion of a broad recapitalisation process, started in early 2020 due to its previously-declared Strategic Review that recognised the necessity to write-down the value of CLH's purchased debt ledger (PDL).
CLH Finalises Recapitalisation Process
CLH has completed the Recapitalisation Process (announced on 24 December) and received total consideration of A$218.7 million at settlement and applied towards repaying existing senior debt facilities, refinancing, and restructuring costs, and general corporate purposes.
Moreover, a maximum of A$15 million further consideration for CLH over eight years from the purchaser is subject to the future performance of the related PDL assets. The Company anticipates receiving around A$3 million to A$4 million in January 2021, upon gathering further individual vendor consents. CLH looks forward to utilising these funds towards reducing its New Senior Debt facilities.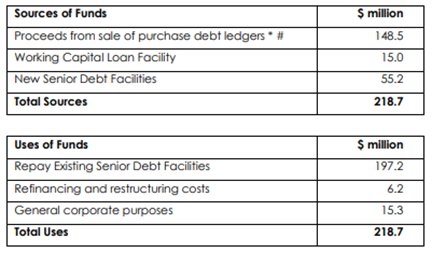 Source: Collection House ASX Announcement (4 January 2021)
Binding Agreement with Credit Corp Group
On these lines, Credit Corp Group Limited (ASX:CCP) had inked a binding agreement with CLH to purchase its Australian Purchased Debt Ledger (PDL) book. The total consideration for this transaction was around A$160 million, and the transaction also included the provision of a short-term loan of A$15 million to CLH for general corporate purposes. The loan is secured against tax receivables of CLH and is anticipated to be completely repaid within nine months.
CCP believed that this would be the biggest single PDL acquisition in CCH's history and the acquisition was an opportunity to acquire one of the biggest PDL books in the Australian market.
CLH was engaged with numerous national as well as global counterparties concerning the recapitalisation process in pursuit of refinancing its current asset base and finance upcoming development.
RELATED: Credit Corp (ASX:CCP) shares end the short week on a high, here's why
Optimism Surrounding the Transaction
Furthermore, CLH believes that the transaction offers a stable capital structure, based on which the Company can expand its capacity over the coming years. Moreover, the tractability to chase development in the purchased debt market is retained with CLH via a fresh partnership model. Moving forward, this partnership arrangement shall be finalised soon and shall help to witness a materially lower level of the balance sheet at risk.
Notably, CLH believes that there lie significant opportunities for a well-managed, appropriately capitalised collection services company focused on the customer in the Australian and New Zealand markets.
CLH further envisions demonstrating the effectiveness of a fresh customer-oriented approach through development and rebuilding value for shareholders over future financial intervals.
Stock Information: On 04 January 2020 (2:52 PM AEDT), CLH shares were quoted at A$0.420, down over 60% following reinstatement. CCP shares were trading at A$30.700, up by 3.367%.