Summary

Cochlear is observing consistent improvements in surgery rates.
The company re-introduced an interim dividend for the first half.
Its FY21 guidance for underlying net profit is up 46-59% year-on-year.
Health sector giant Cochlear Limited (ASX:COH) has recently unveiled its performance card for the first half ended 31 December 2020, highlighting improving momentum.
The company observed varied pace of recovery in different countries with surgeries recovering after the pandemic-induced shutdowns. In most emerging markets, the recovery has been slow. However, COH recorded strong growth in the US, China, Korea and Japan with improving momentum in Western Europe.
Financial Highlights for the First Half
Cochlear is focused on driving the long-term market growth of hearing implants. The company unveiled the following figures for the concerned period.
Sales revenue totalled AUD 742.8 million, down 4%. The first quarter experienced a drop of 8%, while in the second quarter, revenue increased by 7% in CC.
Statutory net profit grew to AUD 236.2 million, up by 50%, including AUD 59 million in litigation-related tax & other benefits, AUD 17.2 million in COVID government assistance (after-tax), AUD 34.7 million in innovation fund gains.
Underlying net profit totalled AUD 125.3 million, down 6%. The company reported a robust sales revenue recovery and lower operating costs due to pandemic-related material savings.
Amid the improved trading conditions and cash flow generation, COH re-introduced an interim dividend of AUD 1.15 per share, a payout of 60% of underlying net profit.
Strategic Priorities
The focus is on emerging stronger from the pandemic impact through the following strategic priorities: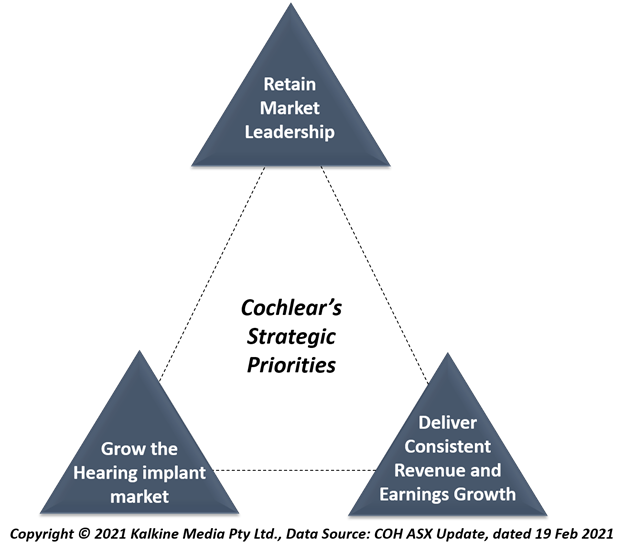 The Outlook
The company remains confident of the resilience of its hearing implant business amid the ongoing uncertainty. Due to the resurgence of cases in some countries, the momentum has slowed down since November 2020. However, the rapid return to surgeries and deployment of COVID-19 vaccines give COH hope that recovery momentum will continue in the upcoming quarters.
The priorities for the upcoming period are market growth activities and strengthening competitive position.
With most significant projects completed now, capital expenditure is anticipated nearly AUD 70 million for the current financial year. In FY22, it is expected to be in the range of AUD 60 million to AUD 80 million.
Underlying net profit guidance for FY21 is in the range of AUD 225 million to AUD 245 million.
Also read: 2 ASX-listed blue-chips under the spotlight in 2021