Summary

Aurizon Holdings' half-year performance remains steady amid the pandemic and challenging external trading environment.
The bulk business has performed well and added new clients.
Australia's largest rail freight operator Aurizon Holdings Limited (ASX:AZJ) has unveiled a solid performance for the six months ended 31 December 2020. The company has performed well, considering pandemic impacts and challenging trade environment with China.
The company has highlighted its confidence in the demand for high-quality Australian coal in the long-term. Though the steel production has resumed to pre-pandemic levels, AZJ anticipates the challenging trade environment with China to impact export volumes in the near-term.
Meanwhile, AZJ expects continued coal export annual increase of 1% over the next 10 years, on the back of a young fleet of coal-generation power plants in Asia and steel-intensive growth in India.
Aurizon's rail haulage operations (Source: ASX Update 15 Feb 2021)
Good Read: How Chinese Ban on Australian Coal Reshuffled The Global Coal Trade?
Financial Highlights for First Half
Aurizon Holdings has reported following figures for the first half:
Underlying EBIT stood at AUD 454 million. The figure is steady against the same period a year ago (AUD 456 million).
The bulk business registered strong performance, driven by volume growth. The EBIT for the segment increased AUD 17 million.
For the Network business, EBIT increased by AUD 9 million with the commencement of customer fees for Wiggins Island Rail Project (WIRP) comprising AUD 49 million of retrospective WIRP fees.
Coal EBIT dipped by AUD 35 million due to lower revenue quality and decrease in above-rail volumes.
Underlying NPAT reduced by 1% on PCP reaching AUD 267 million. Statutory NPAT declined 22% on PCP.
Return on Invested Capital (ROIC) moved up by 0.3ppt year-on-year to 10.8%.
Free cash flow generated through operations stood at AUD 288 million, a decline of 38%.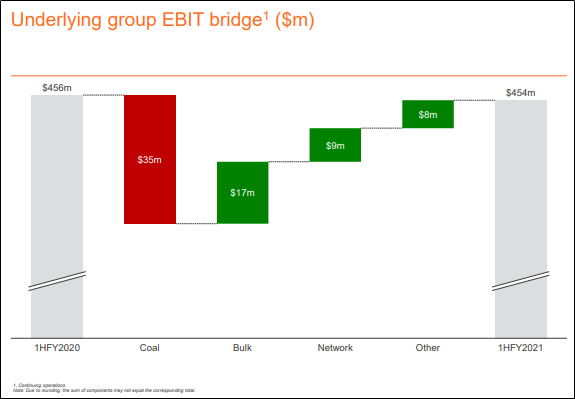 (Source: ASX Update 15 Feb 2021)
Performances Across Businesses
Bulk:The Bulk business delivered strong performance, owing to increased volumes (up 11% up) and revenues (up 8%). Underlying EBIT grew by 39%.
In the Bulk segment, the company won significant contracts from CBH and Mineral Resources. In December 2020, it acquired ConPorts, a Newcastle-based ship-loading services provider.
Coal:The total coal railed by AZJ in Queensland and NSW totalled 102 million tonnes, down by 4% on PCP.
The decline has been attributed to the combined impact of challenging external trading environment, COVID-19 pandemic and client-specific maintenance and production issues.
Revenue for the segment dipped by 8% and underlying EBIT decreased by 17%. Expectations for above-rail coal volume for the current financial year have also been declined by 10mt to 200- 210 mt.
Network:In the half-year period, the company railed 104 mt, down by 11% on PCP. EBIT totalled AUD 241 million, increased by 4%.
Safety Performance: Rail Process Safety performance improved by 4%. The total recordable injury frequency rate deteriorated by 25%; however, lost time injury frequency rate improved by 30%.
Interim Dividend - The Board has declared an interim dividend of 14.4 cents per share for the period. The figure is up by 5% on PCP and 70% franked. It is scheduled to be paid to eligible shareholders on 31 March 2021.
Dividend History (Source: ASX Update 15 Feb 2021)
EBIT Guidance - The latest EBIT guidance is between AUD 870 million and AUD 910 million.
Must read: Dividend Stocks to Ascertain Regular Income: MND, AZJ, GPT
On 15 February 2021, AZJ traded at AUD 4, up by 3.896% from its last closing price.