Summary

The S&P/ASX 200 scaled a new high on Thursday, ending 0.6% up at 7260.1.
The index gained as much as 0.9% to hit a fresh intraday high of 7281.8.
Australian engineering company Worley was the top gainer, rising 8.13% to AU$12.10.
Australian shares climbed to a fresh record high on Thursday as investors cheered higher-than-expected first-quarter economic growth data. The market shrugged off concerns over fresh COVID-19 cases in Victoria. The rise in commodity price also supported the market rally.
Extending rally for the second day, S&P/ASX 200 closed higher by 42.30 points or 0.59% at 7260.10, setting a new 100-day high, led by gains in energy, technology, and utility stocks.
The Last Trade || ASX Scales New High: What Fueled Market Rally
During the day's trade, the index gained as much as 0.9% to scale a new high of 7,281.80 after making a positive start at 7,217.80. Over the last five sessions, the index has gained 2.33% and is currently 0.3% off its 52-week high.
The market breadth, indicating the overall strength of the market, was strong with nine of the 11 sectoral indices ending in green. The Energy sector was the top performer, gaining 3.1% today and 8.76% over the past five sessions.
Among others, Utilities, Information Technology, Financials settled with over 1% gain, each.
On the flip side, Consumer Discretionary emerged as worst performing sector, ending 1.23% lower. Telecommunication Services also witnessed selling pressure and closed with marginal losses.
Top 5 Gainers and Losers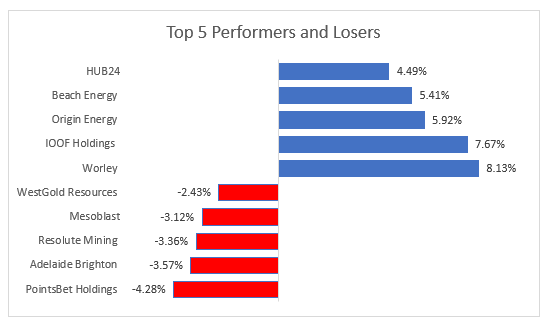 Source: ASX website, June 3
Australian engineering company Worley (ASX: WOR) was the top percentage gainer on the ASX, rising 8.13% to AU$12.10.
Financial services company IOOF Holdings Ltd. (ASX:IFL), Beach Energy (ASX: BPT), Origin Energy (ASX:ORG), HUB24 Limited (ASX:HUB) were among other notable gainers on ASX, rising between 4% to 7%.
On the other hand, PointsBet Holdings Limited (ASX: PBH) emerged as top percentage loser on ASX, falling 4.24% to AU$12.42. Some of other worst performing stocks were Adelaide Brighton Ltd. (ASX:ABC), Resolute Mining Limited (ASX:RSG), WestGold Resources Ltd (ASX:WGX) and Mesoblast Ltd. (ASX:MSB).
Shares in News
Shares of GWR Group (ASX:GWR) gained as much as 16% to AU$ 29 cents, their biggest intraday percentage gain since 9 April 2021, after the miner said it has executed an agreement with a logistics group to underpin its haulage operations in the Port of Geraldton in Western Australia. GWR also expects to ship at least twice per month in order to achieve its one-million-tonne Stage 1 production target by December.
Lithium miner Neometals Ltd (ASX:NMT) rose as much as 2.8% to AU$ 54.5 cents on deal to sell its Mt Marion spodumene offtake rights. The company in an exchange filing said that it has accepted offer to sell its Mt Marion spodumene offtake option rights to Reed Industrial Minerals Pty, owner of Mt Marion Lithium Project in south-west of Kalgoorlie, for AU$30 million. As per the company, the fund proceeds will bolster its balance sheet, increase cash, receivables and investments to around AU$107 million from AU$81.6 million reported at end of March quarter.
Shares of the pathology services provider (ASX:ACL) gained as much as 9.3% to hit a record high of AU$3.88. The company has upgraded its fiscal 2021 net profit after tax guidance by 10%-15% to between AU$82 million and AU$85.4 million it has also raised FY21 revenue outlook by 2% to 3% to between AU$657.7 million and AU$663.3 million.
The share price of S2 Resources Ltd (ASX:S2R) rose 6.3% to hit an intraday high of A$ 17 cents, its highest since 21 May 2021, after the mineral explorer entered a binding farm-in agreement with North American gold producer Kinross Gold Corp. The deal involves four exploration licences and licence applications.
Shares of Pro Medicus Limited (ASX:PME) rose as much as 3.120% to AU$47.59, their highest level since 4 May 2021, on agreement with Mayo Clinic. The health imaging technology provider's unit, Visage Imaging Inc, has signed a multi-year research collaboration agreement with the non-profit American academic medical centre Mayo Clinic. It stated that the agreement will serve as a framework for collaboration between the two parties to develop and commercialise in the field of Artificial Intelligence.
Matador Mining Limited (ASX:MZZ) has increased landholding across Newfoundland, North America to 37% after a significant strategic review around its Cape Ray Gold Project and other prospective gold regions across the region. The stock jumped 14% to A$ 57 cents following the announcement.
Asian Markets Trade Higher
Asian shares continue to trade higher on Thursday, albeit off from their day's high, as inflation concerns kept investors jittery ahead of key US economic data.
The MSCI index of Asia-Pacific markets outside Japan, which gauges the equity market performance of Asian shares, climbed 0.3% to 711 points. It hit a three-month high of 712.57 on Wednesday.
Japan's Nikkei traded at 0.45% higher, Seoul's Kospi rised 0.36% and the Straits Times index in Singapore added 0.10%. Taiwan's Weighted Index also gains 0.6%.
China's Shanghai Composite climbed 0.4%, while New Zealand's benchmark S&P/NZX 50 dropped 0.16%, paring early gains.
Bucking the trend, Hong Kong's Hang Seng droped 0.40% and Thailand's SET Composite Index was down 0.06%.
India's BSE Sensex surged 0.5% in opening deals, tracking similar cues from their Asian peers.
Crypto Market Stage Recovery, Dogecoin surges
Over the past 24 hours, the cryptocurrency market witnessed buying momentum as investors opted to hold digital assets over bonds in an inflationary environment. All the major crypto coins are trading in green, recover from their recent losses.
Bitcoin was trading around US$38,354, gaining 4.85% over the previous 24 hours. It hit a high of US$ 38,443 and a low of US$36,524 in the past 24 hours trade. Investors kept an eye on the Bitcoin 2021 conference in Miami starting Thursday, which may have near-term impact on price movement. Thousands of Bitcoin traders are gathering in Miami to share ideas and close deals that can be a boon for grassroots growth in the industry.
Ether, the second-largest crypto in terms of market capitalisation, was up 6.2% at US$2,785. It has moved in a tight range of US$2,539-US$2,802 in the past 24 hours.
Meanwhile, the meme currency, Dogecoin, hogged the limelight after Coinbase, a US-based crypto exchange, said that it would list the coin on its platform. Boosted by the development, the Shiba Inu-based token rallied as much as 25% to hit a high of US$0.446 in the last 24 hours. The coin was trading at US$0.435, up 18.4%.