Summary

The S&P/ASX200 gained as much as 1.1% to 7,353 on Monday.
The market witnessed a surge in buying, led by miners, banks, and energy stocks.
Seven of 11 sectors were trading in green, led by materials with 2.25% gain.
NRW Holdings was the top gainer on the ASX pack, while NEXTDC emerged as the worst performer.
New South Wales reported 112 locally acquired COVID-19 cases in the past 24 hours.
Australian shares were trading higher on Monday, rebounding from Friday's sell-off, led by gains in iron ore miners, banks, and energy stocks. The market sentiment was lifted by a rally in resource stocks, which surged after The People's Bank of China slashed the reserve requirement ratio (RRR) for all banks by 50 basis points, the amount of cash most banks must hold in reserve, in order to boost lending. The firm cues from Wall Street and an uptick in oil prices also boosted investors' appetite for risker assets.
The S&P/ASX200 was up by 54.30 points or 0.75% at 7,327 by afternoon. The index opened on a positive note and gained as much as 1.1% to hit a high of 7,353 during the day's trade so far.
Investors seem to have shifted focus on upcoming quarterly results by US companies and forecasts about the recovery in the second half of 2021 as some worry that the recent economic surge is already waning. However, concerns about the COVID-19 situation in the country limited market gains.
The Mid Market Pulse || How is energy and miners boost carving out ASX 200 charter?
In a fresh development, the country's most populous state of New South Wales has reported 112 locally acquired COVID-19 cases in the past 24 hours. This is the highest daily number of new infections reported in the state so far.
On the sectoral space, seven of 11 indices were trading in green. The material sector was the best performer with 2.25% gain, followed by A-REIT, which rose nearly 1%. Among others, energy, financial, health care stocks were trading higher with modest gain.  
On the flip side, information technology was the top laggard, undermining firm cues from US counterpart, NASDAQ. Some of the other worst performing sectors include consumer staples and industrials.
Top Gainers and Losers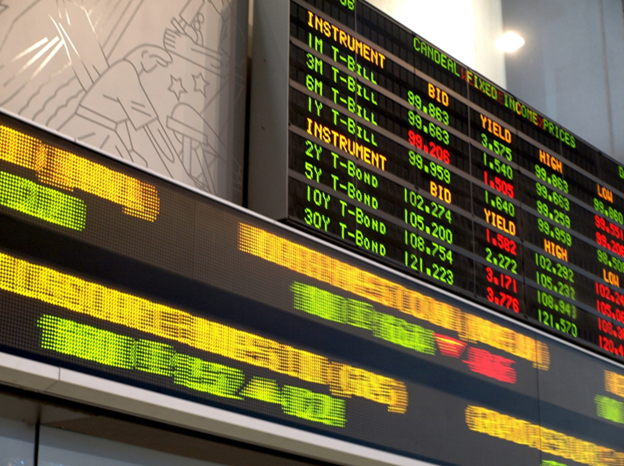 Image Source: © Ptoone | Megapixl.com
Civil and mining contractor NRW Holdings Limited (ASX:NWH) was the top percentage gainers on the ASX pack, rising 7.5% on plan to sell its major mining equipment to Boggabri Coal Operations Pty Ltd (BCO). Some of other notable gainers were energy firm Viva Energy Group Limited (ASX: VEA), miner BlueScope Steel Limited (ASX: BSL), iron ore giant BHP Group Limited (ASX: BHP) and minerals exploration company Orocobre Ltd (ASX: ORE).
On the flip side, tech firm NEXTDC Ltd. (ASX:NXT) was the top loser on the ASX, falling 1.8%. Some of the other notable losers include gaming and entertainment firm Crown Resorts Limited (ASX: CWN), health care firm Cochlear Limited (ASX: COH), fintech major IRESS Ltd. (ASX:IRE) and tech company Megaport Limited (ASX:MP1).
Shares in News
Chalice Mining Limited (ASX: CHN) shares surged as much as 3.13% in opening deals to AU$7.57 after the Australian miner said that it would split its gold asset. The stock soon pared gains and declined over 1% to AU$7.26. The gold miner has unveiled plan to split its Australian gold assets to create a separate standalone, well-funded Australian gold exploration company with a high-quality asset base in Victoria and Western Australia.
Healthcare company Healius Limited (ASX:HLS) has announced acquisition of Axis Diagnostic Holdings Pty Limited. Axis is a high-quality Queensland-based imaging business with earnings of approximately AU$2 million. Following the announcement, shares of Healius rose 0.4% to AU$4.65.
Shares of Wesfarmers (ASX:WES) rose 0.25% to AU$58.15 on a bid to acquire 100% stake in Australian Pharmaceutical Industries Limited (ASX:API). WES has offered to acquire APPI shares at AU$1.38 cash per share. The proposal price represents a 21% premium to API's last traded price on Friday.
Shares of mining services company NRW Holdings Limited (ASX:NWH) rose 7.5% after the company announced that it would sell its major mining equipment to Boggabri Coal Operations Pty Ltd (BCO). Boggabri Coal is a part of Idemitsu Group and can exercise options to acquire a majority of mining equipment of Golding Contractors Pty Ltd, its wholly owned subsidiary. Golding is engaged in the Maintenance of the Boggabri Coal Mine.
The share price of software firm Objective Corporation Limited (ASX:OCL) gained 0.3% to AU$17.45 after the company reported strong earnings in FY21. The company saw its revenue growing by 36%, while Annual Recurring Revenue (ARR) surged 31% as compared to the last fiscal.
Shares of Live Verdure Ltd (ASX:LV1) surged over 2.5% to 20 cents after the company announced the launch of its first Therapeutic Goods Administration approved product. The company has registered first sales of its new, scientifically formulated Turmeric capsules – TheraJoint plus.
Sayona Mining Limited (ASX:SYA) dropped 13.4% to 8.4 cents after discounted equity raise on Monday. The lithium producer has raised AU$45 million via share placement and has plans to raise another AU$5 million in a retail offering.
Australian biotech firm Medlab Clinical Limited (ASX:MDC) shares rose over 3% to 16 cents after the Australian Ethics grants approval for the NanaBis Cancer bone pain Phase III trial. NanaBis is Medlab's most advanced non-opioid pain medication utilising Medlab's patented, delivery platform, NanoCelle.
Asian Markets open Higher
Asian markets were trading higher in the opening trade on Monday, tracking positive cues from Wall Street.
Japan's Nikkei was the best performer in the region, surging over 2%. Taiwan Capitalization Weighted Stock Index gained 1.25%, while Thailand's SET Composite surged 0.5%.
In a similar trend, Seoul's Kospi gained 0.8%, while Hong Kong's Hang Seng rose 0.6%. Singapore's Straits Times was up 0.25%.
China's Shanghai Composite rallied 0.8% after The People's Bank of China on Friday slashed the reserve requirement ratio (RRR) for all banks by 50 basis points to boost economic growth.
On Friday, all three major US stock indices ended higher as financials and other economically focused sectors rebounded from a sell-off sparked by growth worries earlier in the week. The S&P 500 rose 1.13%, the Dow Jones gained 1.30%, and the NASDAQ Composite added 0.98%.