Summary

The ASX 200 closed 1.48% higher at 7,342.20, recouping previous session losses.
Ten of the 11 sectors ended in green, while the energy sector emerged as the top performer with 2.35% gain.
Minding firm Pilbara Minerals was the top percentage gainer on the ASX.
Bitcoin, Ether, Dogecoin fell after China's crackdown on cryptocurrency mining.
The Australian share market closed higher on Tuesday, led by a strong rally in energy, realty, financial and materials stocks. The market seemed to have shifted focus from interest rate hike concerns to economic growth. Energy firms, banks and other stocks that were hit by US Federal Reserve's hawkish outlook witnessed sharp rebound amid belief that interest rates will gradually rise with a recovery in the global economy.
The ASX 200 ended 106.90 points or 1.48% higher at 7,342.20, crossing above its 20-day moving average. Earlier today, the index opened higher at 7,235.30, tracking overnight gains in US stocks. During the day's trade, the equity benchmark gained as much as 1.8% to hit an intraday high of 7,365.90.
Over the last five sessions, the index has lost 0.51% after the market suffered sharp losses on Monday, falling 1.81% on escalating rate hike fears.
The market breadth, indicating the overall strength of the market, was very strong with ten of the 11 sectoral indices closed higher. The energy sector emerged as the top performer with 2.35% gain. Among others, financial, A-REIT, materials rose around 2%. Telecommunications services, utilities, and industrials sectors also ended with over 1% gain.
On the other hand, health care was one of the losers, closing 0.38% lower.
Australian Energy stocks were top gainers, with index heavyweights Woodside Petroleum Limited (ASX:WPL) and Santos Limited (ASX:STO) surging, owing to higher crude oil prices. Crude oil prices rose on Monday due to a pause in the much-awaited decision on the revival of the US-Iran Nuclear deal. August delivery Brent crude oil futures trade 0.13% up at US$75 per barrel and WTI crude oil futures for the August delivery quoted at US$73.09 per barrel, down 0.04% as of 22 June 2021.
Snapping a six-session losing streak, ASX-listed gold stocks AXGD climbed as much as 2% today due to a correction in the US dollar. The nickel-gold miner IGO Limited (ASX:IGO) emerged as the biggest gainer in the index, rising as much as 9.5%. Sector heavyweight Newcrest Mining Limited (ASX:NCM), Silver Lake Resources Limited (ASX:SLR) and Northern Star Resources Limited (ASX:NST) also closed higher.
Top Five Gainers and Losers
Source: ASX website; as of 4:30 PM (AEST)
Mining firm Pilbara Minerals Limited (ASX:PLS) was the top percentage gainer on the ASX, rising 7.4%. Some other top performers were Chalice Mining Ltd (ASX:CHN), Redbubble (ASX: RBL), PointsBet Holdings Limited (ASX:PBH) and IGO Limited (ASX: IGO).
On the other hand, agro firm Nufarm Ltd. (ASX:NUF) was the top loser on the ASX, falling 2.16%. WestGold Resources Ltd (ASX:WGX), Appen Limited (ASX:APX), JB HI-FI Limited (ASX:JBH) and ZIP Co Limited (ASX:Z1P) were among other top laggards.
Shares in News
Source: © Stbernardstudio | Megapixl.com
IGO Limited (ASX:IGO) shares gained as much as 9.5% to AU$7.750, after the company release an update on Tianqi transaction. The Company stated regulatory requirements for the internal restructuring of the Australian arm of Tianqi Lithium Corp to proceed had been satisfied.
Graphite-focused mineral explorer Battery Minerals Limited (ASX:BAT) climbed as much as 8.8% to 1.9 Australian cents on the deal to buy a copper project in Western Australia. The Company stated it had agreed to acquire the Russell copper project in the Halls Creek tectonic zone in Western Australia from iCopper Pty.
Shares of oil and gas explorer Blue Energy Limited (ASX:BLU) rose as much as about 6% to 7.1 Australian cents. The Company stated it had entered into a non-binding MoU to supply hydrogen to coal explorer Stanmore Resources Ltd (ASX:SMR) for Stanmore's activities in the Bowen Basin in Queensland.
Australia-listed shares of manganese ore and ferro-alloy producer OM Holdings Limited (ASX:OMH) gained as much as 5.5% to 87 Australian cents. The Company stated it had debuted on Malaysia's main market, Bursa Securities, at an opening price of 2.72 ringgit per share, which is a 5.84% premium from the listing reference price of 2.57 ringgit per share.
Residential property developer's shares (ASX:CWP) went up as much as 9.1% to AU$7.11 after the company recorded presales of about AU$439 million as of 31 May, versus AU$360 million in the same period last year.
The share price of Coal miner Montem Resources Limited (ASX:MR1) slumped as much as 71.4% to 2 Australian cents to hit a record low on Tuesday. The Company stated joint review panel had denied applications for the Grassy Mountain coal project owned by Benga Mining Ltd, adjacent to Montem's assets in Alberta.
Shares of engineering company Monadelphous Group Limited (ASX:MND) gained as much as 5% to AU$10.35 on securing a new order. The Company stated it had got a contract with BHP Olympic Dam Corp for smelter campaign maintenance works at Olympic Dam copper mine in Roxby Downs, South Australia.
Medical devices maker CardieX Limited (ASX:CDX) gained as much as 10.7% to 8.3 Australian cents on Tuesday. The Company says its unit CONNEQT Inc has partnered with LifeQ, a provider of biometrics and health information metrics from wearable devices.
The share price of Acrux Limited (ASX:ACR) gained as much as 39% to 16 Australian cents, after the US FDA granted approval of the Company's generic version of Jublia, or efinaconazole, in the form of a 10% topical solution. Jublia is an antifungal drug used for the topical treatment of infections of the nail.
Shares of gold explorer Traka Resources Limited (ASX:TKL) gained as much as 25% to 2 Australian cents. The Company stated resource estimates at the Maori Queen and Sirdar deposits at its flagship Mt Cattlin Gold Project in Western Australia indicated the presence of high-grade gold.
Battery anode company Talga Group Ltd (ASX:TLG) announced it had inked a deal with Nordic Battery maker FREYR to supply Talga's Swedish active anode materials (Talnode). The material will be used for FREYR's battery cell production, which is under development in Norway.
Shares of Commonwealth Bank of Australia (ASX:CBA) rose 3.13% to AU$101.13, paring most of previous session losses. The stock had fallen over 5% on Monday after the lender announced the sale of its general insurance business.
Asian Markets Stay on a Firm Footing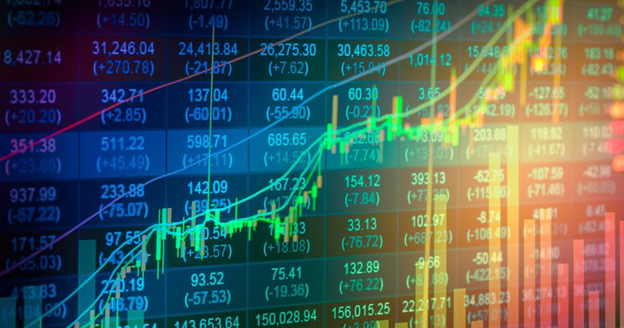 Image source: Phongphan, Shutterstock.com
Asian markets continued to trade higher after making a positive start, tracking overnight gains from Wall Street. Japan's Nikkei was the best performer in the region, extending gains to 3%, recouping most of the previous session losses.
Seoul's KOSPI rose 0.73%, Indonesia's Jakarta Composite gained 1.51%, and Taiwan's Weighted Index climbed 0.5%.
China's Shanghai Composite rose 0.8%, while India's BSE Sensex climbed 0.75%.
Bucking the trend, the Straits Times index in Singapore was down 0.33%, while Hong Kong's Hang Seng traded flat.
On Monday, Wall Street closed higher as investor shrugged off inflation worries. The Dow Jones rose 1.76% and the S&P 500 gained 1.4%. The NASDAQ Composite climbed 0.79%.
Bitcoin, Ether and Other Digital Coins Fall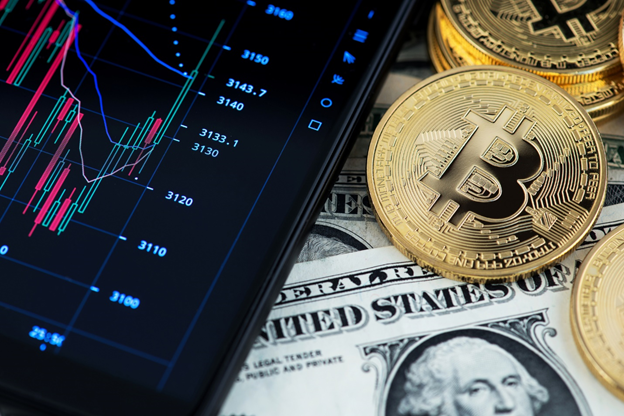 Image Source: © Aoutphoto | Megapixl.com
In the cryptocurrency market, all the major coins, including Bitcoin, Ethereum, Dogecoin, and XRP, were trading lower during Asian trading hours on Tuesday. The market sentiments were dented by China's crackdown on cryptocurrency mining. Beijing has intensified its crackdown on cryptocurrency mining to the south-western province of Sichuan, according to reports.
Bitcoin – the world's largest cryptocurrency by market value – was trading around US$32,795, down 3.5%. In the overnight trade, the price of Bitcoin crashed more than 10% after China further tightened the noose on crypto mining. With this, the market valuation of Bitcoin crashed US$590 billion – way lower than US$1 trillion it had touched a few months back before coming under the bears' clutch.
Other cryptocurrencies were also in deep red, as the Chinese obsession with banning crypto mining continued. Ether, the second-largest crypto, was down 6.85% at US$1,954, and XRP fell 13% to 62.63 US cents. The meme currency, Dogecoin, plunged 23% to 19.93 US cents.
Crypto markets have witnessed surge in selling in the recent past amid a slew of negative developments. The continued concerns about China's regulatory regime for cryptos and fear of tighter monetary policy from the US Federal Reserve left investors jittery.