The global energy sector is changing at an extraordinary pace. The way we produce, move, store up, and consume energy is swiftly-and rightly- changing. And now clean energy targets are buzzing the governments and economies.
Australia's take on green energy
Notably, Australia has realized its potential as a clean energy superpower and developments continue to ensure that the nation's clean energy transition is smooth. At Biden's recent Leaders Summit on Climate Change, Australian PM Scott Morrison said that the country remains on the revolutionary pathway to net-zero.
GOOD READ: How is Biden's Green Revolution affecting ASX-listed Green Energy Stocks?
As per Clean Energy Australia's 2021 report, in 2020, over a quarter of Australia's entire electricity generation came exclusively from renewable sources- notably for the first time ever. An added benefit of this was that over 9000 Australian workers were employed in these businesses, the report suggests.
Clean Energy Australia Council Chief Executive Kane Thornton says in the report that "The Australian renewable energy industry has come a long way in the past five years".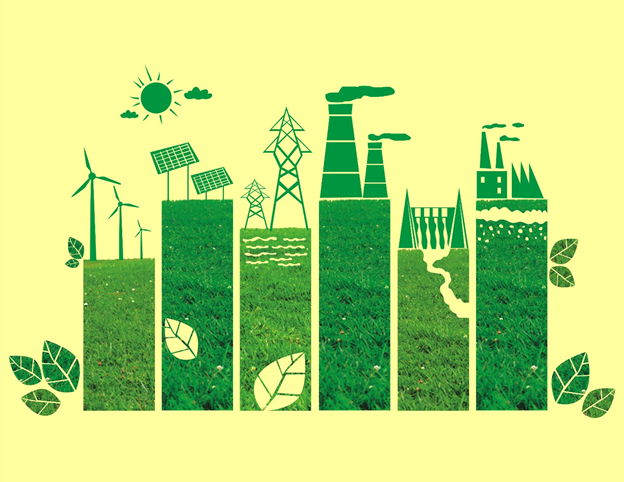 Copyright © 2021 Kalkine Media Pty Ltd
Prominent ASX listed companies in the game
Companies have set dedicated decarbonization targets as well as emission reduction targets, keeping into consideration the interests of consumers and investors seeking better transparency.
Let us look at the recent developments that ASX listed companies are making in this regard-
Coles Group Limited (ASX:COL)
One of Australia's go-to grocers, Coles Group Limited (ASX:COL) recently stated in its market update that it aims for net-zero greenhouse emissions by 2050 as a part of its efforts to address the global climate change.
Coles further stated that it would be completely powered by renewable electricity by 2025.
Heartland Group Holdings Limited (ASX:HGH)
Financial services group, Heartland Group (ASX:HGH) announced its Greenhouse Gas emissions targets in its sustainability goals published in the FY20 Annual Report. To be noted that Heartland's target is to keep global temperatures within 1.5 degree Celsius, as per its ASX announcement in March.
Besides, by FY2026, Heartland aims to reduce absolute Reported Emissions by 35% from its FY2019 baseline.
AGL Energy Limited (ASX:AGL)
One of Australia's leading energy companies offering electricity, gas, solar and renewable energy services, AGL Energy Limited (ASX:AGL) is advancing well with its plans for a 200MW battery at its Loy Yang power station in Victoria.
AGL has submitted a planning application with the Victorian Planning Minister along with the Department of Environment, Water, Land and Planning.
The project, designed to replace coal-driven power plants, is among the largest storage systems located in the south-east.
GenusPlus Group Limited (ASX:GNP)
Perth-based essential power and telecommunications infrastructure provider GenusPlus Group Limited (ASX:GNP) has joined the bandwagon of companies committing to a cleaner environment. The company recently revealed that it has established a Renewable Energy Division, focused on expanding into the renewable energy sector.
INTERESTING READ: Commodities Gaining Strength from the Green Energy Drive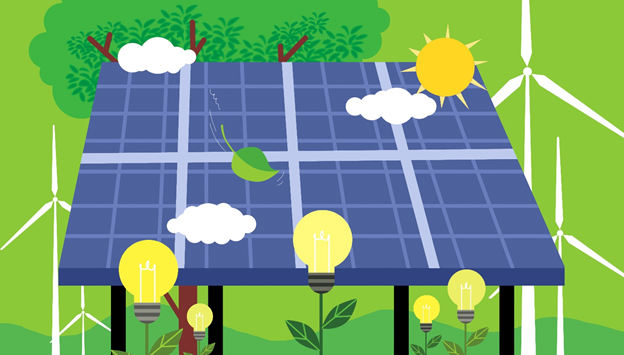 Copyright © 2021 Kalkine Media Pty Ltd
Boom Logistics Limited (ASX:BOL)
Partnerships are always a good sign. The amalgamation of two experts is likely to reap benefits. On that note it is interesting to note that Boom Logistics Limited (ASX:BOL) has joined hands with GE Renewables and will provide lifting services needed to have Bango wind farm constructed, in NSW's Southern Tablelands region.
NEXTDC Limited (ASX:NXT)
NEXTDC Limited (ASX:NXT), Australia's leading data centre solutions provide, is also making a mark in ensuring green energy deliverable. It revealed the launch of NEXTneutral, an exclusive data centre carbon neutrality program that is also the first ever carbon neutral colocation solution accessible in the local market.
MPower Group Limited (ASX:MPR)
MPower Group Limited (ASX:MPR) has expanded its Pipeline of Renewable Energy Sites to Nine across Victoria and South Australia.
Fortescue Metals Group Limited (ASX:FMG)
Fortescue Metals Group Limited (ASX:FMG) is also looking to build a green hydrogen plant in Brazil. The Australian miner plans to go entirely carbon neutral by 2030.
Stock Performance
The below illustrates how the discussed stocks are currently faring. Please note, all amounts are sourced from ASX, as on 6 May 2021 at 10:20 AM AEST.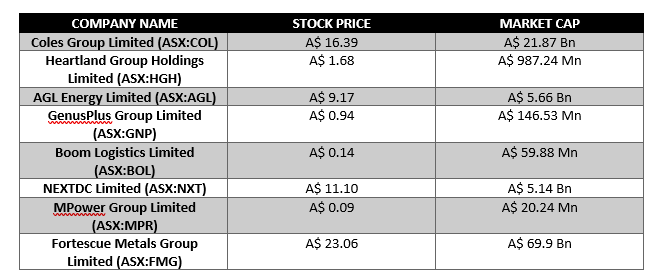 Copyright © 2021 Kalkine Media Pty Ltd, Source: ASX
Australia can greatly reduce its emissions with national and international policies in place, and in sync with the Paris Accord. It has massive wind as well as solar development potential. Let us keenly await the era when the nation becomes a clean energy superpower- a future that is very much foreseeable.